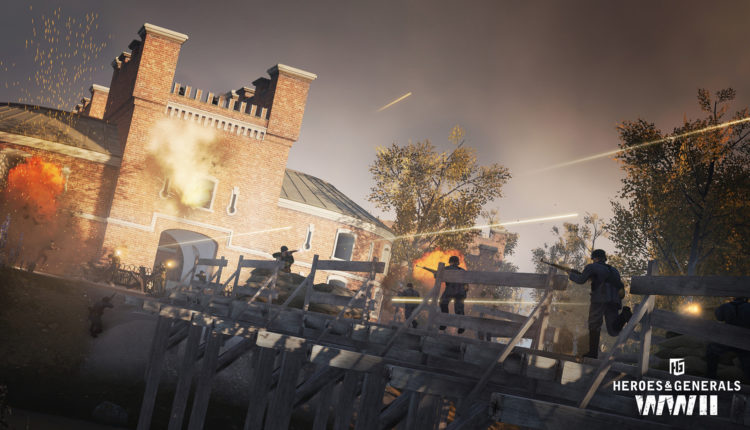 3 Ways To Get Gold In Heroes and Generals
X
INSTALL BY CLICKING THE DOWNLOAD FILE
Heroes and Generals is a game that takes you to World War II where you team up with other players and fight against other teams as Germany, the United States or the Soviet Union. 
The game provides players with a wide pool of possibilities when it comes to weapons, vehicles or types of soldiers they are able to play.
They can choose whether they prefer to give orders and think about strategy in the role of General, but they can also serve as Infantry, Paratroopers, Tankers or Pilots. 
Regardless of the character they choose, they can significantly impact the course of the war. 
In the game, there are multiple currencies that can be used to purchase valuable items and upgrade the game. One of the special currencies in Heroes and Generals is gold.
Why is gold special in Heroes and Generals? 
Gold is a powerful currency in the game that can be used to purchase almost everything in the game, for example:
Veteran membership, 

soldiers, 

soldier's uniform skins, 

assault teams, 

vehicles, 

supply crates, 

weapons, 

weapon modifications, 

weapon skins, 

ribbon boosters.
There are multiple methods of increasing the amount of gold at your disposal. 
The most intuitive, but also costly one is just purchasing it in the Store with real money. Luckily, there are also other in- and out-game options to obtain gold. 
3 ways to get gold in Heroes and Generals 
1# MillionPugs browser extension 
The first method you can use to get gold is to take advantage of the MillionPugs browser extension that you can install in your Google Chrome browser. 
MillionPugs is a cashback platform enabling gamers to purchase in-game content in exchange for their own rewards currency called pugs™. 
How to get pugs™?
Collecting pugs™ is effortless and quick as you do this by shopping online at the affiliated stores. Consequently, you can get them when you buy shoes at New Balance, order a pizza at Grubhub, or order groceries at Walmart. 
Despite the fact that the service is new, it already cooperates with over 850 brands from multiple industries and this number is growing. Therefore, you don't even have to make any more effort than installing the MillionPugs plugin, as you probably already frequent at least a few of the listed stores. 
Once you collect a sufficient number of pugs™, you can easily redeem them for in-game content for Heroes and Generals granting you with gold or other valuable items (like Veteran membership).
It is also worth mentioning that MillionPugs assists newcomers at the beginning by rewarding them additional points simply for installing the plugin or visiting one of the listed stores. It makes collecting pugs™ quicker and more painless than it already is. 
Let's now move on to the in-game options of increasing your amount of gold.
2#  Daily Rewards
The easiest in-game method of increasing the gold at your disposal are Daily Rewards.
Daily Rewards grant you 4 gold. It may seem like not many, but after 100 days you can already collect 400 gold. 
Therefore, it makes a lot of sense to play a little each day instead of playing longer hours more rarely. 
3# Using high-ranking soldiers
Last but not least, you should also use high-ranking soldiers to get more gold. In the game, there is the rule –  the higher rank you are, the more money, or gold you can be rewarded with. 
Ranks are calculated from your experience on the battlefield. This experience (XP) is acquired from the action game and, after advancing to Rank 12, from the performance of assault teams under your command in the strategy game. 
Different actions grant you different amounts of XP. You can also earn bonus XP for special actions like, for example, killing enemies from over a distance of 200 meters.
All in all, there are multiple other methods of getting gold in Heroes and Generals than simply devoting your real money to purchase it in the Store. 
Instead, you can use the powerful browser extension MillionPugs that can equip you with gold and other in-game items simply for shopping or ordering food online.
Also, you should not forget about Daily Rewards, which are little, but incrementally make a difference. Finally, keep in mind using high-ranking soldiers are rewarded with more gold when participating in battles.