8 Pokemon Go Issues and Solutions: Server Issues, GPS Signal Not Found, Crashes
Trying to catch 'em all but you are unable due to Pokemon Go issues, server issues, crashes or errors like "GPS signal not found" ? The game was released a couple weeks ago and by now everybody is going crazy about it. Everyone in this world is playing at this moment Pokemon Go. If you are unable to play the game due to some issues, our guide below will help you fix those errors and after that, you will be able to catch 'em all.
The most common issue in the game is the server issue, players reported that they are unable to connect to the game server or they get disconnected from it. Because the game is played by million and million of players, server issues are common but you can fix them with our workarounds below. Another issue of the game is crashing, from time to time the game simply crashes for some players but luckily they don't lose any progress. You can find all of the game errors described below, where you will also find solutions and workarounds on how to fix them.
Pokemon Go Issues:
#1 Pokemon Go Server Issues
First, check if the Pokemon Go Servers are online, you can do that here: http://cmmcd.com/PokemonGo/. If the servers are online you need to return in a little bit because at the moment you can do anything to fix this issue, if the servers are online and you are unable to connect to the game check our solutions below.
Perhaps as a result of its tremendous popularity, Pokemon Go players have been encountering serious server issues. After staying mostly silent since its launch in the United States this week, its developer has now spoken out about the problems.
"Thank you for your patience.", a tweet from the official Pokemon Go account states. "We have been working to fix the server issues."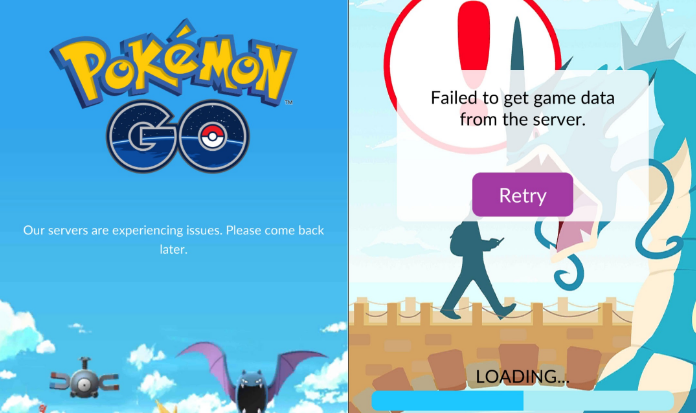 When logging in, you might be told you have 'Failed to get game data from the server' or 'Failed to log in'. This likely means that  the server isn't down completely, just press the Retry button or close and open the game again. If this doesn't help you make sure that your mobile data is active and that your internet is functioning properly.
If you are experiencing 'Internet connection not found' error this means that the problem is on your side and that your internet connection is not working. Try to restart your mobile data or reboot your phone.
#2 Pokemon Go GPS Signal Not Found
Just like in case of gambling at bonus bez depozytu, this game uses internet connectivity and GPS technology to pin down where you are in the real world. From time to time, you might get this error: "GPS Signal Not Found". This means that you lost your GPS signal because you are in closed area or something like these, like a basement, or it can be an issue from the game that you can fix with the workarounds below.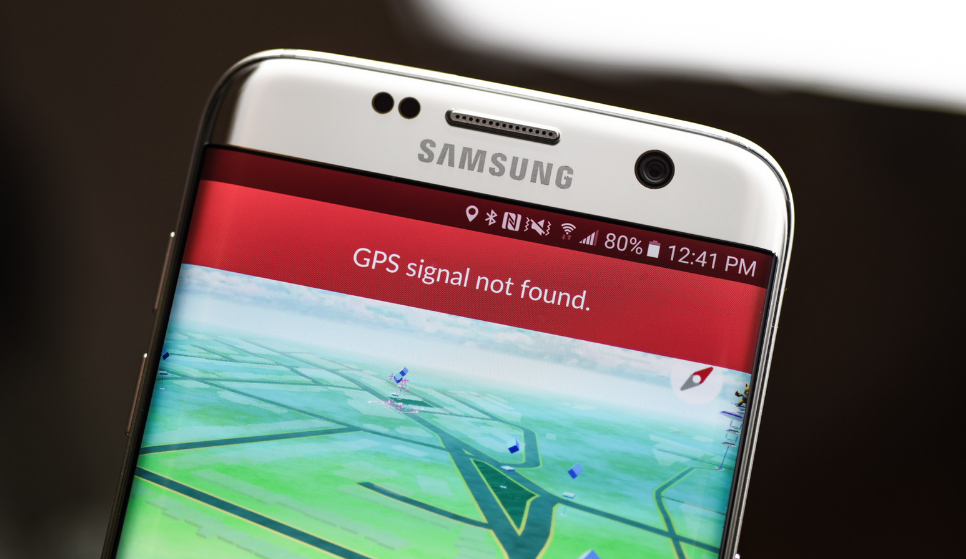 Moving your location is a good idea to see if that resolves the issue. Servers might also have some impact in these cases too, and waiting a moment usually helps clear these issues up. Also, look in Settings to enable GPS tracking. in Android 5.0, the feature is controlled by a switch within the Privacy and Settings area inside the Settings app.
#3 Pokemon Go Crashes
A common issue is that the game will freeze or crash when throwing a Pokeball at a creature. In the period when the creature entering the ball for the first time, the ball shaking and before the 'Gotcha' message appears, the app can stop responding, even enough the loading icon will rotate in the corner and some on-screen graphics will continue to move.
Wait a few seconds to see if the game responds or if it froze. If you don't see the 'Gotcha!' on the screen you need to restart the game.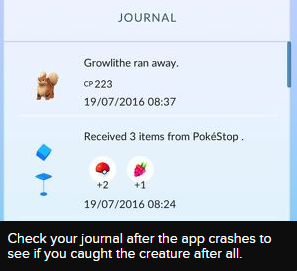 However, not all is lost. If you quit the game and reload it (make sure it's properly closed, and not just minimised) then check your journal (tap the Trainer icon in the lower level corner, then the Journal button underneath the XP bar) you'll see a list of recent activities, from PokéStop interactions to Pokémon captured. Here you'll be able to see whether the creature you just captured is indeed yours or not; in our experience, there's about a 50/50 chance it picks up on the capture after a crash, so it's worth a check to see if it made it through!
#4 Pokemon Go drains the battery
A lot of players complained that their smartphones quickly run out of battery power faster than they should when playing Pokémon Go. Some battery drain is expected because the game is using GPS and Mobile Data but it seems that a bug is draining the battery faster. Niantic says that it's working on a solution.
#5 Pokemon Go how to turn on Wi-FI in game
When you are in the game and you want to turn on the Wi-Fi or change from mobile data to Wi-Fi, follow the steps below.
While in Pokémon Go, swipe up from the bottom of the screen to enter Command Center.
Tap on Wi-Fi symbol. Make sure it highlighted.
Swipe down again to get back to the game.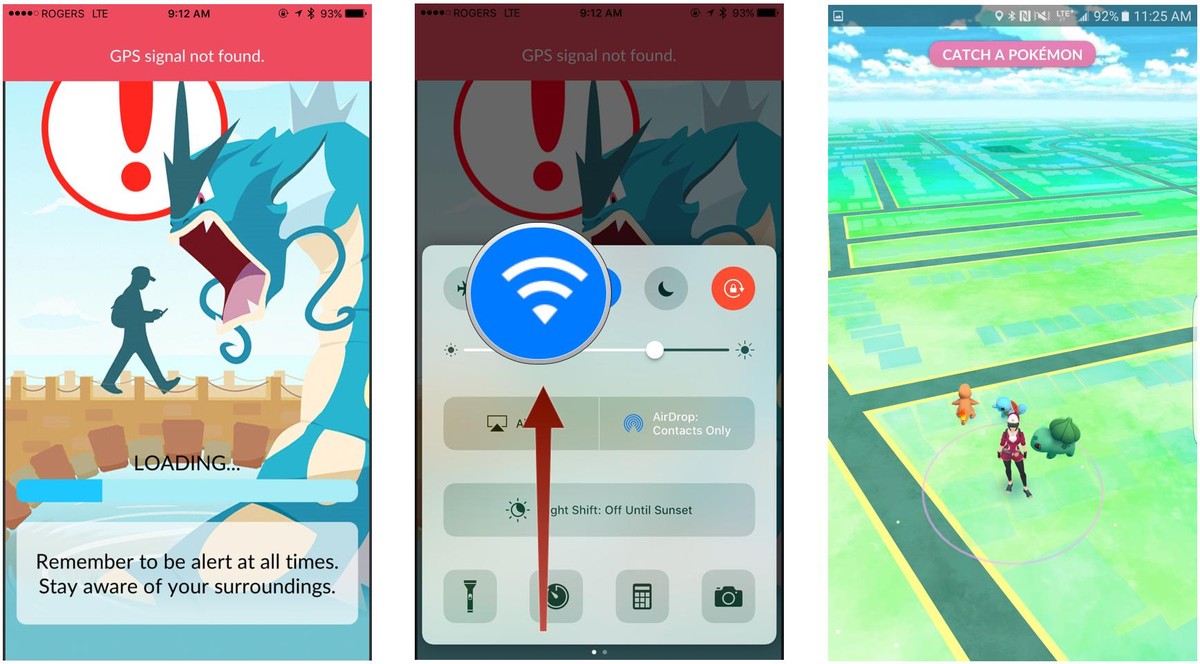 #5 Pokemon Go No Pokemon Near You
If you managed to install the game, you should see creatures, PokeStops and gyms all near you. But some players are reporting that nothing appears near them in the game. Users that have installed the game in a region where it's not yet supported also report getting this issue. In that case, the best thing to do is to wait to play the game until it's ready for launch in your territory.
#6 Pokemon Go PokeCoins and premium items do not appear in my account
Please try the following steps if you're having trouble seeing PokeCoins or premium items in your account:
Sign out and sign back into Pokemon Go. Open Pokemon Go, touch Main Menu > Settings and then select "Sign out."
If that does not resolve the issue, try powering off your device and restarting.
#7 Receive "You already own this item" error message (Android only)
If your device loses internet connectivity while purchasing PokeCoins from the shop, you may receive the "You already own this item" error message. Please power off and restart your device to resolve this issue.
#8 My location is incorrect, unavailable, or jitters/drifts
Niantic is constantly working to improve GPS accuracy and stability. In general, GPS accuracy largely depends on the device you're using and your signal/connection strength. To improve your device's location, please review the following settings:
Pokémon Go has location permissions enabled
Internet connectivity is enabled (3G, 4G, Wi-Fi)
Device location/GPS is enabled
Location/GPS set to high-accuracy mode
We hope that our guide helped you fix your Pokemon Go issues and that now you are enjoying the game and catching pokemons. If you encounter any other issues please contact us below and we will help you fix your game. Now go and catch' em all. – GamesErrors Team