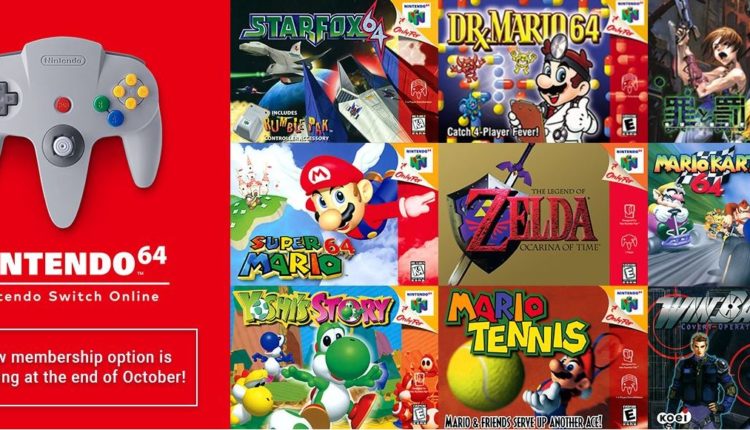 Big Improvements For Nintendo Switch Online For All 64 Games Included
Nintendo announced back in September that they will launch in late October a membership called Nintendo Switch Online + Expansion Pack.
By upgrading to this new membership, you will be able to continue enjoying all the current benefits of the basic Nintendo Switch Online membership, such as access to a library of classic NES and Super NES games, as well as some new benefits.
Other interesting games besides the titles available in Nintendo, can be found in the iGaming industry. For example, you can choose to play NeonVegas online, where you can enjoy classic and modern slots.
Some of the new benefits of the Nintendo new membership were announced this week, and it includes the Nintendo 64 games title coming to the console at 60hz and in English versions. Some of the titles included with the expansion pack will also be able to be played in the original PAL versions with options for different languages. The upgrade ensures that every game added to the service will be able to be experienced in 60 hz rather than the PAL versions' standard 50 hz. The inclusion of English versions also confirms the return of Sin & Punishment's English version, previously limited to the Wii and Wii U Virtual Console.
The Nintendo Switch Online + Expansion Pack's launch line-up of games will include:
N64 Launch titles:
Super Mario 64, Mario Kart 64, Star Fox 64, Yoshi's Story, The Legend of Zelda: Ocarina of Time, WinBack: Covert Operations, Mario Tennis, Dr. Mario 64, Sin & Punishment
N64 Future releases:
The Legend of Zelda: Majora's Mask, Mario Golf, Pokémon Snap, F-Zero X, Kirby 64: The Crystal Shards, Paper Mario, Banjo-Kazooie, Custom Robo (Japan only), Custom Robo V2 (Japan only)
Sega Genesis / Mega Drive Launch titles:
Castlevania: Bloodlines, Contra: Hard Corps, Dr. Robotnik's Mean Bean Machine (Puyo Puyo – Japan), Ecco the Dolphin, Golden Axe, Gunstar Heroes, M.U.S.H.A., Phantasy Star IV, Ristar, Shining Force, Shinobi III, Sonic the Hedgehog 2, Streets of Rage 2, Strider
Across the two systems the Expansion Pack will therefore have 22 games at launch in North America / Europe, with another seven N64 games confirmed to be on the way (while more unannounced retro games of N64 and Mega Drive / Genesis games are likely in the future). If it works the same way as the current subscription and apps, it may also be possible to download the Japanese version of the app (from the eShop on a non-NSO Japanese user login) to play the 'Japan-only' games on a Western account, but we'll test this at launch.
More Nintendo 64 games will be added going forward, including The Legend of Zelda: Majora's Mask, F-Zero X, Banjo-Kazooie, Mario Golf, Kirby 64: The Crystal Shards, Paper Mario, and Pokémon Snap.
Apart from these games, also a small collection from the 16-bit SEGA console, like Sonic the Hedgehog 2 and Goldex Axe, will be available in the new expansion.
The price for the new expansion of the membership is not available yet and was not made public during the announcement but they mentioned that existing Nintendo Switch Online members will be able to upgrade for a discount.
Some other cool announcements from the latest Nintendo Direct from September are the new titles Metroid and Mario Party, and a handful of surprises, including a new Kirby game and a star-studded cast for the Super Mario animated movie. The Super Mario movie is being made in collaboration with Minions studio Illumination and will be out on December 21st, 2022. The cast in the film will include Chris Pratt as Mario, Charlie Day as Luigi, Anya Taylor-Joy as Peach, Seth Rogen as Donkey Kong, and Jack Black as Bowser.
Chriss Pratt has shared on his Instagram account, a funny video of the world of Guardians of Galaxy colliding with Mario. "Amazing first look at Super Mario Brothers. This is going to be epic," the actor teased on Instagram alongside a fan-edited video that reimagines Pratt's MCU character as Nintendo's most-famous mustachioed mascot in a scene from Guardians of the Galaxy wherein Star-Lord reaches to grab an Infinity Stone, only this time it's been replaced by the powerful Super Star.
We are looking forward to the release of the new expansion for Nintendo and also for the Super Mario movie, which we think are the best announcements this year from Nintendo.