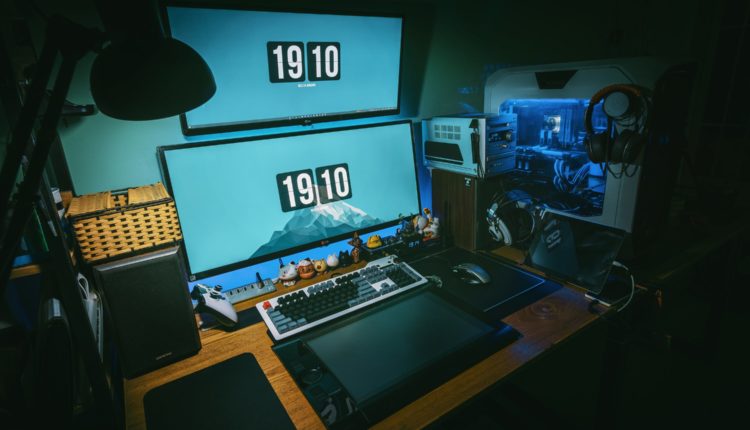 Creating The Ultimate Gaming Room: Our Top Tips
Creating a dedicated gaming room is most gamers' dream. If you're lucky enough to have the space and money to make your own bespoke gaming room, it is essential that you plan properly to get maximum benefit. You will need the ideal atmosphere to help you game to the best of your ability. You should consider all elements of the space to maximise the potential and make a place where you can relax and enjoy gaming.  
Get The Right Lighting 
Good lighting is crucial for an enjoyable gaming experience. You should have a combination of overhead and freestanding lighting. It is a good idea to consider the type of gaming you will be doing and invest in lighting to suit. For instance, you could have bright overhead lights to keep you energised and focused, neon ambient light for atmosphere, and warm side lights for more relaxed gameplay.  
Choose A High-Quality Chair 
Your gaming chair can make all the difference to your comfort. You should find a chair that offers good lumbar support and an ergonomic design. This can help prevent any back pain that can be caused by gaming. You can find plenty of gaming-specific chairs to suit a wide range of games and activities. It is a good idea to try out different chairs in person to get an idea of what type will suit you best.  
Invest In A Gaming Desk 
You will need a well-made, high-quality gaming desk to suit the games you will play. Building or buying a bespoke desk can be ideal for making the best use of the space available. You should consider the equipment you will need to store, the height of the desk and the range of motion required while gaming. It may help to visit a computer furnishings store in person so that you can test out a few different desks and get an idea of what will best suit you.  
Incorporate Various Games 
A gaming room doesn't have to be about only one style of game. You could make the room into a space where you can enjoy many different games. For instance, you could set up a console area, have your PC gaming desk, and add some retro and old school games. A bartop arcade machine could be the perfect way to give your gaming room character and invoke nostalgia for arcade games. Bitcade have arcade machine games in styles to suit any décor or preference. 
Add A Relaxation Spot 
You could consider having a space to relax when you are between games. This can be particularly helpful when you're playing more stressful games or when you're struggling to beat a certain boss or get past a certain level. A relaxation spot will give you a place to take a break and come back refreshed. You could consider putting in a bean bag or sofa with a table so that you can take a break and enjoy a hot drink or read for a while, then get back to your game feeling relaxed and ready to go.  
Consider A Mini Fridge 
Drinks and snacks are an important part of gaming. They keep you fuelled while you play and can make the experience all the more fun. Getting a mini-fridge is a perfect way to ensure you have plenty of ice-cold beverages to keep you going while gaming. You could also consider adding other food and drinks options like a popcorn machine or making your very own snacks stand.  
Hang Some Wall Art 
Decoration is vital to make your gaming room into a place that you enjoy spending time. You could consider investing in art and accessories that feature some of your favourite video games characters. You could also add some relaxing artwork that will help keep you focused on the game while you play.  
Include Plenty Of Storage 
Clutter can be a significant cause of stress – definitely not ideal for your dream gaming room. Including plenty of storage in your gaming room can help avoid it getting overly cluttered. You will need enough storage to keep your various games, gaming equipment and accessories. You should also keep on top of the tidying in your gaming room and ensure you put everything away in its place after each gaming session.  
Get Plenty Of Additional Seating 
Gaming is often much more fun when done in a group. Ensuring there is plenty of seating can be a great way to make your gaming more social. The amount of seating you can fit will naturally depend on the size of your gaming room. If you have limited space, you could consider getting some fold away chairs that you can bring out whenever you have guests.  
Final Thoughts 
Creating a gaming room can be a great way to get the most out of your gaming experience. You will need enough funds to get the gaming space right, though there are many ways to create an excellent gaming environment, even on a budget. You should focus on the things that will make your gaming experience the best it can be and build your gaming room around them.