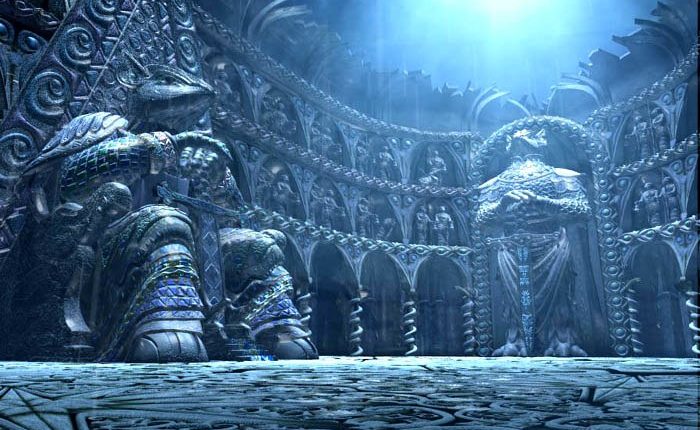 Final Fantasy IX is Out On PC and Comes With Glitches
Final Fantasy IX, one of the best Final Fantasy games, is finally out on PC and available on Steam, today 14 April. Selling over five million copies since its release on PlayStation in 2000, the game is now available also on PC via Steam platform.
It seems that a lot of players are complaining at this moment about Final Fantasy IX glitches and bugs related to user interface, sound, fps and other few minor issues. But most of them are making the game unplayable, you can read more about this issues below.
Developers made an announce about the release, that you can read below:
All Aboard the Hilda Garde everyone! It's time to return to Gaia as Final Fantasy IX is out on Steam right now!

Relive this classic Final Fantasy adventure with Zidane and his crew with a bunch of new features including:

・ Steam Achievements
・ 7 game boosters including high speed and no encounter modes.
・ Autosaves
・ High-definition movies and character models.

Whether you want to enjoy FFIX for the classic gameplay or use the in game boosters to experience the heartfelt story again, the choice is yours!

We hope you enjoy Final Fantasy IX on Steam and do let us know if you run into any problems!
Apparently, a lot of players are encountering sound problems with the game. For them the sound is simply not working, they can't hear a thing. It doesn't seem to be a fix for this issue at this moment but we'll inform you as quick as possible if something comes up.
"Seriously, Nothing is working for me. No sounds whatsoever. And seriously square, why wouldn't you just put a tech support subforum, did you expect there to be 0 issues at launch?"
"I don't know if it's just my laptop but I can't get sound to come from my TV when using HDMI for this, anyone else having the same issue?"
Gamers are complaining on the Steam Dashboard about the UI of the game, it seems that the mobile UI is annoying and unplayable.
"The mobile UI has to go! It's obnoxious and obscuring the battle, some of the dialogue boxes are also slightly too big from what I've seen, but that's a bit less of an issue. I hope it's moddable, someone will hopefully do SE's job again."
We'll release in the future a guide on how to fix all of these errors as soon as fixes and workarounds are discovered. You can check our website in a few hours/days for the guide or you can simply subscribe below and receive it on email.
Update: We released a tutorial on how to fix the major issues of the game below.
Final Fantasy IX Tutorial to Fix Major Issues:
Our team of developers managed to release a patch that helps you fix the errors described above. You can see how our patch looks like below, where you can also find a tutorial on how to use it and a download link. Please follow the tutorial step by step before asking any questions regarding your issues. Our patch won't interfere with your Steam account, it will just change some files and .dll in the game folder in order for the errors to be fixed.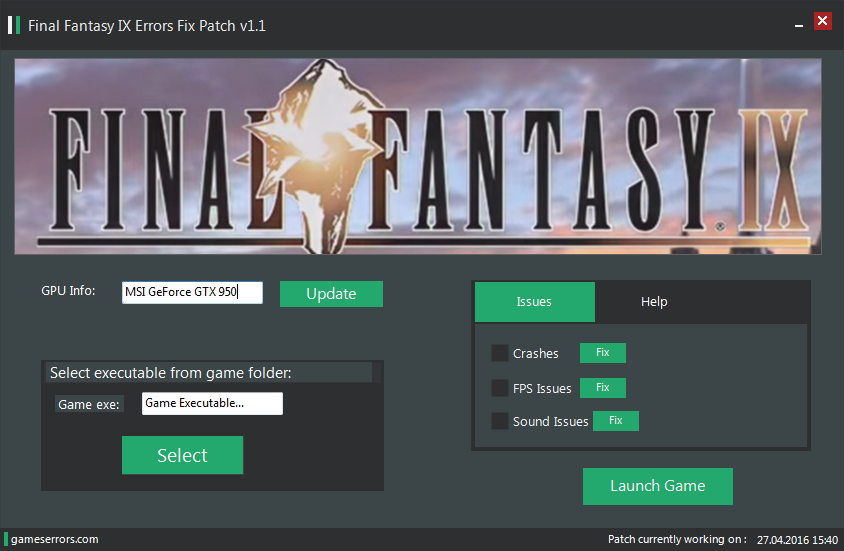 Follow the tutorial below to apply the patch correctly to your game.
How to apply our patch:
Download the archive of the patch from here: download
 Extract the downloaded archive on your PC, and open the patch from the folder.
Your GPU will be selected automatically, make sure that you use your dedicated GPU if you have a laptop!
Select the game executable from the game folder, if you used the default install folder it should be: "C:\Program Files (x86)\Steam\Steamapps\common\Final Fantasy IX"
 Select your issue or issues from the box to the right and click the corresponding "Fix" button.
After your errors are successfully fixed you can click the "Launch Game" button and play the game.
How to download: Well, you might think that our download service is pretty annoying but is very effective. To download you just need to complete a simple offer, it usually takes a few minutes, and after that, you will be able to download the patch. We use this service because is the only way to support our developers and to keep releasing and updating patches for games. Thank you! We hope you understand us and have fun playing Final Fantasy IX!