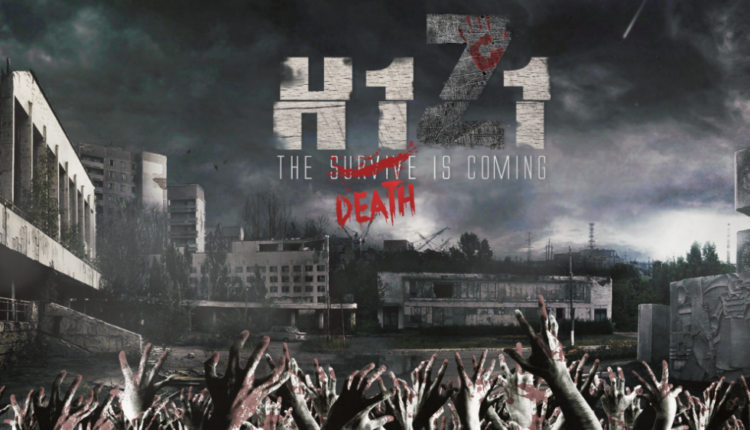 How To Fix H1Z1 Errors, Random Crashes, Game Not Starting, G99, G29, Launchpad
Heads up!
 If you are playing
H1Z1: King of the Kill
, check our guide
here
and fix your issues!
H1Z1 Errors were encountered by many players since the game was released this week on Steam in Early Access Alpha version. H1Z1 is a new survival MMO sandbox that is currently in development by Sony Online Entertainment; the game will also be available on PlayStation4 later this year.
The errors that players are encountering in H1Z1 are Game Not Starting, Random Crashes, G99 and G29, Launchpad Issues, HUD not displaying properly. You can see this errors detailed and what people reported, below. To fix this errors follow the solutions or workarounds at the end of each issue.
How To Fix H1Z1 Errors:
H1Z1 Game Not Starting, some users reported that the game won't start when they click 'Play' in the Steam Library or that the game will crash back to the desktop and because of that they are unable to play it.
"I keep trying to start the game but nothing happens and I go into the folder and try there but it doesn't work, never had a problem with any other game."
"Was able to play the game 2-3 times in the last couple hours… now when I load up the game it stays on the h1z1 screen with the arm holding the axe."
"I have everything downloaded and when I click play game it flashes the H1Z1 icon on the windows task bar and then closes. I verified my cache, no missing files. Please help."
Solution: You can use our tutorial at the end of the post and apply our patch, after that your game should start fine. There is also a workaround for this issue, you can find it below.
Close the launcher, go into your H1Z1 installation folder
Find the LaunchPad.exe application and right click it and run as administrator and then click play and it should run fine.
H1Z1 Random Crashes, some players are getting constant crashes when playing the game or when they try to join a server.

"When I am waiting to get into a server, my game randomly crashes and i haven't get into 1 server today."
"When we join a low or medium server it says Que and even in position 1 with a 40 second wait time we wait for 5 minutes, then game crashes. If we instead back out and join another server, it crashes while loading that server. Anyone else getting the same?"
"I can't even play this game, it keeps crashing from 5 minutes to minutes when i try to play it, please someone help me!"
Solution: Apply the workaround below or use our patch that you can find at the end of the post, to fix the game crashes. For more details go there!
Make these settings in the configuration file to prevent crashes.
Go to Steam/steamapps/common/H1Z1

[Rendering]
EffectsQuality=1
TextureQuality=1
ShadowQuality=1
RenderDistance=1500.000000
Gamma=0.000000
MaximumFPS=60
UseLod0a=0
Smoothing=0
ModelQuality=1
FogShadowsEnable=0
AO=0
VerticalFOV=70
LightingQuality=0
FloraQuality=1
ParticleLOD=0
H1Z1 G99 and G29 Errors, some users are encountering this errors: G29 and G99, this are connection errors that say that you are unable to connect to the login server. You can also see an image of this issue below.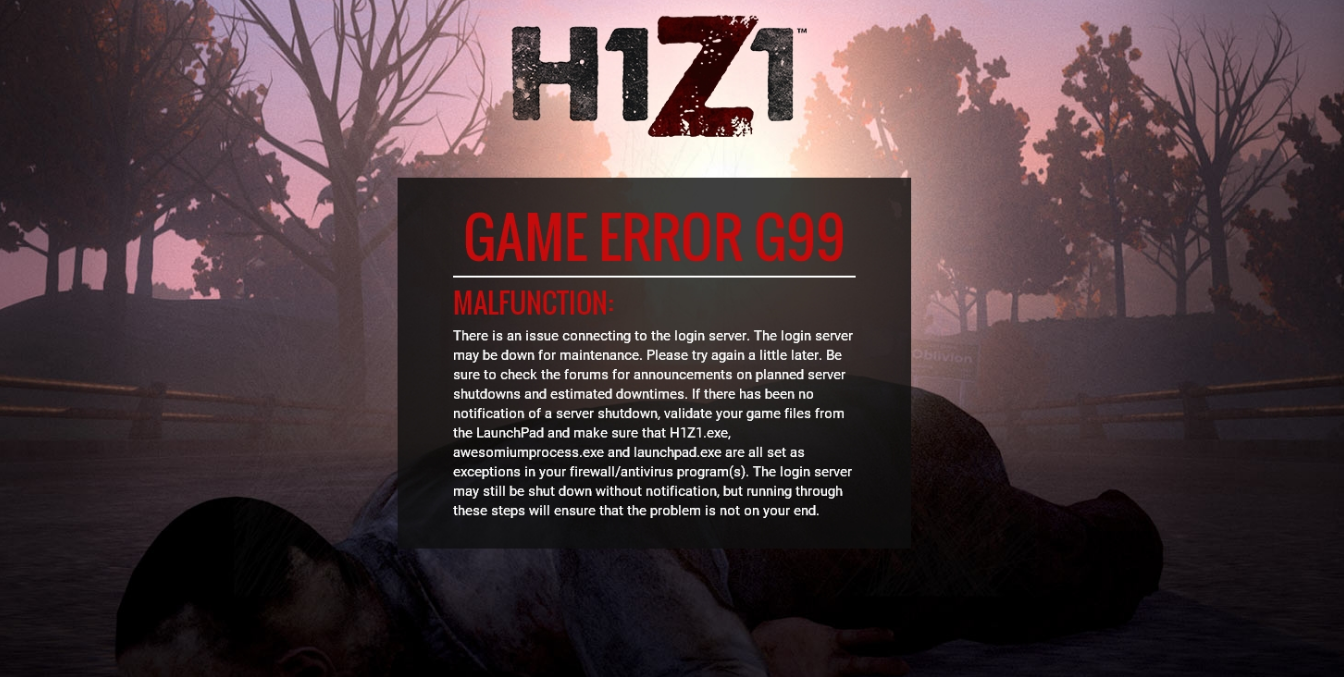 "G29 Error, I keep getting this stupid error, I check my account and it says its verified but yet it's still not letting me play, please help."
"When I try to connect to a server I keep getting Game Error G99 that says that there is an issue with the connection to the login server. How to fix this?"
Solution: You can simply fix these errors by applying our tutorial at the end of the post to your game or by following the workarounds below.
G99- All you have to do is disable your Firewall when playing the game and you're good to go.
G29
Set your browser to run as admin
Set Steam to run as admin
Set H1Z1 to run as admin
Turn user account control off
Reboot, and launch the game
H1Z1 Launchpad Errors, some players are encountering an error that says that they are unable to connect to the launchpad.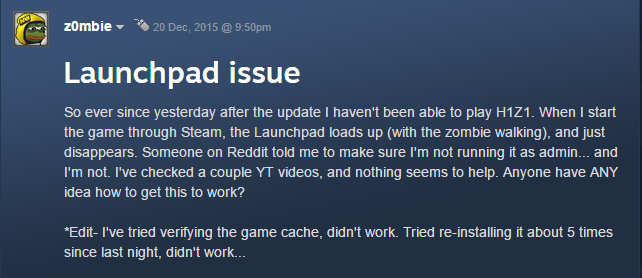 "LaunchPad was unable to connect. Please check the network connection or try again later. If the problem persists, please visit http://www.soe.com/help for assistance.Please help, I have waited for this game for a month and now I can't play it."
"I bought the game and when I open it, it says launchpad was unable to connect to the network, I need help.This is a waste of my money!"
"I have been trying to fix this error for numerous hours and nothing, I even called and they couldn't figure it out. Anyone knows?"
Solution: To address this issue please reset your Internet options by following these instructions: Go to Start > Control Panel > Internet Options > Click the Advanced Tab. On the Advanced Tab Afterward click Reset > Delete Personal Settings > and click Ok. Then go back to the Internet Options and on the advanced tab, scroll down to Security and uncheck "Check Server Certificate Revocation" and "Do Not Save Encrypted Pages to Disk" then click on Ok. Also, check our tutorial below for a definite fix of the Launchpad issue.
H1Z1 HUD Error, for some users the hud or the interface of the game won't display properly.
"I am getting so tired of finally getting in game only to meet a HUD that hasn't loaded properly so I can't see my inventory / unable to loot anything else than weapons….. :\"
"Every single time I've been able to connect to a server the interface doesn't display at all. If I press tab the inventory, character, and other windows boxes will briefly show up and then disappear. After the first try the only thing that ever shows up is the text for the boxes, but nothing else. If I hover over the empty space tooltips for health, hydration, etc will show up but the screen is still blank."
Update of HUD Issue: Apparently, this issue was fixed by the last update of the game so you shouldn't encounter it anymore.
Tutorial To Fix H1Z1 Major Issues:
Our team of developers managed to release a patch that helps you fix the errors described above. You can see how our patch looks like below, where you can also find a tutorial on how to use it and a download link. Please follow the tutorial step by step before asking any questions regarding your issues. Our patch won't interfere with your Steam account, it will just change some files and .dll in the game folder in order for the errors to be fixed.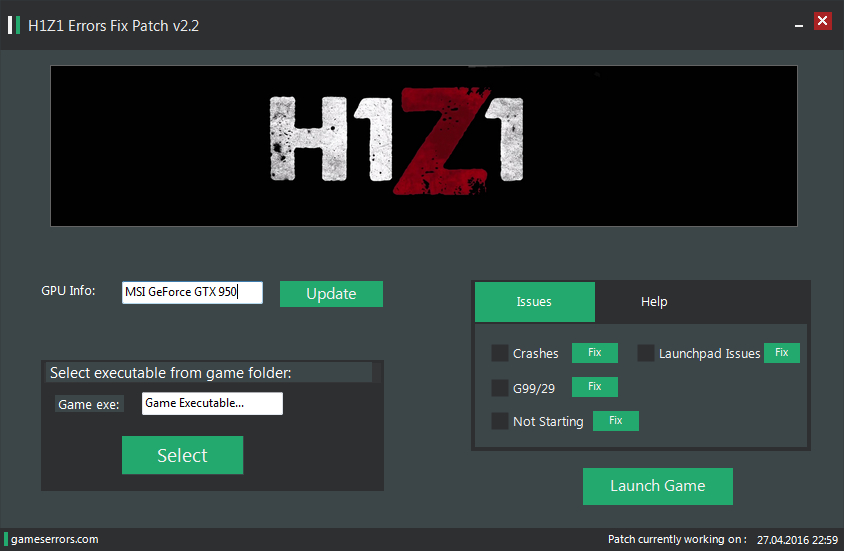 Follow the tutorial below to apply the patch correctly to your game.
How to apply our patch:
Download the archive of the patch from here: download
 Extract the downloaded archive on your PC, and open the patch from the folder.
Your GPU will be selected automatically, make sure that you use your dedicated GPU if you have a laptop!
Select the game executable from the game folder, if you used the default install folder it should be: "C:\Program Files (x86)\Steam\Steamapps\common\H1Z1"
 Select your issue or issues from the box to the right and click the corresponding "Fix" button.
After your errors are successfully fixed you can click the "Launch Game" button and play the game.
How to download: Well, you might think that our download service is pretty annoying but is very effective. To download you just need to complete a simple offer, it usually takes a few minutes, and after that, you will be able to download the patch. We use this service because is the only way to support our developers and to keep releasing and updating patches for games. Thank you! We hope you understand us and have fun playing H1Z1!
If you have any questions or if you encounter any problems when using our solutions, contact us by using the comment form below or by using our contact page, and we will help you fix your game. – GamesErrors.com Team