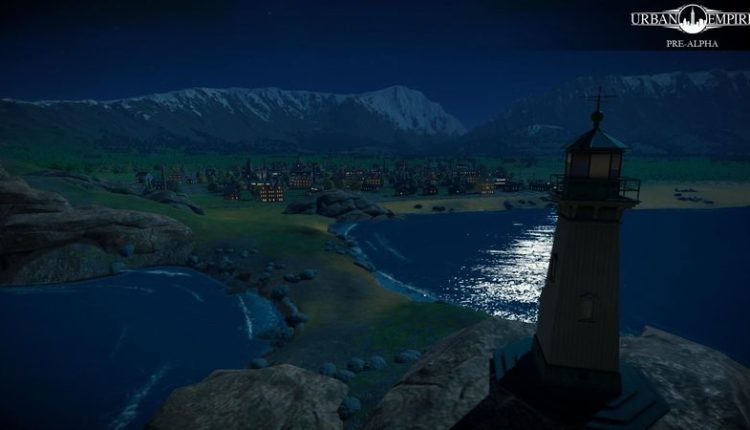 How To Fix Urban Empire Errors, Not Launching, Crashes, Graphic&Performance Issues
Urban Empire just became available on Steam, and now you can start to lead your city and people through 200 years of history. The game is a political city building genre that spans two hundred years of European history, from 1820 to 2020. The strategy game brings you infrastructures, plan city districts, debate political decisions at the town council, bribe or blackmail your opponents.
Urban Empire is a 'City Ruler', pioneering a new breed of strategy game that combines city builder features with political scheming and adds profound social and historical events into the mix, creating a whole new gameplay experience.
The game was released today, but players are already complaining about a few issues and bugs that are either making the game unplayable or annoying to play. For example, some of these Urban Empire errors are UI being a mess, not launching, camera rotating uncontrollably, graphic issues and other minor bugs that we are going to detail below.
Our team noticed that the most encountered issues are:
Camera Rotating Issue
Graphics/Performance Issue
Not Launching Bug
For the above issues but also for the minor bugs, you can find workarounds and solutions after the system requirements of the game!
We know that you are here to fix your issue and play the game. So let's go ahead and not waste any more time.
First, you need to make sure that your PC meets the minimum system requirements of the game, for a proper gameplay with zero issues, we recommend you to meet at least the recommended system requirements. If your PC passes all the demands you can go ahead and fix your problem, if not, you need to upgrade it because this is why you are probably having issues.
SYSTEM REQUIREMENTS
MINIMUM:
OS: Windows 7 SP1 / 8.1 / 10, 64bit
Processor: Intel i5-2400 / AMD FX-6350
Memory: 6 GB RAM
Graphics: NVIDIA GeForce GTX 560 / AMD HD 6850 2GB
DirectX: Version 11
Storage: 4 GB available space
RECOMMENDED:
OS: Windows 7 SP1 / 8.1 / 10, 64bit
Processor: Intel Core i5 4690K / AMD FX8320 or newer
Memory: 12 GB RAM
Graphics: NVIDIA GeForce GTX 970 / ATI/AMD Radeon R9 290 3GB or newer
DirectX: Version 11
Storage: 4 GB available space
Urban Empire Errors:
If you arrived here, it means that your PC supports the game and that you are ready to start and fix your game. Below you will find the most encountered errors in the game, and for each issue, you will have a workaround or a solution on how to fix it.
Please follow the instructions on how to apply the workarounds properly, if you have any questions or if you don't know how to apply one, please contact our support team here and someone will help you in a few minutes to fix your game.
If your OS is Windows 10 read below:
– We recommend running the game as an admin user.
To do so, right-click on the game .exe and/or shortcut and select "run as administrator".
– If this is still not working, we recommend starting the game in Windows 7 compatibility mode.
To set the compatibility mode, do the following:
Right-click game .exe and select properties (by default: C:\Program Files (x86)\Steam\steamapps\common\Urban Empire\Urban Empire.exe)
Click the Compatibility tab and then tick the box labeled "Run this program in compatibility mode
Now you can select a Compatibility Mode and select e.g. "Windows 7."
Tick the box below "Run this program as administrator" (to always run the game as administrator)
Click on "OK" to apply the changes and start the game with double click on the game's .exe.
If you have Integrated Intel HD Graphics and a dedicated graphic card read below:
When using a laptop with an integrated graphic chip, it might be the case that by default this chip will be used, instead of the dedicated graphic cards, which may impact the performance of a game. You can easily change this by doing the following:
– Update the graphic card driver from the link below.
http://www.nvidia.com/Download/Scan.aspx?lang=en-us
– Then change the settings as described below:
1. Open your Nvidia Control Panel (right-click on desktop, select Nvidia Control Panel)
2. Select "Manage 3D settings"
3. Select "Global Settings". You will find the option "Preferred graphics processor". Please select "High-performance NVIDIA processor" and save the settings.
4. You will have to reboot your system for the changes to take effect.
#1 Urban Empire Not Launching

Some players are saying that they are unable to launch the game and because of that they can't play the game. When they click the Play button in the Steam Library nothing happens and no process starts. Others are saying that they manage to enter the game but their cursor spins for a while and after that, they encounter a black screen, followed by a crash. And some, even manage to start a new campaign or scenario but their loading screen lasts forever.
To fix this issue and launch your game, try the workarounds below and if nothing works for you, just apply the solution for this issue. But first, try the workarounds to make sure that everything works properly with your game.
Workarounds:
Run the game as administrator.
Run the game in compatibility mode. (Go to the "Properties" for the .exe and switch to recommended settings of compatibility mode to Windows 7)
Update your graphic driver.
Some players said that these workarounds helped them launch the game and others said that they still encounter this issue. If you are one of them, also check the solution below and after that, you should launch the game with no problems.
Solution: To fix the launch issue of the game you need to use our tool and apply it to your game. For more details go to the tutorial at the end of the post!
#2 Urban Empire Camera Issues (rotating&spinning)

You might encounter a weird issue where your map starts spinning in circles, and your camera will rotate uncontrollably. It seems that this issue is generated by a controller or joystick being connected to your PC before launching the game. The developers of the game also responded to this issue with a fix, and you can read it below.
As many of you already figured out, any device used for ingame movement can cause this, we are sorry and working on a fix.
Please make sure to disconnect all devices like joysticks and gamepads except keyboard and mouse and try again.
We will deliver a patch as soon as possible.

If you have done all of the above and still experience the spinning issue, please post your hardware specs here and send them to support@kalypsomedia.com

Please excuse the inconveniences.
#3 Urban Empire Performance/Graphic Issues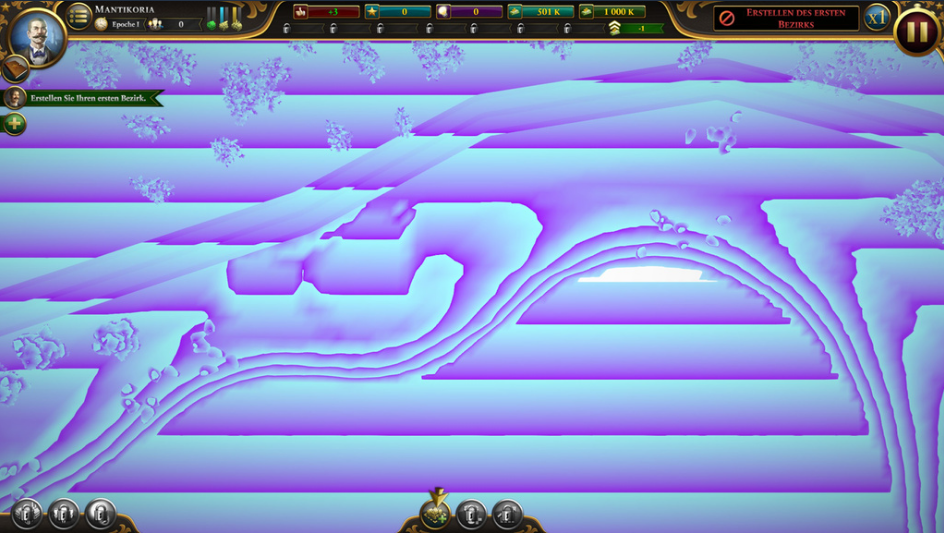 As you can see above some players are encountering a strange graphic issue where their screen gets blurred and messy. Because of that, they can't see the map of the game, and they are unable to play it. Some users found a solution for this issue, to fix it read below.
Solution: Lower your resolution. It seems that only players with 2560×1440 resolution are encountering this issue. Lowering the resolution will fix your graphic issue!
As for performance issues, a few players reported some FPS Drops and Stuttering, but you can fix them with our tool, that you can find below.
Solution For Urban Empire Errors (tutorial):
*Only for Launch, Graphic&Performance Issues, Crashes
You just bought Urban Empire, and you are unable to play the game because you encounter some errors? Don't worry, a lot of players are complaining about issues at this moment, and we will help you fix them.
You might be unable to start your game, you might encounter random crashes while playing or you might be annoyed by the graphic issues of the game. We will help you fix all of these issues and play the game!
How? That's simple, with our tool, it will optimize your GPU and fix the performance issues, it will tweak your PC and find the corresponding fix for your launch issues and it will also fix your crashes.

You are probably wondering what is this tool and how does it work, right? Well, our patch is developed by our team, we are a few gaming enthusiasts with a passion for coding, and by doing this, we are trying to help the gamers community. We know that you paid quite a lot of money for your game and not being able to play it it's just annoying.
Our patch will optimize your graphic card for the best performance and it will also update your GPU to the latest version that works with Urban Empire. It will tweak your PC to make sure that everything works fine and it will install the required redistributables in order for the game to work properly. (Please Note: our patch won't interfere by any means with your Steam account, you will be safe the whole time!)
Below you can find an image on how our tool looks like and also a tutorial on how to properly use it. Please follow the tutorial step by step to make sure that you apply the patch correctly to your game. If you are not sure about some things please contact our support team. You can find the download link in the first step of the tutorial!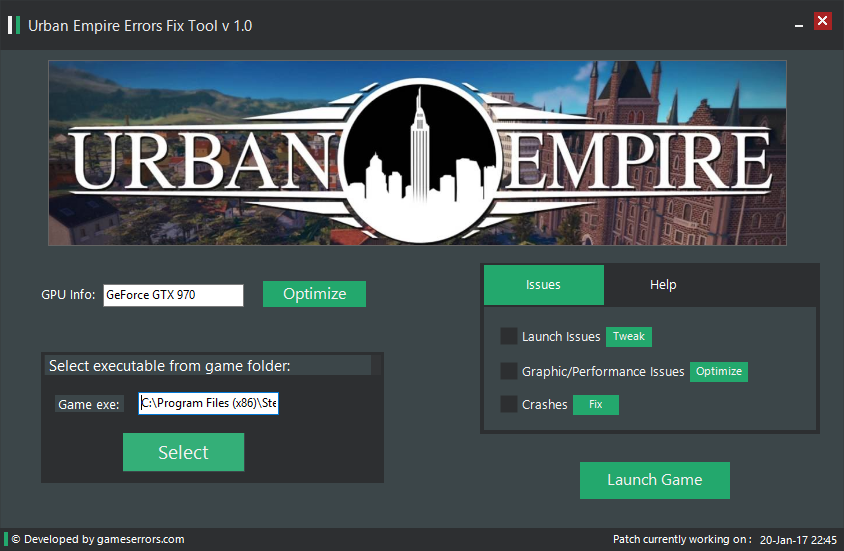 To make sure that you apply the patch correctly to your game please follow the tutorial below step by step. If you are not sure about something just ask us, our Support Team answers in a matter of minutes.
How to apply our patch:
Download the archive of the patch from here: download
Extract the downloaded archive on your PC, and open the patch from the folder.
Your GPU will be selected automatically, make sure that you use your dedicated GPU if you have a laptop!
Select the game executable from the game folder, if you used the default Steam install folder it should be: "C:\Program Files (x86)\Steam\SteamApps\common\Urban Empire″.
Apply all the tweaks from the box in the right.
After your issue is successfully fixed, you can click the "Launch Game" button and play the game.
How to download: Well, you might think that our download service is pretty annoying but is very effective. To download you just need to complete a simple offer, it usually takes a few minutes, and after that, you will be able to download the patch. We use this service because it's the only way to support our developers and to keep releasing and updating patches for games. Thank you! We hope you understand us and have fun playing Urban Empire!
We hope that you managed to fix your Urban Empire errors and that now you are playing and enjoying the game. If you still encounter issues or if you don't know how to apply our patch, please comment below or open a Support ticket on our support page. After that, a member of our team will help you as soon as possible to fix your error so you can enjoy your game.–GamesErrors Team