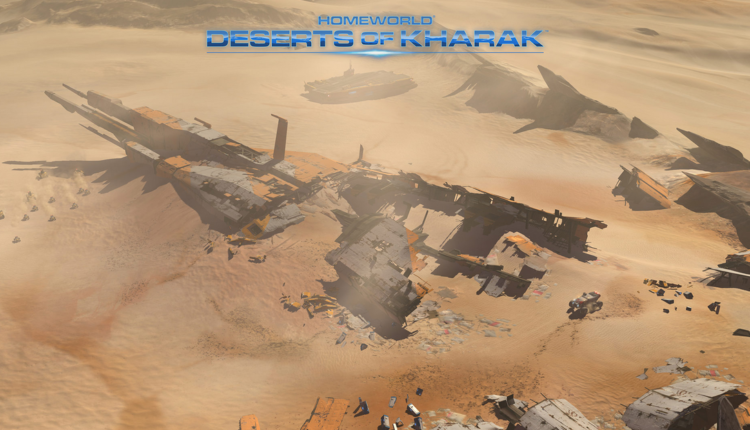 How to Fix Homeworld: Deserts of Kharak Errors, Crashes, Lag
Homeworld: Deserts of Kharak was recently released on Steam and by now the game got a lot of good reviews and users reported just some minor errors and bugs with the game. The game is a ground-based RTS prequel to the classic Homeworld games in which you assemble your fleet and lead them to victory on the shifting sands of Kharak in this compelling strategy game for PC from Blackbird Interactive.
The most common Homeworld: Deserts of Kharak Errors reported by players are: Crashes, Lag, Freezes, Low FPS and some other minor bugs. To fix this errors follow our fixes and workarounds in the tutorial below.
How to Fix Homeworld: Deserts of Kharak Errors:
1) Homeworld: Deserts of Kharak Crashes, a lot of users complain about this issue, they get random crashes during the game or they are unable to start the game due to startup crashes. To fix this issue follow the solution below.
"Preloaded the game, and once activated was able to play the tutorial just fine(Max settings) and start Mission 1. When it came time to actually launch the Carrier, I lost video display while I could still hear audio(ambient music) playing.
No combination of key pressing could return me to desktop or Task Manager etc (running Win10 x64). Only way out is a hard reset. I've since tried deleting all files and reinstalling, however now I can't even get past the first cutscene without this same display crash."
"So, the game loads fine and dandy, the menu itself works fantastic. But the moment I try to play a actual game of H:DoK it crashes to desktop. When I try to open up the tutorial campaign, I get a glorious intro music with nothing but blackscreen for a good ten seconds before it crashes again. I've got no clue what's going on here, anyone experiencing the same problems?"
Solution: The random crashes are reported by the players with laptops, to fix this make sure that you use the dedicated GPU and not the integrated one. To fix the start up crashes 'Verify Integrity Cache' from Steam because the game has some files missing after installation.
2) Homeworld: Deserts of Kharak Lag, some players are reporting lag while playing the game. To fix this follow the quick workaround below.
"Whenever I try to play the game I have constant lag and I can barrely move the mouse. Please help me to fix this!"
Workaround: To fix this issue you just need to restart your WiFi/Lan, this workaround helped the majorty of players to resolve the lag issue.
3) Homeworld: Deserts of Kharak Low FPS, from time to time you may get Low FPS and FPS Drops. To fix this follow the solution below that the developers of the game wrote.
"The native resolution for my monitor is 16:9 resolution and your game supports that however when i run my bechmark tests ( i use mission 2 as it is the most grahically intense mission ) i have a noticeable drop in framerate i fixed this by lowering the in game resolution to a measely 1280x 720 that seemed to work. The lag was also caused by your shadows though much to a lesser extent than the resolution issue. How to fix this?"
"The FPS drops everytime anything happens ever. The audio cuts out sometimes and then comes back. Occasionally I will get a glimpse of good performance but as soon as something shoots or creates a dust cloud or farts the FPS goes to ♥♥♥♥. It makes the game unplayable for me. I can run Witcher 3, Rainbow 6 Siege and pretty much anything else flawlessly. I want to enjoy this game but right now I can barely get through the menus. I tried changing the settings to low and I think the performance got worse."
Solution: According to the game developers the game doesn't run well with background apps or overlay apps. To fix this issue simply close Fraps, Steam overlay, antivirus and any other background apps that you have.
4) Homeworld: Deserts of Kharak Mission Bug, some players get stuck during missions. To fix this follow the simple solution below and you will be able to finish your mission after that.
"I've done all main objectives, killed everything on map and still have objective: Destroy the Remaining Gaalsien Forces.
Anyone else got problem with this?"
Workaround: This bug is mainly reported in Mission 3 and 4, to fix it just restart the game.
We hope that our solutions and workaround helped you fix your Homeworld: Deserts of Kharak errors and that now you are playing and enjoying the game. If you have any other errors or questions about our tutorial please comment below and our team will help you fix your game! – GamesErrors Team