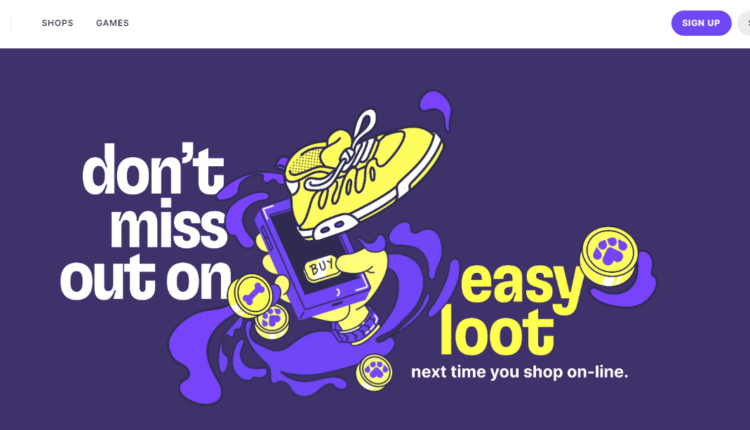 MillionPugs – cashback for gamers. Is it worth it?
X
INSTALL BY CLICKING THE DOWNLOAD FILE
Do you like playing World of Worships, Heroes and Generals, Gwent: The Witcher Card Game, or EVE Online? 
Do you wish to advance in playing with powerful in-game items that can be purchased usually only for real money?
If so, you should get to know and start using the recently-launched cashback platform for gamers, MillionPugs, and their top-notch browser extension. 
In this article, you will find out:
What is MillionPugs, 

How to use MillionPugs, 

Why should you use MillionPugs?
What is MillionPugs?
MillionPugs.com is a rewards platform for gamers allowing them to collect points that can be later redeemed for in-game content. 
You gain rewards points, called pugs™, by ordering services or shopping online at your favorite stores, for example by:
buying groceries at Walmart,

ordering a pizza at Grubhub, or

purchasing a Thai massage at Groupon. 
How do I collect pugs™?
The cashback platform already collaborates with almost 1000 brands that have prepared special deals for MillionPugs users. Once they make a purchase at their online stores, they are also able to activate pugs™ that will be added to their MillionPugs account once they finalize the transaction.  

There are also bonus boosts of pugs™ for newcomers to facilitate the collection of points. For instance, you get points for:
installing the MillionPugs browser extension,

visiting one of the affiliated stores for the first time,

making your first purchase. 
What is more, MillionPugs grants you credits for every eligible transaction you make. Accordingly, once you shop online, you get both pugs™ and credits. 
What is the purpose of credits? How do they differ from pugs™?
Credits, just like pugs™, are awarded for every completed transaction in a partnered store.
In the majority of cases, pugs™ are rewarded based on the value of the purchase, while credits are assigned based on the frequency of transactions. 

Credits are granted instantly and usually you get 100 credits for every transaction. 
On the other hand, after a purchase the number of pugs™ enters into "pending" status up until the transaction is confirmed. 
Nevertheless, in the end both of them will land on your account and you will be able to exchange them for desired in-game content. 
How do I get hands on all this fancy in-game content? 
Once you collect enough pugs™ or credits, all you need to do is to click on the desired item at MillionPugs.com/games and follow the instructions. 
The whole process is straightforward and quick: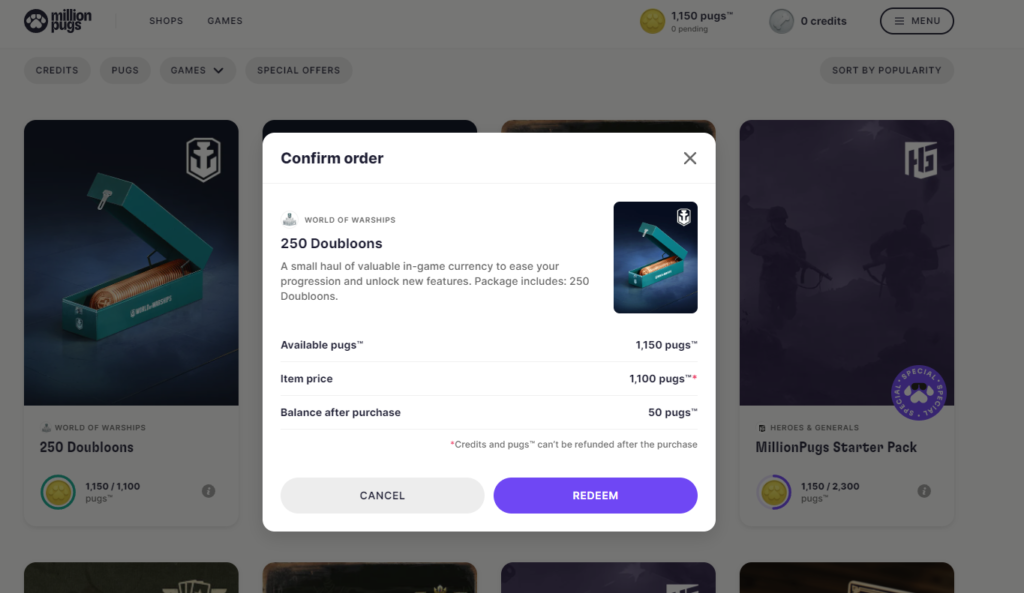 You purchase the in-game content of your choice.

MillionPugs generates a code for you. 

You activate the code in the game. 

You get the content.
If you don't use the code right away, you can always check it out in your MillionPugs account in the My Codes section. 
Who is behind MillionPugs?
The founders of MillionPugs are gaming enthusiasts that know the pain points of gamers. 
Therefore, they have decided to provide players with an innovative service to up their game and make it more compelling. 
The whole idea is strongly supported by heavy hitters in the gaming industry responsible for the success of Twitch, EVE Online, Riot Games, or Wargaming. 
How to use MillionPugs?
To use MillionPugs, all you need to do is create a free account. 
Once you do that, you can browse the in-game content MillionPugs offers in exchange for points along with the list of affiliated brands. 
Nevertheless, to take full advantage of the MillionPugs service, the optimal option is to install the MillionPugs browser extension in your Google Chrome, or, soon, in Microsoft Edge. 
Why should you install the MillionPugs browser extension?
Apart from an additional boost of pugs™ you get once you install the plugin, it will also do a great chunk of work for you, saving up your time and effort. 

Once added, the plugin will notify you with a pop-up about available pugs™ every time you visit one of the affiliated stores. Then, you can easily activate pugs™ deals, finalize purchases, and, afterwards, find both credits and pugs™ in your account. 
Using the MillionPugs plugin guarantees that you don't miss out on any opportunity to increase the number of pugs™ and credits in your wallet. Instead of browsing the website looking for the best deals and copying links, you can easily shop as you used to. Among almost 1000 stores affiliated, you probably can find at least a few you already frequent. 
Why should you use MillionPugs?
The main advantage and the core of MillionPugs existence is the possibility of earning powerful in-game content by shopping online. 
Nevertheless, the service also comes with other benefits that make it a user-friendly platform for gamers.
Wide selection of games
The cashback platform has recently been launched, but can already equip you with in-game items for a wide selection of games, such as:
World of Warships,

Heroes & Generals,

Kards,

Gwent:  The Witcher Card Game.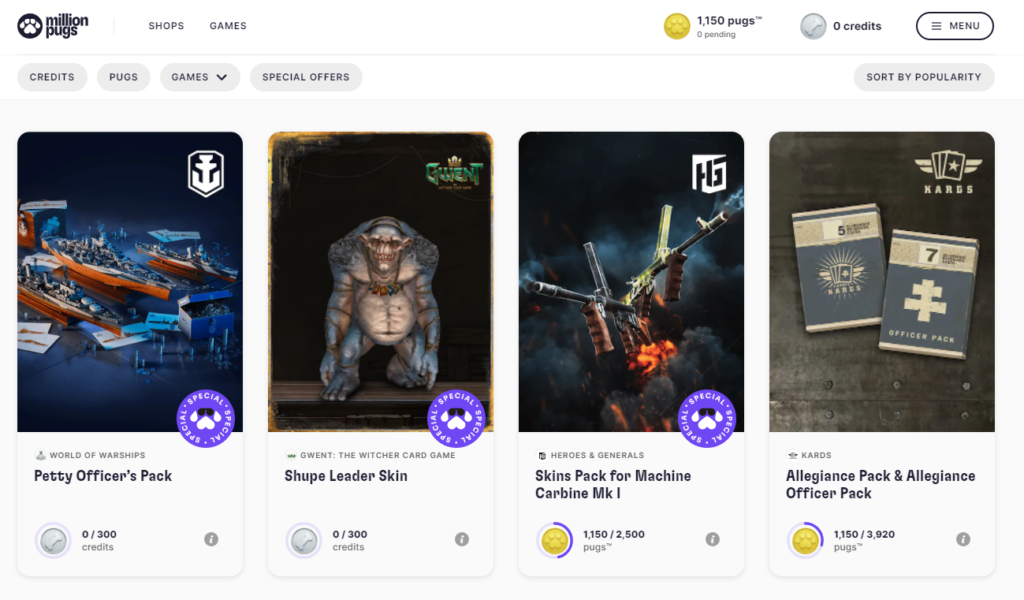 It is also worth mentioning that the number of games is still growing. 
MillionPugs has already announced that soon you will also see on this list:
League of Legends, 

EVE Online,

Valorant,

Teamfight Tactics, 

Legends of Runeterra.
No costs and no contractual obligation
MillionPugs is a free-of-charge service available for all US players. Its founders earn exclusively by getting commissions from partnered brands when users activate deals. 
Instead of taking all this profit for themselves, MillionPugs shares it with users granting them pugs™.
What is more, once you start, you don't have any contractual obligation about the time or the frequency of usage. Once you come to the conclusion that you don't need the service anymore, you can deactivate your account instantly. 
Saving time
Although we all love playing games, we are also aware that acquiring in-game content like:
Doubloons or Premium Ships for World of Warships, 

Gold or powerful weapons for Heroes and Generals,

premium kegs for Gwent: The Witcher Card Game
entails completing sometimes dull and time-consuming missions. 
Once you use the MillionPugs platform, you can get valuable content in an effortless and quick way. And stop wasting time on tedious missions or challenges.
All in all, MillionPugs was designed to enable gamers to earn in-game content by doing what they normally do, which is shopping online. The platform is fully legit, free-of-charge, and user-friendly.
Therefore, if you have been struggling to get all the resources you need to up your game in World of Warships, Gwent, Kards, Heroes and Generals, and many others, the MillionPugs platform is definitely a place to go.