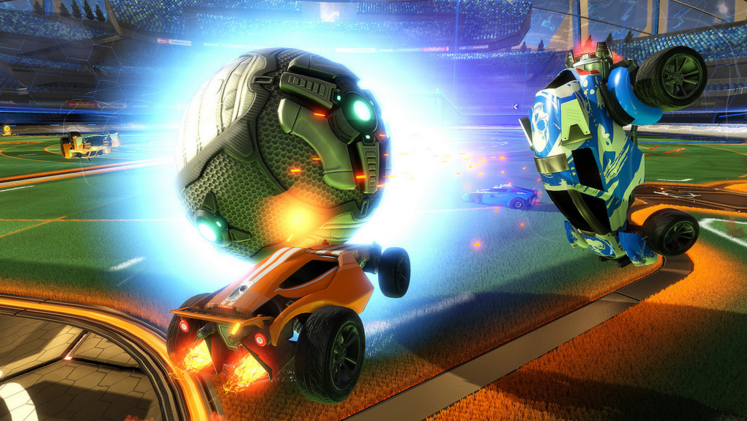 New Rocket League Update is Out Now: Cosmic Arena, Flags, and More
A new update patch is now available for Rocket League, version 1.17 is out now and available to download for PC, PlayStation 4 and Xbox One. It is a very big patch that comes with new DLCs and a lot of awesome features like Hoops Mode, Cosmic Arena, Flags and more.
Hoops matches are 2v2 and take place on a new map, called Dunk House. You will also get NBA flags, to coincide with the basketball theme. Everyone gets a free NBA flag and you can buy the rest, up to all 30 flags available.
After you apply this patch to your game, you will also be able to save replays mid-game, replay can be renamed and Hoops is now available in Casual Playlist.
Below you can find the patch notes and what interesting updated cointains this new patch.
CHANGES AND UPDATES

GENERAL

The "Hoops" 2v2 mode has been added as an unranked playlist, and is also available in Private Matches and Exhibition mode at any team size.
Exhibition and Private Match now have a "Game Mode" selector.  The mode you select determines which maps you can choose – for instance, "Hoops" can only be played on the "Dunk House" map.
During Overtime, the in-game UI clock now counts upwards to indicate how long the overtime has lasted.
New "Cosmic" Arena has been added to the "Rocket Labs" playlist
After scoring in Free Play, there will no longer be a 3/2/1 countdown.

STATS

"Dunks" stats has been added with this DLC.

When a player scores a basket/goal with any NBA flag equipped, it will increase your stat on that NBA flag.

UI/ UX

Players can now trigger an automatic replay save mid-game, so they don't have to wait until the match concludes and remember to save it then.

Auto-Save is triggered by holding the activation button during gameplay.  When triggered, the save will be queued and a message will appear in the chatbox indicating the action.  A replay tick mark is automatically added to the replay at the timestamp the player triggered the autosave.

Players can now manually name (and rename) replays.

Select "Save Replay" at the end of game and the user can now provide a custom name.
Users can also rename replays in the frontend.

Mouse/Keyboard – A pencil icon appears when mousing over a replay.  Clicking the Pencil brings up the rename dialog.
Controller – Pressing Triangle button on the Replay menu brings up the rename dialog.

BUG FIXES

GENERAL

Spectators will no longer see Camera Shake in Player View if the option is disabled
Fixed a rare issue that would allow the ball to exit the arena