How to Fix The Culling Errors, Crashes, FPS Issues, Server Issues
The Culling is now available on Steam, in "Early Access" version. You can play the game and get involved as it develops because it is not yet completed and it may or may not change in the future. You can see below what developers said about the early access version of the game.
Why Early Access?

"Until now, battle royale has been limited to add-on modes found in various open-world survival games. We are building The Culling from the ground up as the first stand-alone entry in the battle royale genre. Our goal is to not only for The Culling to be the genre leader, but also to grow into a popular e-sport.

Approximately how long will this game be in Early Access?

"We expect The Culling to remain in Early Access for approximately one year, with a full release coming sometime in 2017."
Because the game is in this version, it comes with a lot of errors and issues. The most common The Culling errors that players reported are Crashes, FPS Issues: Low FPS or FPS Drops and Server Issues, like connectivity problems or disconnect problems.
Below you can find these errors detailed and solutions how to fix them. You can directly skip to the tutorial if you already know for sure what issue are you encountering, if not read them below to be sure.
How to fix The Culling Errors:
1) The Culling Crashes, were reported by a lot of players, they encountered random crashes during the game or at startup. To fix this issue follow the solution below.
"I have been playing this game since this morning with no issues. However, I come back to my computer this afternoon, and Steam had crashed. I restart Steam and try to hit Play to start the Culling. But Steam only crashes. No game. Just crashing. Anyone else experience this and have any ideas?"
"I see people play the game and its great, so I bought this game to have the same experience. Sadly the game kept crashing 1 min after loading. Please don't ignore this thread I'm just looking for ideas on how to fix the issue."
Solution: Make sure that you have at least the minimum PC requirements to play the game. After that, apply our patch to fix the crashes, you can find it at the end of the post.
2) How to skip the intro videos, to skip the video intros follow the quick workaround below.
"I am unable to skip the intro videos, can anyone please help me?"
Workaround:
Go to C:\Program Files (x86)\Steam\SteamApps\common\TheCulling\Victory\Content\Movies
Rename the 'LoadingScreen.mp4' file to something else, for example 'LoadingScreen.mp4.bak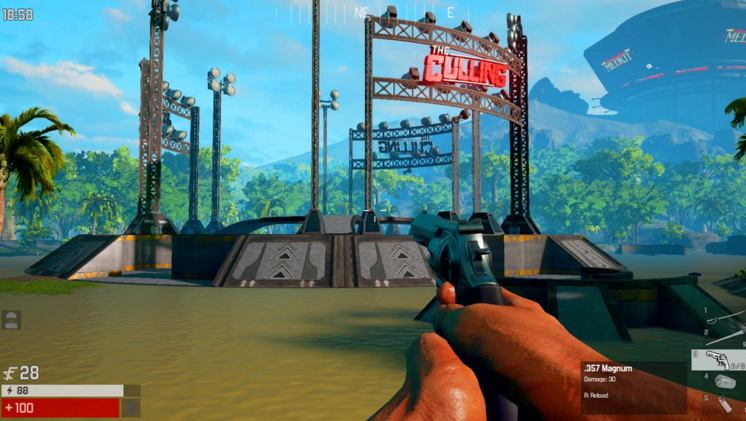 3) The Culling FPS Issues, one of the most common error in the game is Low FPS and also FPS Drops. Some players are constantly getting only 15-20 FPS when playing the game. If you have this issue, follow the workaround below.
"Great game I love it, the Crafting, the Func and especially the atmosphere it has but, I'm stuck at 15 FPS. I don't have an awesome setup, but I can play Ark at 45 FPS. I know it's a new game but can someone give me some tips on improving the fps till they optimized it a bit?"
"Anyone have some good FPS boosting methods other than changing the graphics config file?"
Workaround:
Go to C:\Users\your username\AppData\Local\Victory\Saved\Config\WindowsNoEditor\GameUserSettings.cfg
Make the following changes

Set the following parameters to 0 as given below

sg.AntiAliasingQuality=0
sg.ShadowQuality=0
sg.PostProcessQuality=0
If this workaround didn't help you skip to the tutorial below to fix your issue and to apply our patch.
4) The Culling Server Issues, some users are getting disconnected, or they are unable to connect to the game servers.
"I just bought the game and after a couple of minutes, I get disconnected. Anybody else haveing the same issue? My download rate is 20mb/s that's not the problem."
Solution: Make sure that your internet connection is working and stable. If you have a router try to unplug the internet wire from your router and put it directly into your PC for a more stable internet connection. Also, you can fix the server issues with our patch below.
5) How to increase the turn speed of controller?
Go to C:\Users\Your_Name\AppData\Local\Victory\Saved\Config\WindowsNoEditor
Open Input.ini with a text editor like Notepadd++
Press CTRL+F and open the search bar
Search for this word: TurnRate
Edit this line:
AxisMappings=(AxisName="TurnRate",Key=Gamepad_RightX,Scale=1.000000) change to AxisMappings=(AxisName="TurnRate",Key=Gamepad_RightX,Scale=1.500000)
The Culling Fix for Major Issues:
Our team of developers managed to release a patch that helps you fix the errors described above. You can see how our patch looks like below, where you can also find a tutorial on how to use it and a download link. Please follow the tutorial step by step before asking any questions regarding your issues. Our patch won't interfere with your Steam account, it will just change some files and .dll in the game folder in order for the errors to be fixed.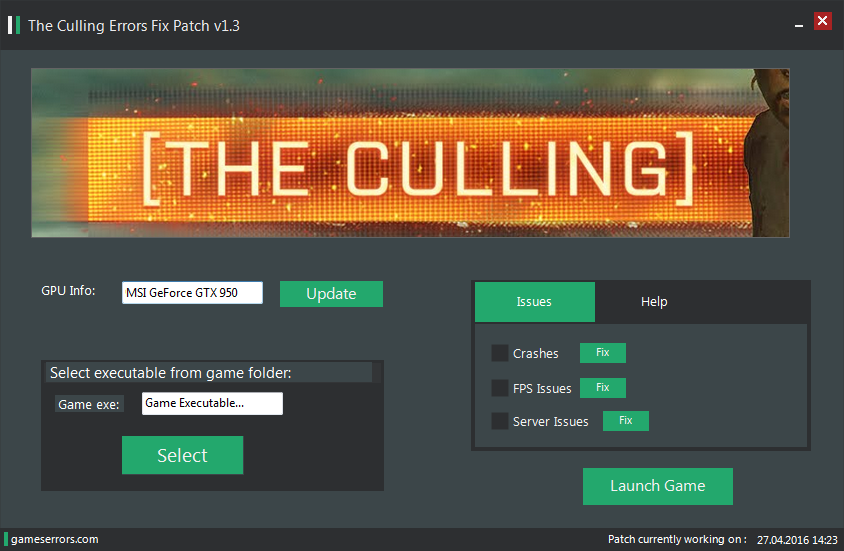 Follow the tutorial below to apply the patch correctly to your game.
How to apply our patch:
Download the archive of the patch from here: download
 Extract the downloaded archive on your PC, and open the patch from the folder.
Your GPU will be selected automatically, make sure that you use your dedicated GPU if you have a laptop!
Select the game executable from the game folder, if you used the default install folder it should be: "C:\Program Files (x86)\Steam\Steamapps\common\The Culling"
 Select your issue or issues from the box to the right and click the corresponding "Fix" button.
After your errors are successfully fixed you can click the "Launch Game" button and play The Culling.
How to download: Well, you might think that our download service is pretty annoying but is very effective. To download you just need to complete a simple offer, it usually takes a few minutes, and after that, you will be able to download the patch. We use this service because is the only way to support our developers and to keep releasing and updating patches for games. Thank you! We hope you understand us and have fun playing the game!
We hope that our tutorial helped you fix your The Culling errors and that now you are playing and enjoying the game. If you encounter any issues, or if you have questions, please use the comment section below and we will help you fix your game. – GamesErrors Team