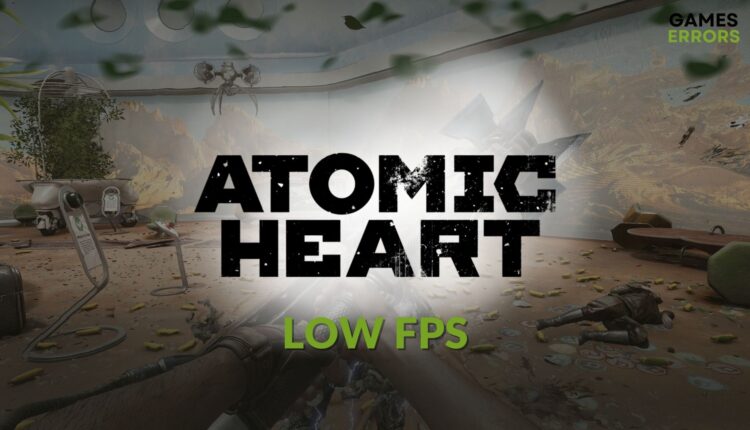 Atomic Heart Low FPS: Quickest Ways to Improve Performance
Boost FPS on Atomic Heart by following our easiest solutions and get rid of low fps & stuttering 🚀
Frame rate is important in gaming. However, If you want to solve Atomic Heart low FPS problem, we have the solutions that will improve this situation.
Atomic Heart is an amazing game. But, for some gamers, it is performing very badly on their PCs. The poor frame rate can completely destroy the gaming experience. Luckily, you can do a few practical things to get stable FPS from this action role-playing video game.
Why is my FPS suddenly so low in Atomic Heart

?

If you don't get the expected performance from Atomic Heart, it may be because of the following things:
Graphics driver problem:

If there is a problem with the graphics card driver or it is outdated, you will get poor FPS on modern games like Atomic Heart.

System requirement problem:

If your PC's specifications don't meet the system requirements for this game, you will face Atomic Heart crashing or poor performance problems.

Excessive background services:

Too many background services may affect the gaming experience.

A known bug:

It's also possible that the FPS problem is common for a specific version of the game.
How can I fix Atomic Heart's low FPS problem?
To avoid any unwanted hassles, ensure the following things before trying out the troubleshooting methods:
Make sure your PC meets the system requirements of Atomic Heart.
Disable Antivirus or Firewall.
Uninstall or disable any tools that can monitor gaming activities and appear on top of the game.
After that, follow these methods to get rid of the low FPS problem with Atomic Heart:
1. Update graphics card
Press Win + R on the keyboard to open Run.
Type devmgmt.msc and click on OK to open Device Manager.

Expand

Display adapters

.

Click on

Search automatically for drivers

and update the driver.
Device Manager may say that the best driver is already installed even when you are using an outdated one. So, we suggest you use Outbyte Driver Updater. It can find and install the most recent compatible driver for your graphics card and solve poor frame rate problems.
⇒ Get Outbyte Driver Updater
2. Close background tasks
Right-click on the Taskbar and click on Task Manager.

Make sure that you are on the

Processes

tab.

End all the unnecessary CPU and memory-intensive tasks.
3. Enable game mode
Press Win + I on the keyboard to open Settings.
Now, start playing the Atomic Heart and see if you get better FPS or not.
4. Repair the game files
Open

Steam

.

Right-click on the Atomic Heart

and go to

Properties

.

Click on the

Local Files

tab.

Wait for a while to finish the process.
The above instructions are applicable to Steam. If you have installed Atomic Heart using Xbox app on Windows, you also can get a similar option. For this, click on the three vertical dots for the game and go to Manage. There, you will get Verify and Repair option.
5. Roll back the graphics driver
Open

Device Manager

like before.

Double-click on the graphics driver.

Navigate to the

Driver

tab.

Follow any on-screen steps to complete the process.
Sometimes, the latest driver may have some problems. In this case, if you roll it back to the previous version, the Atomic Heart stuttering and low FPS problem will go away.
6. Re-install the game-ready graphics driver
6.1 Uninstall the driver
Open the

Device Manager.

Right-click on the graphics card and choose

Uninstall

.

Restart your PC.
6.2 Install again
Go to

AMD

,

Intel

, or

NVIDIA driver download page

.

While searching, you can set the Download type to the Game Ready Driver (GRD).

Now, download the driver.

Install it on your PC.
If the game-ready driver is problematic, you also can choose Studi Driver (SD). Even though that is not for gaming, in some cases, it may improve the FPS of Atomic Heart.
7. Disable Anti-aliasing and Vsync
Open

NVIDIA Control Panel

.

Click on

Manage 3D settings

.

Also, turn off Anti-aliasing.
If you are using Intel Arc or AMD Radeon graphics card, you will need to open the related graphics control panel and do the same thing there.
Additional things to do:
Consider disabling the in-game overlay.
Re-install Atomic Heart on an SSD.
Update Windows to the latest version.
If the current version of this game is problematic, wait until the developers release a patch.
This article has explained how you can fix Atomic Heart low FPS problem. If you have any better ideas that may help others, you are welcome to let us know in the comment box.