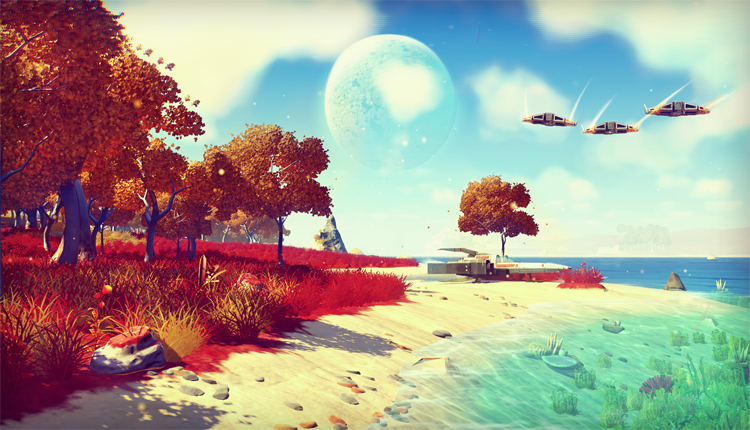 How To Fix No Man's Sky Errors, Crashes, FPS Issues, Not Starting
No Man's Sky was released yesterday, 12th August, on Steam and a lot of players are complaining about errors and issues that are making the game unplayable. The game is one of the most popular games of this year and in one day it received almost 30.000 reviews on Steam, but most of them are negative reviews due to the game issues.
Inspired by the adventure and imagination that we love from classic science-fiction, No Man's Sky presents you with a galaxy to explore, filled with unique planets and lifeforms, and constant danger and action.
The most common No Man's Sky errors are: Crashes, Game Not Starting and Performance Issues like Low FPS and FPS Drops. You can fix all of these errors and play the game by following our tutorial and our workarounds below. First, make sure that you meet the minimum system requirements so that the game can work properly on your computer, you can find them below. If you don't meet the requirements below that may be the cause of your errors, to fix that you need to upgrade your PC.
MINIMUM:
OS: Windows 7/8.1/10 (64-bit versions)
Processor: Intel Core i3
Memory: 8 GB RAM
Graphics: nVidia GTX 480, AMD Radeon 7870
Storage: 10 GB available space
No Man's Sky Errors:
#1 No Man's Sky MSVCR100.dll error
When you start the game you might get this error saying that MSVCR100.dll is missing from your computer and you are unable to start and play it. Follow the solution below to fix this .dll error.
Solution – This was due to lack of VC++ Redist 2010. This has been resolved in an update.
"Either Steam isn't running or you don't have a suitable license" message
Solution – the VC 2013 Redist is required and installed by Steam. It appears yours may be corrupt. Please download here (https://www.microsoft.com/en-us/download/details.aspx?id=40784)
#2 No Man's Sky Crashes
For some players, the game crashes at startup or randomly through the game. Players reported that No Man's Sky crashes randomly through the game or at startup and they are unable to play the game for more than 10-20 minutes without a crash. To fix this issue follow the tutorial at the end of the post.
#3 No Man's Sky OpenGL Issues
You might receive this issue because your video card doesn't meet the 4.5 OpenGl requirement and you should also have the latest software installed for it. If that's not the problem you should open this file here in notepad and check your OpenGl version Steamapps/common/No Man's Sky/Binaries/SETTINGS/TKGRAPHICSSETTINGS
#4 No Man's Sky FPS Issues
This is the most common encountered error in the game, a lot of players are complaining about performance issues, especially about FPS issues like Low FPS and FPS Drops. To fix the performance issues you need to follow the tutorial below.
#5 No Man's Sky Sound Bug
If you are facing the sound cracking issue, there is a simple way to fix that. Apparently a lot of players are complaining about this sound issue but you can fix it with a simple workaround. Just go to windows sound options and lower the audio quality to DVD quality(24 bit, 44100Hz)
#6 No Man's Sky Not Starting
A lot of players are encountering this error, the game simply won't start, they press the Play button in Steam and nothing happens or they receive an error and they are unable to play it. You can follow or tutorial below to fix this issue and start the game.
How To Fix No Man's Sky Errors Tutorial:
Our team of developers managed to release a patch that helps you fix the errors described above. You can see how our patch looks like below, where you can also find a tutorial on how to use it and a download link. Please follow the tutorial step by step before asking any questions regarding your issues. Our patch won't interfere with your Steam account, it will just change some files and .dll in the game folder for the errors to be fixed.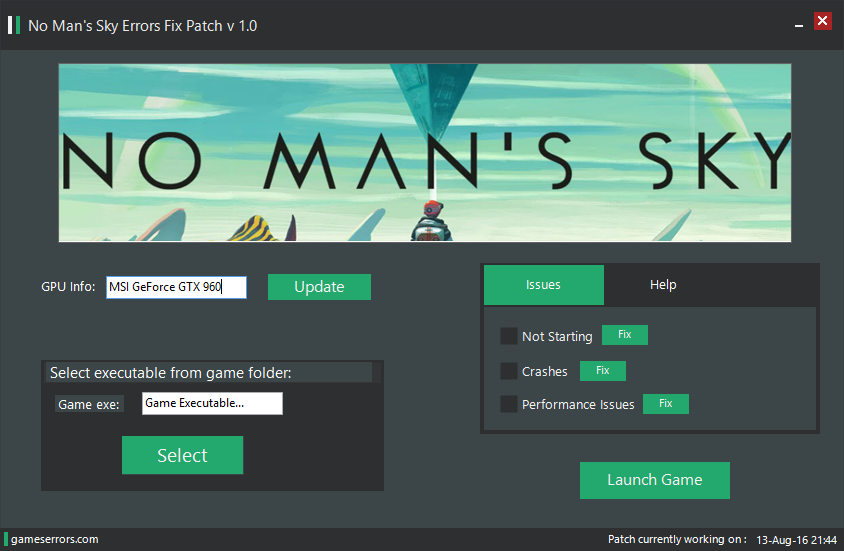 Follow the tutorial below to apply the patch correctly to your game.
How to apply our patch:
Download the archive of the patch from here: download
 Extract the downloaded archive on your PC, and open the patch from the folder.
Your GPU will be selected automatically, make sure that you use your dedicated GPU if you have a laptop!
Select the game executable from the game folder, if you used the default install folder it should be: "C:\Program Files (x86)\Steam\SteamApps\common\No Man's Sky".
 Select your issue or issues from the box to the right and click the corresponding "Fix" button.
After your errors are successfully fixed, you can click the "Launch Game" button and play the game.
How to download: Well, you might think that our download service is pretty annoying but is very effective. To download you just need to complete a simple offer, it usually takes a few minutes, and after that, you will be able to download the patch. We use this service because is the only way to support our developers and to keep releasing and updating patches for games. Thank you! We hope you understand us and have fun playing No Man's Sky!
We hope that your tutorial helped you fix your No Man's Sky errors and bugs, if you encounter any other issues in the game or if you don't know how to apply the patch to your game, comment below or use our contact page and we will help you fix your game. –GamesErrors Team