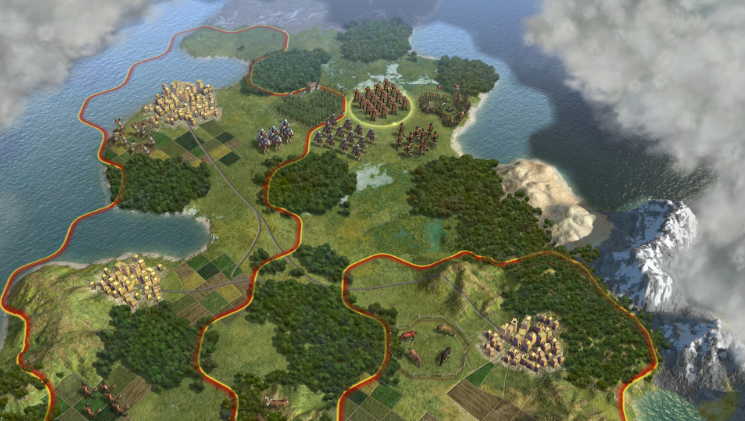 X
INSTALL BY CLICKING THE DOWNLOAD FILE
Update: If you are looking for a guide to fix the errors in the new Sid Meier's Civilization VI game, you can find it here.
Sid Meier's Civilization V is a Flagship Turn-Based Strategy that was released some time ago. Recently, during some updates of the game, a lot of players are encountering errors and bugs, and they are unable to play the game. The most encountered Civilization V errors are Crashes, Game Not Starting and Performance Issues like Low FPS and Stuttering. Follow our guide below to fix all of these errors.
Become Ruler of the World by establishing and leading a civilization from the dawn of man into the space age: Wage war, conduct diplomacy, discover new technologies, go head-to-head with some of history's greatest leaders and build the most powerful empire the world has ever known.
First, make sure that you meet the minimum system requirements of the game and after that, you can skip to our tutorial and fix your issue. If you don't meet the requirements, please upgrade your PC and see if you are encountering any other errors after that because probably this is your main issue and this is why you are encountering the error.
MINIMUM:
OS: Windows® Vista SP2/ Windows® 7
Processor: Intel Core 2 Duo 1.8 GHz or AMD Athlon X2 64 2.0 GHz
Memory: 2GB RAM
Graphics:256 MB ATI HD2600 XT or better, 256 MB nVidia 7900 GS or better, or Core i3 or better-integrated graphics
DirectX®: DirectX® version 9.0c
Hard Drive: 8 GB Free
Sound: DirectX 9.0c-compatible sound card
Note: Optimized for the touch-screen Ultrabook™ device
RECOMMENDED:
OS: Windows® Vista SP2/ Windows® 7
Processor: 1.8 GHz Quad Core CPU
Memory: 4 GB RAM
Graphics: 512 MB ATI 4800 series or better, 512 MB nVidia 9800 series or better
DirectX®: DirectX® version 11
Hard Drive: 8 GB Free
Sound: DirectX 9.0c-compatible sound card
Note: Optimized for the touch-screen Ultrabook™ device
Civilization V Errors:
#1 Civilization V Windows 10 Issues
Some users are experiencing problems with the game (and indeed lots of other games) after upgrading to Windows 10. The following steps have resolved it for most users:
Make sure you have the most up to date drivers available from the GPU maker. This means Intel, AMD or nVidia, not your system OEM. OEMs are rarely up to date with the drivers they provide.
Check that Windows hasn't mysteriously made parts of your user folder ("My Documents" etc., ) read-only, for mysterious and unexplained reasons.
Either uninstall and reinstall the ga or verify game files.
Make sure the executable is not set to any compatibility mode or run as administrator. If that doesn't work, try enabling those options instead (but they shouldn't be necessary.
Some people have reported needing to run one or more of the redists that come with the game affected (such as a VC redist and DirectX); you may have to select a 'repair' option when you run them.
#2 Civilization V Crashes
Some players are encountering crashes at the startup of the game or random crashes while they are playing. Also, some of them reported crashes on opening movies, but you can quickly fix them with the workaround below.
To fix the game crashes, you need to follow our tutorial at the end of the post, and after you apply it to your game, it will run fine with no crashes.

"I keep crashing on the games I start… I've been saving as I go and it's always the same (for instance this playthrough it's on turn 92). No matter how many times I reload, it always crashes at that point. New PC, supposed to handle this game easily. My graphics card is not overheating. Any advice?"
*Game crashing on opening movies:
If the game crashes when the movies are playing, you may need to delete the movie files. These are found in
C:\Program Files (x86)\Steam\SteamApps\common\Sid Meier's Civilization V\
and end in WMV (Civ5_Opening_Movie_en_US.wmv, for example). If you have Gods and Kings, you will also need to delete the WMV file (Civ5XP_Opening_Movie_en_US.wmv) from
C:\Program Files (x86)\Steam\SteamApps\common\Sid Meier's Civilization V\Assets\DLC\Expansion\
#3 Civilization V Not Starting
"I start the game. I get to which DirectX version I can choose. I choose 10/11. My steam stopped saying that I played Civ 5. Nothing happens."
"I'm haveing the core i7 vPro T520. I could play the game perfectly for a long while. Now suddenly after I didn't play for like two months It doesn't start anymore. Must have been a steam update. Several people couldn't play the game anymore. But that was like two months ago. And I still cant play it."
For some players the game doesn't even start they click Play in Steam Library, and nothing happens, or they choose the DirectX version, they want to run the game with, and after that also, nothing happens. Steam stops, and it says that Civilization V is running, but no game starts.
Solution: To fix this issue and start the game you need to follow our tutorial at the end of the post.
#4 Civilization V Servers Too Busy
This is usually caused by antivirus software stopping the Steam client from downloading the game. Temporarily disable your antivirus and try downloading the game again. Be sure to turn it back on once the game is installed.
Another possible cause is trouble connecting to Steam's download server. In Steam settings, change your download region and try the download again.
#5 Civilization V Linux Issues
*Unable to use DLC
If you installed Civilization V the day it was launched on SteamOS, you might not be able to use any DLCs for the game. This was fixed quickly, but you will need to validate your game files (verify game cache) one time to access your DLCs.
*No text using ATI/AMD graphics
If the game does not show text while using ATI graphics, try using the latest beta drivers[support.amd.com] from AMD's site. These instructions may help.
#5 Civilization V Low FPS and other performance issues
Don't see a thread addressing this so thought I'd jump in with my patch problem. Since the patch was applied a day or so ago, my game's performance has completely tanked. Was fine before the patch. Have latest drivers and the computer is well above the game's "requirements."

At first, it looked a lot like the known core threading problem. Huge delays after clicking a button, etc., so tried that fix without success. Also, dumbed down completely the video options and tried in DirectX9. Still no help.

Symptoms:
1. Game response incredibly slow once a game is loaded or started.
2. Long time lags for almost everything.
3. Choosing next turn takes forever as the computer chugs through the AI players incredibly slowly.

Anyone else experiencing performance issues (rather than the crashes which have already been discussed in other threads, but not resolved as far as I can tell)?
If you are encountering performance issues like Low FPS, FPS Drops, Stuttering and Freezes it may be due to the latest update of the game. To fix the performance issues and optimize your FPS you need to follow the tutorial below.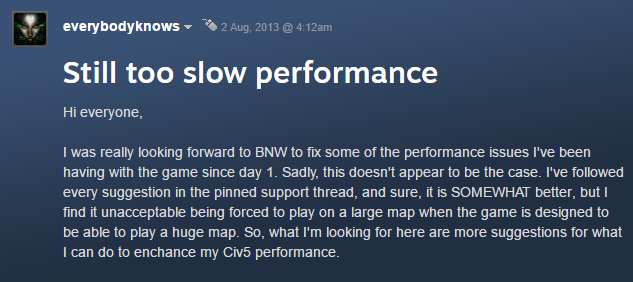 We hope that your tutorial helped you fix your Civilization V errors and bugs, if you encounter any other issues in the game or if you don't know how to apply the patch to your game, comment below or use our contact page and we will help you fix your game. –GamesErrors Team