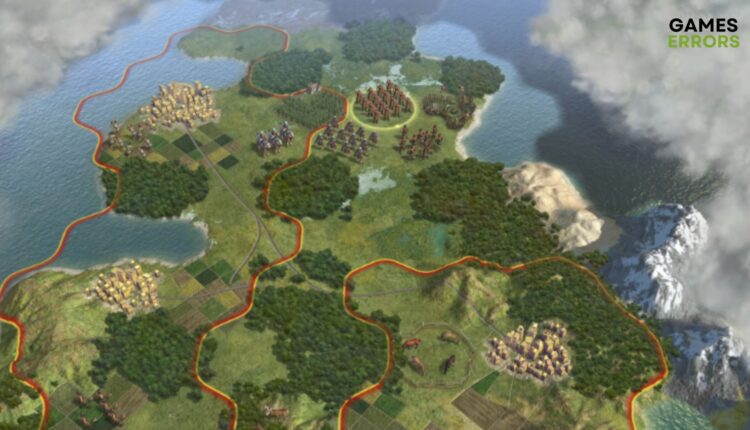 CIV 5 Crashing on Startup, Not Launching: How to Fix
Is your Civilization 5 crashing on startup non-stop? End this issue on the moment with our fixes
X
INSTALL BY CLICKING THE DOWNLOAD FILE
Sid Meier's Civilization V or CIV 5 as many called it so, is a popular flagship turn-based strategy game that recently experienced significant launching problems that influenced the fans to report about Civ 5 not launching matters.
So, Civ 5 crashing on startup is an annoying scenario that many players are experiencing. Also, not launching issues can indeed ruin the game and for that reason, we provide you with saving methods.
Why does CIV 5 keep crashing?
You can find multiple causes that generate Civ 5 crashes when loading the game and the main reasons are revealed below:
Damaged game files that need repairing
Game compatibility issues with your operating system
Old or broken display drivers
The overclocking process that overloads your PC
Thus, these kinds of factors can determine Civ 5 crashes on startup or crashes after intro problems. This will prevent you from even reaching the main menu and playing the game.
As a result, if Civilization V does not start or it keeps crashing on your PC, there's nothing else to do than go for the practical solutions above.
Firstly, make sure that you meet the minimum system requirements of the game in order to run this awesome game.
Civ 5 System Requirments:
MINIMUM:
OS: Windows® Vista SP2/ Windows® 7
Processor: Intel Core 2 Duo 1.8 GHz or AMD Athlon X2 64 2.0 GHz
Memory: 2GB RAM
Graphics:256 MB ATI HD2600 XT or better, 256 MB nVidia 7900 GS or better, or Core i3 or better-integrated graphics
DirectX®: DirectX® version 9.0c
Hard Drive: 8 GB Free
Sound: DirectX 9.0c-compatible sound card
Note: Optimized for the touch-screen Ultrabook™ device
RECOMMENDED:
OS: Windows® Vista SP2/ Windows® 7
Processor: 1.8 GHz Quad Core CPU
Memory: 4 GB RAM
Graphics: 512 MB ATI 4800 series or better, 512 MB nVidia 9800 series or better
DirectX®: DirectX® version 11
Hard Drive: 8 GB Free
Sound: DirectX 9.0c-compatible sound card
Note: Optimized for the touch-screen Ultrabook™ device
1. Update the graphics driver
If the graphics driver is outdated or not compatible with the game, it may cause the game to crash and ruin the gameplay. This is how to update it:
Launch Device Manager → Go to Display adapters and expand → right-click on the graphics driver and select Update driver →  Pick the Update drivers automatically option.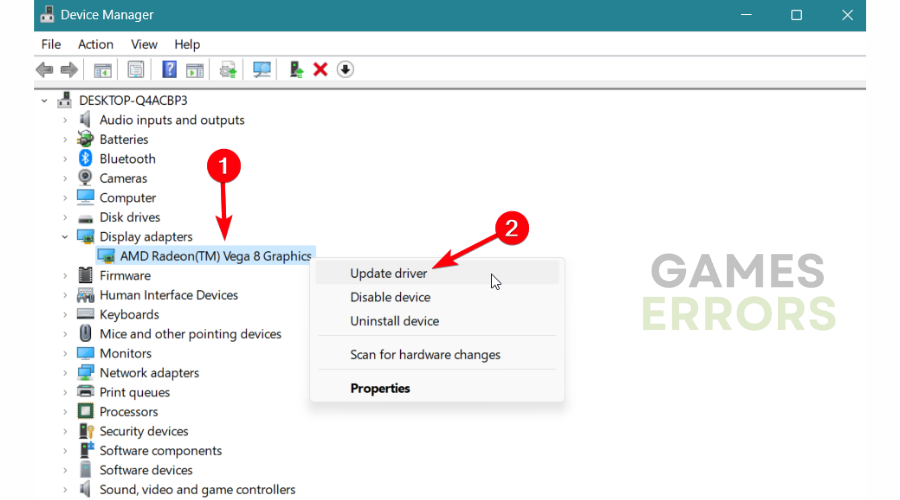 This method can be handy at times, but it's not as efficient as dedicated software that can manage your drivers in seconds.
DriverFix
is the answer if you require fast scanning and driver update tools to solve any outdated drivers and make your gaming flawless.
2. Fix corrupted game files
Another potential reason why Civ 5 keeps crashing on your PC is due to missing or incompatible game files. Luckily, repairing them is easy:
Right-click on the game on Steam Library.
Select Properties from the drop-down menu.
Wait for file validation and the repair process.
3. Close background processes
You can have interfering programs on your PC that may cause crashes and launching issues. To prevent this, follow this method:
Go to the Processes tab.
Repeat for any conflicting app that may trigger the game.
4. Run the game in compatibility mode
A great practical way to fix issues on Civ 5 on an incompatible Windows version is to run the game in compatibility mode. The process is simple to follow.
Open the installation folder from Start → Right-click on the game executable and click Properties → Go to the compatibility tab → Check Run the program in compatibility mode for (choose Windows 7 or 8)
⚙️ Different Civilization V issues
➡️ Civilization V Windows 10 issues
Some users are experiencing problems with the game (and indeed lots of other games) after upgrading to Windows 10. The following steps have resolved it for most users:
Make sure you have the most up-to-date drivers available from the GPU maker. This means Intel, AMD, or Nvidia.
Check that Windows hasn't mysteriously made parts of your user folder ("My Documents" etc., ) read-only, for mysterious and unexplained reasons.
Some people have reported needing to run one or more of the redists that come with the game affected (such as a VC redist and DirectX, and select the Repair option when you run them).
➡️ Civilization V Servers are too busy
This is usually caused by antivirus software stopping the Steam client from downloading the game. Temporarily disable your antivirus and try downloading the game again. Be sure to turn it back on once the game is installed.
Another possible cause is trouble connecting to Steam's download server. In Steam settings, change your download region and try the download again.
➡️ Civilization V Linux issues
*No text using ATI/AMD graphics
If the game does not show text while using ATI graphics, try using the latest beta drivers from AMD's official website. These instructions may help.
➡️ Civilization V Low FPS and other performance issues
For this one, you may have performance issues like low FPS, FPS drops, stuttering, and freezes and it can be due to the latest update of the game.
We hope that this guide helped you fix Civ 5 crashing on startup, if you encounter any other issues in the game or if you don't know how to apply the patch to your game, comment below or use our contact page and we will help you fix your game.
If you encounter any issues or errors while playing your favorite games and require support, feel free to contact us here. Our team is always ready to assist you and ensure your gaming experience is seamless and enjoyable.