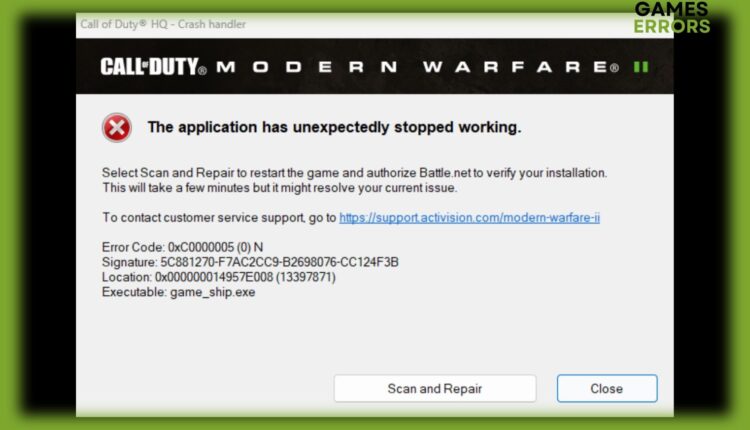 [SOLVED] game_ship.exe Crash Error in Modern Warfare 2
game_ship.exe crash is usually caused by corrupted game files
X
INSTALL BY CLICKING THE DOWNLOAD FILE
Call of Duty: Modern Warfare 2 is currently one of the most popular games on the market. Despite its success, the game has been plagued by a large number of bugs and glitches. Players have reported a wide range of issues, from small graphical hiccups to game-breaking bugs. Despite these problems, the game remains a fan favorite due to its intense gameplay and thrilling multiplayer experience.
Game_ship.exe crash error is a problem that some Modern Warfare 2 players have reported experiencing. This error typically occurs when the game crashes while it is running.
What does game_ship.exe crash error mean?
The cause of this error in the game is currently uncertain, but it is generally believed to be caused by a problem with the file detection system. The launcher seems to be unable to locate important files from the game's folder for some reason.
How do I fix game_ship.exe crash error MW2?
To fix the game_ship.exe crash error in Modern Warfare 2, as a preliminary check, you should verify the integrity of the game files. Because the error message itself is advising to scan and repaire the files, this would be the first step to consider. Here is how you do it:
Open Steam and click on Library ➡️ Right-click on Modern Warfare 2 and select Properties ➡️ Click local files on the left panel ➡️ Click on Verify integrity of game file.
Open Battle.net and go to the All Games menu at the top ➡️ Click on My Games on the left panel ➡️ Select Modern Warfare 2 ➡️Click on the gear icon next to the update button and select Scan and Repair.
If you verified the game files but the error is still crashing your game, let's dive into troubleshooting:
1. Run the game as an administrator
Running a game as an administrator can provide it with elevated access to the system, helping it to avoid conflicts with other programs, access system-protected files, and folders, and perform privileged actions that would have been otherwise restricted by the operating system. This step might help you in getting rid of game_ship.exe crash, here is how you run MW2 as administrator:
Locate the MW2 executable file or shortcut on your computer.
Right-click on the file or shortcut and select "Properties" from the context menu.
In the Properties window, go to the "Compatibility" tab.
Double-click the MW2 executable file or shortcut to run the game as an administrator.
2. Update your GPU driver
Click the Start key, type Device Manager, and open it.

update drivers automatically

Open the Display Adapter to see your graphics driver.
Left-click on the driver name and select Update driver.
Select Search automatically for drivers, then follow the instructions to download the GPU driver.

update drivers automatically to fix crashing in mw2
Updating drivers manually can be a time-consuming and error-prone process. Using
DriverFix
– a trusted third-party app, updating your drivers can save you time and effort. It also ensures that the correct drivers are installed, avoiding potential compatibility problems. The software also offers additional features such as regular update notifications.
3. Temporarily disable Windows Firewall
If the Windows firewall is interfering with the game and creating a game_ship.exe crash, disabling it may be the answer. Incoming connections to your computer that the firewall identifies as potentially malicious will be denied access. It can, however, occasionally prevent connections that are required for the game to function properly.
Here is how you can disable the Windows firewall:
Open the Control Panel on your computer by clicking the Start button and typing "Control Panel" in the search bar.
Click on "Windows Firewall" to open the firewall settings.
Click on "Turn Windows Firewall on or off" on the left-hand side of the window.
Under "Firewall" settings, select "Off" for both "Private network settings" and "Public network settings."
Click OK to save the changes and close the window.
Please be aware that disabling the firewall can leave your computer vulnerable to malicious attacks, so it's recommended to only disable the firewall temporarily while you're playing MW2 and then re-enable it afterward.
Alternatively, you can allow Steam or Battle.net through Windows firewall, this is a solution provided by a Reddit user which has helped him to get rid of the error.
If you ever encountered dev error 11557 in Modern Warfare 2 or Warzone 2, read our article on how to fix the problem in just a few steps.
We truly hope that your article helped you in fixing the crashing error in MW2. If you have any other suggestions, please drop a comment down below.
If you encounter any issues or errors while playing your favorite games and require support, feel free to contact us here. Our team is always ready to assist you and ensure your gaming experience is seamless and enjoyable.