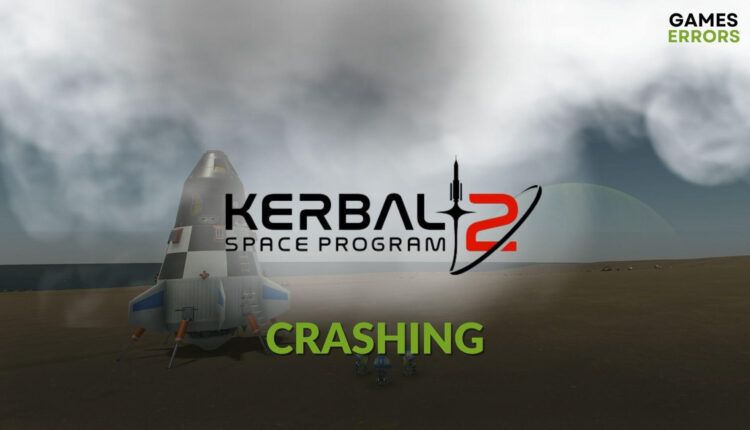 Kerbal Space Program 2 Crashing PC: Easily Fix This Problem
Is KSP 2 crashing? Run it as administrator, update the GPU driver and follow these tips 🎯
If you notice that Kerbal Space Program 2 is crashing on your PC constantly, don't worry. We have the solutions that will help you to overcome this situation.
The KSP 2 is a new sensation for space-flight simulation game lovers. With its realistic physics and gameplay mechanism, anyone will love it. But if it keeps crashing on your PC, the excitement will turn into a nightmare. However, if you tweak the proper things, nothing will stop you from playing this title.
Why does Kerbal Space Program 2 keep crashing on my PC?
If the KSP 2 keeps crashing on your Windows PC, it may happen due to an in-game error or an external problem. Usually, you will find the following as the most common ones:
System Requirements:

If your PC doesn't have the specifications required by the KSP 2, it will crash during startup or gameplay.

Video driver:

Problems with video drivers are also a very common reason behind this type of issue.

Third-party services:

Any third-party services that run in the background and interfere with the gaming activity may also cause this problem.

Corrupted cache:

To increase performance, games, or the platform you are using, cache some data. Related games like Kerbal Space Program 2 will crash if these cashed files become corrupted.

Missing or corrupted components:

Games on a Windows 11 or 10 PC requires some core components. If these are corrupted, or not all of the data is there properly, games will stop working or crash.

Memory issues:

Any memory-intensive apps or games like KSP 2 may crash if there is something wrong with the RAM.
Else, some other things also may work behind this unexpected problem.
How do I fix Kerbal Space Program 2 crashing on my PC?
When the KSP 2 suddenly stops working right after startup or in the middle of the gameplay, we suggest you check the following things before going through the troubleshooting methods:
Check if your PC meets the minimum system requirements of Kerbal Space Program 2.

Make sure your PC's PSU is powerful enough to handle the CPU and GPU loads.

Also, restart your PC to ensure that there is no pending restart.
Now, you can follow these methods to fix Kerbal Space Program 2 is crashing on launch or while playing the game:
1. Run KSP 2 as an administrator
Go to the KSP 2 installation directory.

Right-click on ksp2.exe, and go to its

Properties

.

Navigate to the

Compatibility

 tab.

Click on 

Apply

 and 

OK

.

Rerun the game and see if it has fixed the crashing problem.
2. Update the graphics card driver
Open Windows search, type

device manager

, and press 

Enter

.

Expand 

Display adapters.

Choose

Search automatically for drivers

 and update the driver.
We suggest you use a more powerful tool like Outbyte Driver Updater to update the graphics card driver. It can find the most compatible game-ready driver for your GPU, which helps to fix problems like Kerbal Space Program 2 crashing.
⇒ Get Outbyte Driver Updater
3. Close unnecessary background services
Press 

CTRL

 + 

Shift

 + 

Esc 

to open the Windows Task Manager

.

Go to the

Processes

 tab.

Disable every other unnecessary and problematic process in this way.

Launch Kerbal Space Program 2 and see if it is still crashing or not.
4. Clear shader cache
Press 

Win

 + 

I

 on the keyboard to open 

Windows settings

.

Click on

Temporary files

.

Click on 

Remove files

.
A corrupted shader cache can cause crashing problems during KSP 2 gameplay. Clearing it will dramatically improve the performance and also reduce the chance of facing the issue again.
5. Repair Kerbal Space Program 2 installation
Open Steam or Epic Games launcher, depending on the platform you are using.

Right-click on

Kerbal Space Program 2

, and click on 

Properties

.

Go to the 

Local Files

 tab.

Wait for a while until it finishes the process.
Please note that the above steps are applicable to Steam only. If you use have installed KSP 2 using Epic Games Launcher, you will also find a repair option there.
6. Install DirectX runtime
Visit the DirectX download page.
Download the runtime.

Install it on your PC.

Restart Windows.
7. Install all Visual C++ redistributable packages
Download the package according to your PC's architecture. It's most probably X64.

Install it on your PC.

Restart your Windows PC.
8. Perform a clean boot
Open the Windows search, type

msconfig,

 and press 

Enter.

Go to the 

Services

 tab.

Click on 

Apply

 and 

OK

.

Restart Windows.
Now, see if it has solved the problem or not. If it doesn't work, undo the changes.
9. Run the memory diagnostic tool
In the Window search box, type

mdsched

and press Enter.
Windows will take some time to scan and repair common memory problems. However, if the process fails, depending on the error message, you may need to replace the RAM to fix KSP 2 crashing on the PC.
You also can consider re-installing the game and updating Windows to the latest version. Also, try to find out if it's a bug with a specific game version. In this case, wait for a game update.
This article has shown what to do if Kerbal Space Program 2 crashes on your PC. If you have any opinion on this topic, write it down in the comment box.