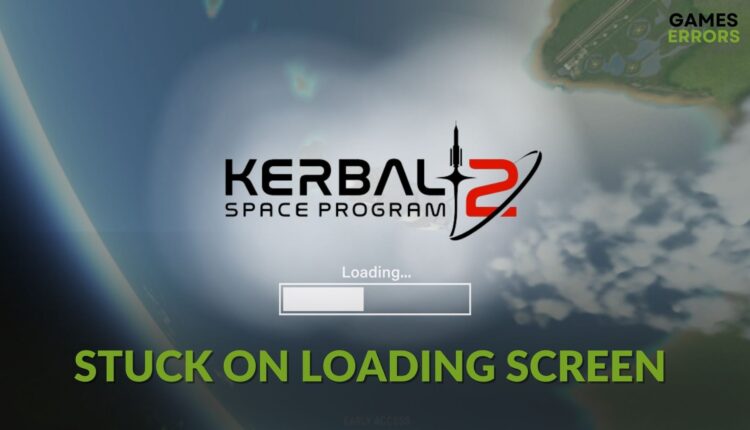 Kerbal Space Program 2 Stuck on Loading Screen: How to Fix
If KSP 2 is stuck while loading, clear cache, update GPU driver and follow these suggestions ✅
X
INSTALL BY CLICKING THE DOWNLOAD FILE
If Kerbal Space Program 2 is stuck on the loading screen, it means there is something that needs your attention. This article will guide you on how to fix this problem.
Flight simulation games have a huge fanbase. There are space-flight simulation games as well! The Intercept Games' Kerbal Space Program is one of the tops in that category. The second edition of this item is even better. But if it takes forever to start, that is enough to melt down your excitement.
Why is KSP 2 stuck on loading screen?
Usually, the Kerbal Space Program 2 game may become stuck on the loading screen due to the following reasons:
System requirements:

 If your PC doesn't meet the system requirements, the Kerbal Space Program may freeze forever on the loading screen.

Corrupted game files:

 Problematic game files, particularly the installation files, is a prevalent reason behind this type of problem.

Corrupted cache:

If the temporary files related to the KSP 2 become corrupted, you may not be able to run this game, as the system will be stuck while loading the game files.

Third-party services:

 Third-party apps and services are often responsible for this type of issue.

Driver problem:

Outdated or problematic drivers, especially the graphics driver, are one of the most significant reasons that may cause the Kerbal Space Program 2 loading screen to get stuck.

Disk problem:

 Disk performance in gaming is important. If there is a problem, the game may take a very long time to load, or it will not load at all.
What should I do to fix Kerbal Space Program 2 stuck on the loading screen?
You can follow our recommended methods to get rid of this problem. Before that, you must do the following things:
Ensure that your PC has the minimum specifications for the Kerbal Space Program 2.
Enable game mode and also the high-performance mode if it's a laptop.
Disable the antivirus and firewall to see if it helps.
Complete any pending restart of Windows.
Now, follow these tricks to fix KSP 2's stuck on the launch screen problem:
1. Clear client cache
Open the

Steam

desktop app.

Relaunch 

Steam

 and then run the game.
If you have been using Epic Games Launcher for Kerbal Space Program 2, you must also clear the cache from there.
2. Reduce background tasks
Press CTRL + Shift + Esc to open the Windows Task Manager.

Go to the 

Processes

 tab.

Like this, disable all other unnecessary and power-hungry tasks.
If you see any services related to a game booster, overclocking app, razer synapse, MSI Afterburner, etc., end these without any hesitation. Then, try to play the game again. It may fix Kerbal Space Program 2 stuck on the loading screen or similar problems.
3. Update the graphics card
Press Win + X on the keyboard and click on Device Manager

.

Expand 

Display adapters.

Choose 

Search automatically for drivers

and complete the update process.
To update a graphics card driver on Windows 11 or 10 gaming PC, it will be much better if you use a tool like 
Outbyte Driver Updater
. This program can detect the most recent official game-ready driver for your GPU and install it in a better way. In addition, you can update all of the drivers on your PC with just a single click by using this tool.
4. Repair KSP 2 files
In the Steam app, go to the

Game library

.

Right-click on 

Kerbal Space Program 2

, and click on 

Properties

.

Navigate to the

Local Files

.
Now, wait for a while. Steam may take some time to scan and repair KSP 2 files. After that, launch the game and see if it is still stuck while loading or not.
5. Repair and optimize disk
Open This PC.
Right-click on the drive where you have installed the KSP 2 and go to its Properties.
Go to the Tools tab.
Click on Scan in the popup window.

Wait for a while until it finishes the process.

You also can click on Optimize under Optimize and defragment drive section.

Then, finish the disk optimization process.
6. Clean boot
Open the Start Manu and type

 

msconfig,

and press Enter.

Go to the 

Services

 tab.

Click on 

Apply

 and 

OK

.

Restart your PC.
If any third-party service is responsible, the clean boot will fix KSP 2 stuck on the loading screen problem. If you see that it has worked, try to find out which is that problematic service. For this, you can enable the services one by one from the System Configuration until you get the problem again.
After finding it, remove that program from your PC.
Additional methods:
If you still notice that the system is stuck while loading the Kerbal Space Program 2, you may need to follow these methods:
Install DirectX Runtime and also the Visual C++ redistributables and see if it helps.
Re-install KSP 2 on an SSD.
Uninstall any game booster, FPS booster, and overclocking apps.
Delete all files from the game folder related to the KSP 2 on the Documents folder.
Update Windows to the latest version.
Hopefully, these methods mentioned above will not disappoint you in fixing Kerbal Space Program 2 stuck on the loading screen. Let us know in the comment box if you have any questions or suggestions.