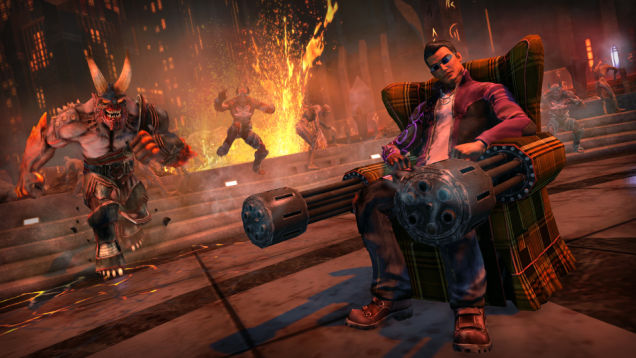 Saints Row Gat out of Hell Errors were reported by some players after the game release this week. The game was released in North America on January 20 and in Europe today, on January 23. The most common errors that players encounter are Random Crashes, Game Won't Start, Error Code 41, Lag, Freezes and Login Issues. Below you can see these errors detailed and solutions on how to fix them.
How to fix Saints Row Gat out of Hell Errors:
Saints Row Gat out of Hell Random Crashes, some players reported crashes when they tried to start the game or shortly after startup.
"I preordered this game, and when I try to set up a new game it crashes on the loading screen someone help!"
"I start up the game and get the volition and high voltage screens and after, nothing, just blackness. Then the game stops responding. I'm running a pretty high end rig, running mostly everything at max. I've verified the cache. Tried restarting my comp. My drivers are up to date. I really don't know what it could be and don't really want to have to reinstall it."
"When i start the game i get a screen flickering with black and then the game crashes with no errors.Anyone has a fix for this?"
Solution: If you aren't loading the old character to the new game then go to the game installation directory, locate Display.ini and set the LetterboxEyefinity to False. If you are using PrecisionX, Riva Tuner or Afterburner, close them before launching the game.
Saints Row Gat out of Hell Game Won't Start, when you click Play nothing happens and the game won't launch or the windows with "Preparing to launch Saints Row" closes.
"When I try to start the game I get the little windows with 'Preparing to launch Saints Row: Gat out of Hell' and then the window closes and nothing happens after that, I tried to start it up again, and the same thing happens.Someone help me!"
Solution: Open the game in windowed mode, if that doesn't work, stop using the DLC of Saint Row IV in the game.
Saints Row Gat out of Hell Lag and Freezes, your game might be laggy, or it might freeze from time to time.
"Okay, first off, I have a laptop with an Intel i7, GTX 860, and 8GB of ram, so I know that isn't the problem. I played the game fine for over an hour and then closed it out. Now, every time I try to play I get intense lag and it is constant. I have tried restarting my computer and that doesn't do anything. SR4 would randomly do the same thing on my desktop PC, so I know its an issue on the games end. How can I fix this? The game is unplayable in this state."
Solution: Make sure that you updated your graphic card drivers to the latest one and that you are not having any background apps running.
Saints Row Gat out of Hell Error Code 41, some players can't start the game because of the error code 41.
"I can't start this game because error code 41. My screen is freeze and game out. What happen ? I play on notebook Acer. I can play every game for my notebook. Please help me !!"
Solution: This is due to busy servers as the game has only just released. What this needs is patient while you continue enjoying the offline gaming experience.
Enjoy the game and if you have more Saints Row Gat out of Hell Errors contact us with a comment below or by using our comment page, and we will help you fix your game. – GamesErrors.com Team