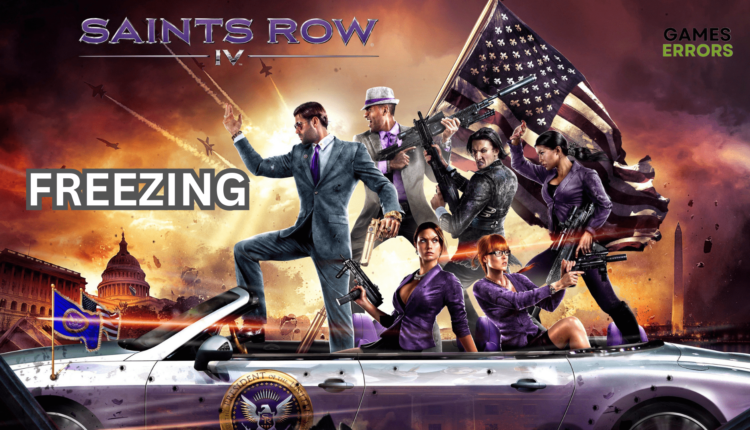 Saints Row 4 Is Freezing on PC: Solve It With Ease
Freezing seems to be pretty irritating for Saints Row 4 players. Fortunately, we have the best solutions to fix it! 👌
X
INSTALL BY CLICKING THE DOWNLOAD FILE
Recently, an increasing number of players reported that Saints Row 4 keeps freezing every few seconds on their PC. It seems to be a pretty common problem among worldwide users, so if you're facing it, do not panic!
Because this issue is becoming more and more frequent, specialists managed to identify a series of useful solutions to solve it in no time.
Make sure you read this article entirely to discover the most straightforward steps and eliminate your gaming headaches.
Why does Saints Row 4 keep freezing?
If you're wondering why Saints Row 4 keeps freezing on your PC, there are several reasons you should consider, as follows:
Insufficient hardware resources: If your computer does not meet the minimum system requirements for running the game, it may struggle to keep up and freeze.
Overheating: If your computer or graphics card is overheating, it may cause the game to freeze. Make sure that your computer has adequate ventilation and cooling to prevent overheating.
Outdated drivers: Outdated or malfunctioning device drivers can cause the game to freeze. Make sure that your computer's drivers are up-to-date.
Corrupted game files: Corrupted or incomplete game files can cause the game to freeze. Try verifying the game files on Steam or reinstalling the game to see if this resolves the issue.
Incompatible game settings: Incompatible game settings with your system can cause the game to freeze. Try adjusting the game's graphics or performance settings to see if this resolves the issue.
Conflicts with other software: Conflicts with other software running on your computer can cause the game to freeze. Try closing any unnecessary programs before launching the game.
What can I do if Saints Row 4 is freezing on my PC?
There are some quick fixes you should try first. Don't worry, it will take just a few seconds!
Power off and on your Internet connection
Restart your computer
Ensure your PC meets the minimum requirements for running Saints Row 4. You can check them on Epic Games' official website.
Table of contents:
1. Verify the Integrity of Game Files
1.1 For Steam users
Open your Steam client.
Go to Library.
From the list in the left window pane, right-click on Saints Row 4, then choose Properties (Just like in the example below).
Look at the left side of the window, then select Local Files.
Now, choose to Verify the Integrity of Game Files.
Wait until the process is completed.
1.2 For Epic Games users
Open the Epic Games Launcher, then choose Library.
Click on the three horizontal dots next to the Saints Row 4 game, then go to Manage.
Select Verify, then wait a bit.
The Epic Games Launcher will then verify your game files.
Once the process is completed, you can launch the game and check if the problem is fixed.
2. Update your GPU drivers
Time needed: 4 minutes
As a general rule, keeping your drivers up to date is the best solution you can try for freezing, crashing, or not launching gaming issues.
Press simultaneously on the Windows + X keys, then click on Device Manager to open it.

Expand the Display adapters section by double-clicking on it.

Right-click on the driver you need, then select the Update driver option.

Choose to Search automatically for drivers.

Your system will begin searching for new updates. Wait until the process is finished.
However, if you want to avoid all this manual process, we recommend trying an automatic solution that will always support you.
Outbyte Driver Updater is software meant to scan and update outdated, missing, or corrupted device drivers on a computer.
This program is intended to improve the overall performance of a PC and fix issues related to driver compatibility.
Therefore, if you choose to use it, you're going to save much more of your time and ensure a smoother gaming experience.
For a more detailed guide, we strongly recommend checking our solutions on how to update your graphics drivers for maximum gaming performance.
3. Switch Threaded Optimization off
Right-click on your desktop.
Select the NVIDIA Control Panel.
Look at the left window pane, then click on the Manage 3D Settings link.
Select the Program Settings tab.
Click on the Add button.
Choose Browse.
Add the folder in the following path.C:Program Files (x86)SteamsteamappscommonSaints Row IV
Continue by disabling the Threaded Optimization feature.
4. Review the Registry Privileges
Open the Run dialogue box by pressing simultaneously on these keys: Windows + R.
Next, type regedit inside the input box, then click on OK.
Once the Registry Editor is opened, locate the following subkey: HKEY_CURRENT_USERSOFTWAREVALVE
Now, right-click on VALVE subkey, then choose Permissions.
Check the Allow box for the following sections: Special permissions; Read; Full Control.
Click on the Apply button, then on OK.
5. Temporarily disable your antivirus software
Antivirus software is designed to scan and monitor all of the activity on your computer, including the activity of games and other programs.
In some cases, the software may mistakenly flag certain game files as malicious and quarantine or delete them, causing the game to freeze or crash.
Temporarily disabling antivirus software can help you determine if the program is making Saints Row 4 freeze every few seconds on your PC.
However, it is important to note that doing so can leave your computer vulnerable to security threats, so it should only be done as a last resort and with caution.
6. Reinstall Microsoft DirectX
Close all open programs on your desktop.
Press the Windows button on your keyboard, and type cmd in the search bar.
Once the result pops up, right-click it, then choose Run as administrator.
Type in these commands in the given order, then press Enter after typing each of them:
cd C:Program Files (x86)SteamsteamappscommonSaints RowIV_CommonRedistDirectXJun2010DXSETUP.EXE
Reinstall The DirectX after setup program for Microsoft DirectX initiates.
Related articles:
As we promised, now you have 6 of the best solutions to try if Saints Row 4 keeps freezing on your PC.
Let us know which one worked best for you, by leaving a comment in the section below.