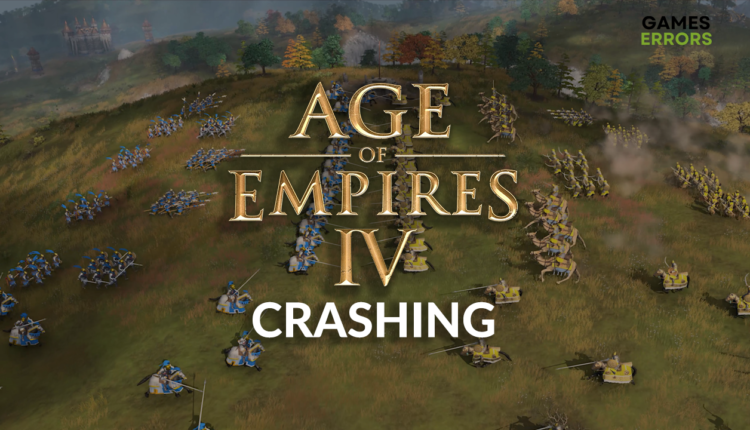 Age of Empires 4 Crashing: Quick Fixes
Stop the crashes in AoE 4 and enjoy this strategy without annoying interruptions! 👾
X
INSTALL BY CLICKING THE DOWNLOAD FILE
We decided to create a list of the steps you should take if you have a problem with Age of Empires 4 crashing every few minutes or in certain situations. Follow the list and troubleshoot and prevent crashes quickly.
If you have a new graphics card and have problems with stability in other games, learn what to do if games crash after installing a new GPU.
Why is Age of Empires 4 crashing?
Age of Empires 4 is crashing because your PC doesn't meet system requirements for this game, the GPU driver is outdated, apps are running in the background while you play the game, game files are corrupted, or your antivirus is causing the issue. Additionally, overclocked GPU and CPU can be another reason for crashes.
How to fix Age of Empires 4 crashing?
To stop crashes in AoE 4, apply these easy fixes and quick checks:
Check the system requirements: If your PC meets at least the minimum system requirements for AoE 4, it is not the reason why the game crashes. On the other hand, if your PC doesn't meet the requirements consider upgrading the components that don't have enough computing power to support this game.
Lower the level of detail: If your PC barely meets the system requirements, it is reasonable to lower the level of graphical details, disable vertical synchronization, and play Age of Empires 4 in screen mode. This way, the game will not crash due to a lack of hardware resources.
Disable overclock: If your GPU or CPU is overclocked, disable the overclocking settings and try to play the game. If this solves the issue, it means your overclocking settings were too much, resulted in high temperatures, or simply the AoE 4 wasn't compatible with them.
Follow the solutions below if the previously listed fixes don't make the game more stable.
1. Update the GPU driver
Time needed: 5 minutes.
If your GPU driver is outdated, your graphics card will not perform at its full potential, which can cause Age of Empires 4 to crash. Keep your GPU driver updated at all times to avoid this.
Click on the Windows icon, type Device Manager, and open this tool from the search results.

Double-click on the Display Adapters section.

Right-click on your GPU and select the Update driver option.

Select the Search automatically for drivers option.

Update Driver Wizard will search the Windows database of available drivers.

Install the driver update.

If no update is found, use another tool to double-check.

Restart your PC after the driver installation.
If you want to complete the process quickly, use DriverFix. This tool will also monitor future GPU driver updates and ensure you never run into trouble because some device drivers are outdated.
2. Disable background apps
Close all the apps and games running before running the game. Afterward, head to the Task Manager and disable background apps that might not be visible in the taskbar but still consume hardware resources.
💡 Pay attention if apps like Steam or Discord create screen overlays. If you want to keep these apps while playing the game, simply disable overlays to prevent issues.
Use CTRL + Shift + ESC shortcut to open Task Manager.
In the default processes tab, you will see the list of apps currently running.
To close the app, right-click on the app and select the End Task option.

Do the same for all other apps you wish to close.
⚠ Warning: Avoid closing apps where you have unsaved progress, Windows processes, and your security software. This will prevent data loss, system failure, and security vulnerabilities.
3. Verify game files
Corrupted game files are one of the most frequent causes of game problems. Luckily, you can use the Steam game file verification option to check if any files are corrupted and how to fix them.
Launch Steam and go to the Library.
Find Age of Empires IV, right-click, and choose Properties.
Navigate to the Local Files.
Click on the Verify integrity of game files…

Follow any additional steps for repairing the files if prompted by Steam.
Extra steps
Sometimes the problem that is causing Age of Empires 4 to crash will be a bit more hidden, so you will have to do an extra stretch to:
❌ Temporarily disable the antivirus: We highly recommend always using antivirus software to protect your PC. However, you can try disabling it while playing AoE 4 and check if a crash will occur. If it doesn't occur, re-enable your antivirus and add Age of Empires 4 as an exception.
🧹 Perform a Disk Cleanup: This default Windows app will help you remove temporary files, giving you some empty disk space and more stability when playing games. Click the Windows icon, type Disk Cleanup, and open the app from the search results.
🔁 Reinstall Age of Empires 4: Some gamers struggled, and nothing helped them solve Age of Empires 4 crashes. Well, almost nothing, as uninstalling and installing the game again resolved the issue for some of them.
Conclusion
Age of Empires 4 crashing is annoying and unnecessary stress, especially considering all the solutions we listed. However, if the issues still occur, feel free to leave a comment and describe your problem in more detail. We will happily assist you.
If you encounter any issues or errors while playing your favorite games and require support, feel free to contact us here. Our team is always ready to assist you and ensure your gaming experience is seamless and enjoyable.