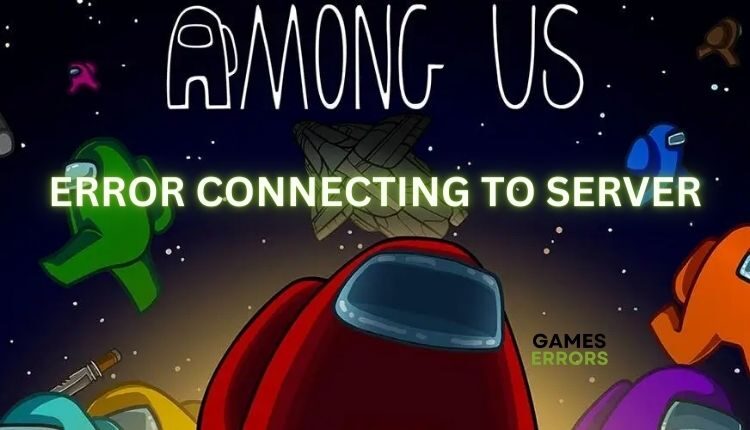 Among Us Error Connecting to the Game Server [Fixed]
Want to play Among Us but have an error connecting to the game server? Don't worry we have the fix for it! 🚀
X
INSTALL BY CLICKING THE DOWNLOAD FILE
Among Us is a living example of how a good idea for an online multiplayer game doesn't need a high-end PC and an expensive graphics card to be mega-popular and addictive. Unfortunately, now and then, an error like "Among Us disconnected from the Server" occurs during the game, adversely affecting your gaming experience. However, to avoid despair and resume the game as soon as possible, we have prepared this guide for you, which will successfully eliminate the problem.
Why does Among Us have an error connecting to the game server?
The most common reasons for an error connecting to the game server can be:
Server issues
Slow and unstable internet connection
Corrupt cache data
Outdated application
Server location problems
How do I fix Among Us error connecting to the game server?
To solve the Among Us error connecting to the game server, the first and foremost thing to do this basic troubleshooting:
Check Among Us game server status.
Restart Among Us or reboot your PC.
Power cycle your modem and router (unplug power cords for 1 minute).
Now that you've gone through the basic steps and determined that the problem still exists do the following:
1. Check your network
Slow and unstable internet connection is one of the main reasons you cannot connect to Among Us game server error. Any modern game requires you to have a fast and stable internet connection.
Not sure what internet speed you have? Open your browser and type: "test speed." Popular internet speed test sites will open. Try anyone and see if your network has speed issues. To improve the quality of your internet connection, do the following:
Place your network devices (modem or router) closer to your PC or console for a better signal.
Check that the WiFi network is not overloaded and turn off unnecessary devices.
Get a wireless network extender.
Use a wired ethernet connection for a faster and more stable Internet connection.
2. Update Among Us
It is essential that Among Us is always up to date to avoid possible problems with the game. The outdated version may have problems communicating with the server if you do not update the game. To properly update the game, do the following:
1. Open the Steam client and go to the games library.
2. Right-click on Among Us and select Properties.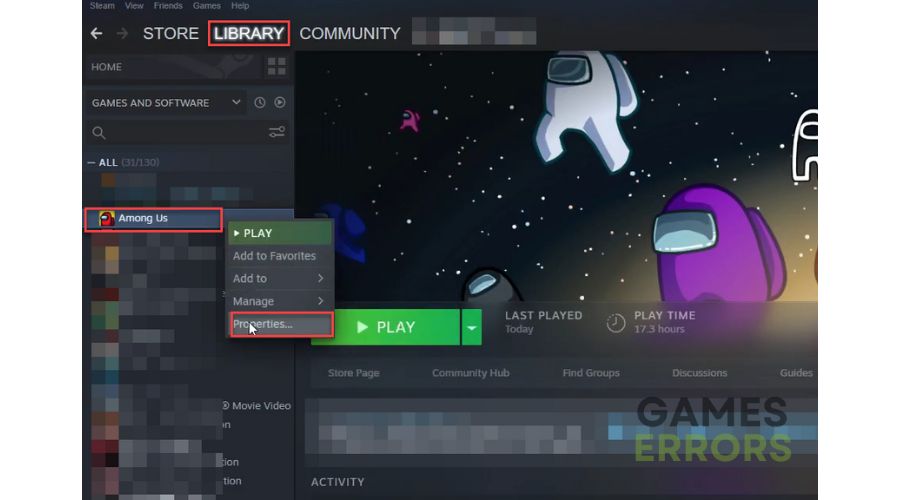 3. Select Updates options, and under Automatic Updates, choose High-priority.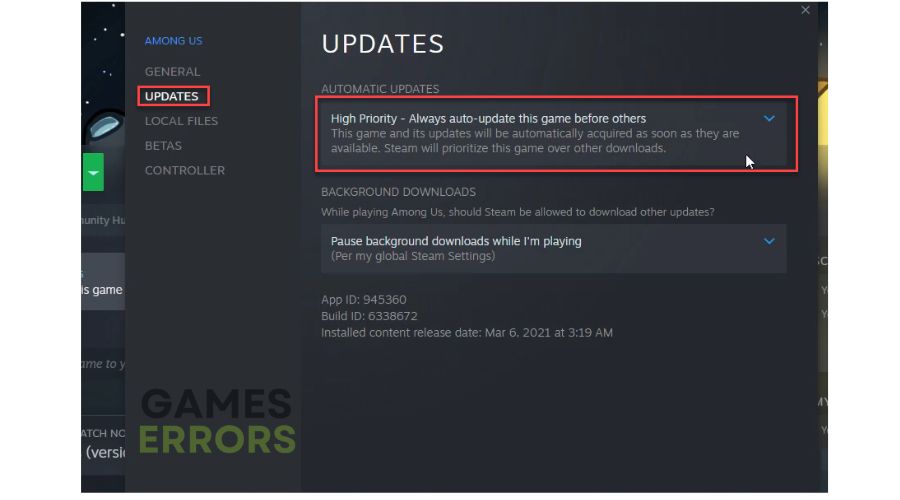 3. Change Among Us server
Time needed: 1 minute.
If the Among Us servers are overloaded with other users, you will likely face the server disconnected error. We advise you to change your location from the popular Among Us servers that are overloaded to another less crowded server.
Open Among Us game

Click on the online option from the game menu.

Find the green globe icon

On the right side of the screen, you can find a green globe icon that shows the location of your server, such as North America.

Change server

Now click on the globe icon and change the server location to the one closest to you.

Start game

Now check if the Among Us server connection error is resolved.
4. Flush DNS cache
Flushing DNS will delete IP addresses or other DNS records from the cache. This can help resolve security and internet issues that may cause Among Us server connection errors. Follow these steps to flush DNS:
1. Press the Win+Q keys on the keyboard and type cmd in the search bar.
2. Right-click on the Command Prompt and select Run as administrator.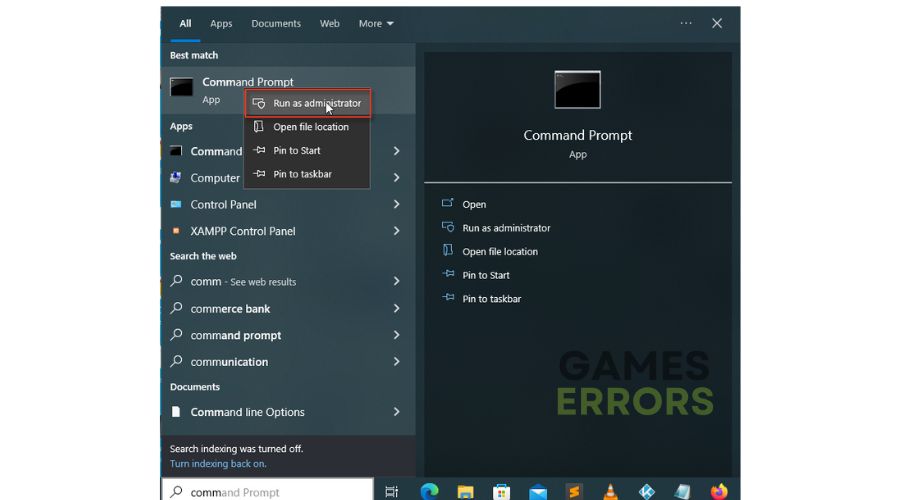 3. Type "ipconfig /flushdns" and press Enter.
4. Type "ipconfig /registerdns" and press Enter.
5. Type "ipconfig /release" and press Enter.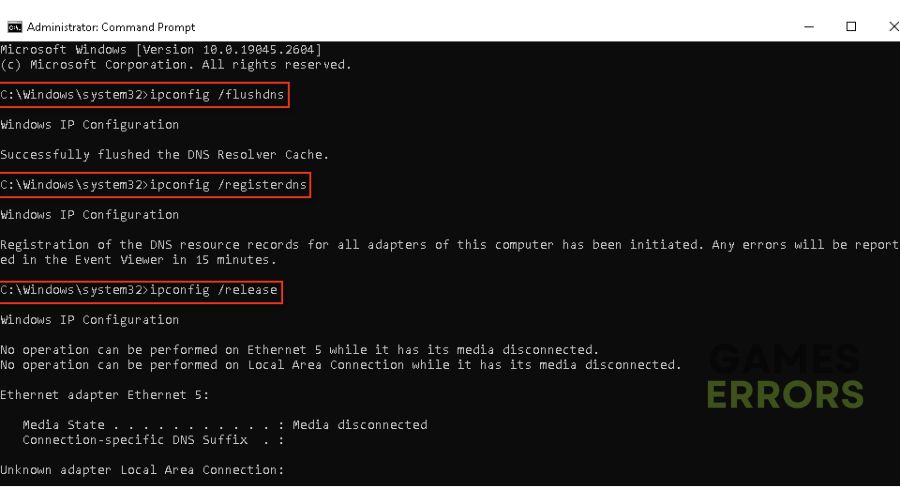 6. Type "ipconfig /renew" and press Enter.
7. Type "netsh winsock reset" and press Enter.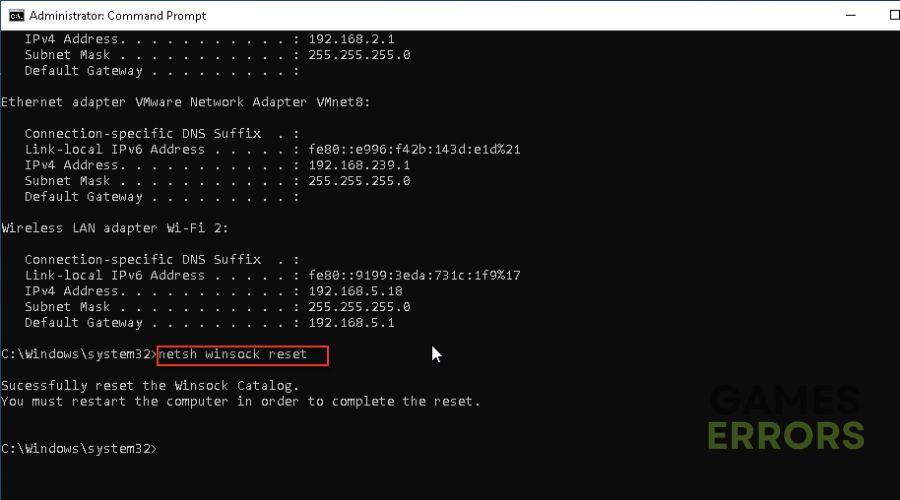 8. Restart the PC and see if the error is gone.
5. Use a VPN service
VPN (Virtual Private Network) is an excellent solution if you want security, freedom on the Internet, and privacy. Still, a bad VPN service can also lead to an error in connection with the Among Us server. There are a lot of VPNs that are available completely free. However, we won't recommend them because they can cause problems like selling your confidential data to advertisers or using your internet connection as a server location for other users.
For these reasons, we recommend a much better VPN service like ExpressVPN, which comes with a high level of security, privacy, fast connection speed, and optimization for gaming (lower ping, the ability to choose servers in different countries to play with friends, etc.)
6. Reinstall game
If you still haven't resolved the Among Us error connecting to the game server, we recommend reinstalling the game as a last step. When you reinstall the game, it will contain all the necessary patches.
1. Open the Steam client and go to the games library.
2. Right-click on Among Us and select Manage and Uninstall.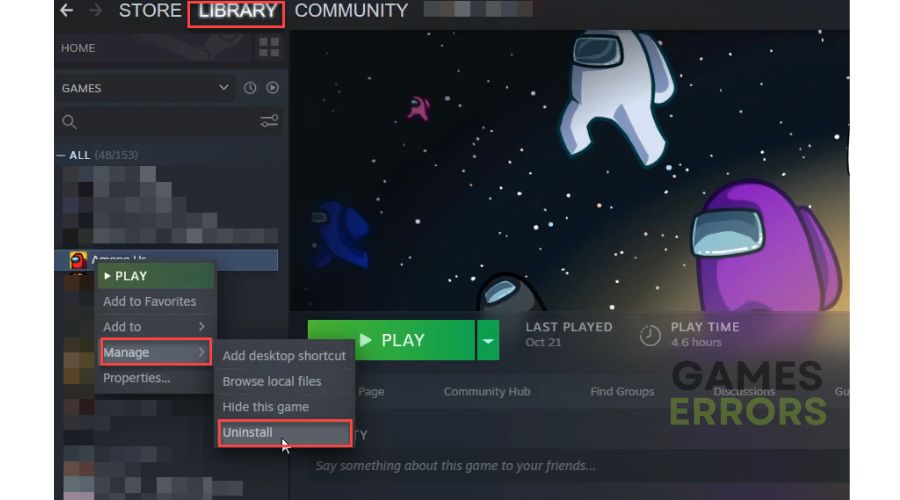 Conclusion
We hope that we have helped you and that you have successfully solved the Among Us error connecting to the game server. However, if you have any questions or suggestions, please comment below.
If you encounter any issues or errors while playing your favorite games and require support, feel free to contact us here. Our team is always ready to assist you and ensure your gaming experience is seamless and enjoyable.