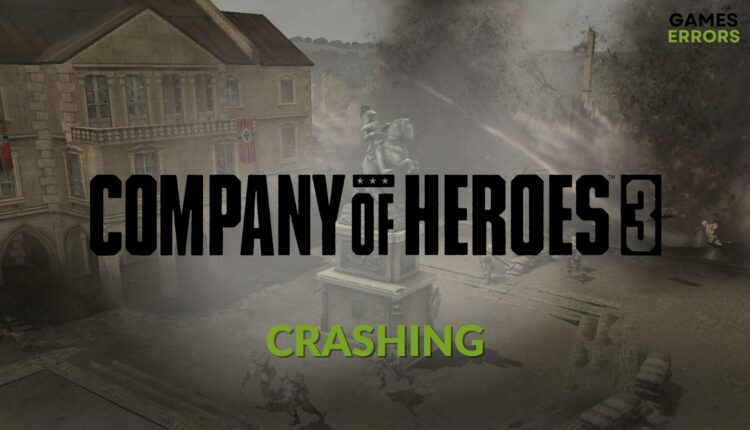 Company of Heroes 3 Crashing PC: How to Fix
Follow this ultimate guide if Company of Heroes 3 is crashing on your PCs🌟
X
INSTALL BY CLICKING THE DOWNLOAD FILE
If the Company of Heroes 3 is crashing on your PC, don't worry. You can easily solve this problem by following some specific methods.
COH, the modern strategy game franchise, has a lot of fans around the world. The Company of Heroes 3 is the latest addition to this game series. However, if you cannot play this masterpiece because of some crashing problems, that is a big disappointment. Fortunately, there are some practical solutions that can help you.
Why is COH3 crashing on my PC?
This game may crash due to the following reasons:
Outdated drivers: Problematic, buggy, and outdated graphics card drivers, as well as other drivers, may cause the Company of Heroes 3 crashing problems.
Corrupted game files: If the COH3 installation gets corrupted for some reason, you also may notice that it is crashing right after startup.
Missing game components: Most games use some features that need to be there on your operating system, for example, the DirectX runtime. If any of these components is missing or corrupted, the game will not run at all or crash by showing various error messages.
Memory problem: Memory-related problems may cause crashing problems when you try to run a game like COH3 or any heavy applications.
How do I fix Company of Heroes 3 crashing?
To solve the problem you are facing, you must do the following things before trying out the actual methods:
Now, go through these methods one by one to see which one fixes the Company of Heroes 3 crashing problem:
1. Update video driver
Open the Start Menu

, type 

Device Manager

, and hit 

Enter

.

Expand

Display adapters

.

Click on 

Search automatically for drivers

and complete the update process.

Also, update other drivers by following similar steps.
If you try to update all of your PC drivers manually, it will take a lot of time and effort. But a dedicated driver updater like
DriverFix
can do this with just a single click. It also can regularly check for outdated drivers and automatically update them in the background. So, we strongly suggest you use this tool.
2. Install the missing DirectX runtime
Visit the DirectX Runtime download page.
Download the package.
Install it on your PC.
If the missing DirectX runtime is the reason, doing the above will solve the Company of Heroes 3 crashing problem.
3. Disable in-game overlay
Open 

Steam

.

Go to the

Settings

.

Navigate to the In-Game

tab

.

Relaunch Steam.
4. Repair Company of Heroes 3
In Steam, right-click on the

Company of Heroes 3

and go to its

Properties

.

Go to the

Local Files

 tab.

Wait for a while until it finishes the verification and repair process.
This method helps to fix crashing problems and other similar issues with games like Company of Heroes 3.
5. Clean boot
In the Windows search box, type

msconfig

 and click on 

OK

.

Go to the 

Services

 tab.

Click on 

Apply

 and 

OK

.

Restart Windows.
Doing this will disable all of the third-party background processes. If the clean boot solves the crashing problem with COH3, try to find out the problematic service. You can enable the services one by one to find the culprit. Then, disable or uninstall the related program.
6. Run the Memory Diagnostic tool
In the Windows search box, type

mdsched

 and click on 

OK

.
Now, your PC will restart and check for memory problems and apply automatic fixes. It may take some time. So, keep patience. The memory problem is a common reason why a game like Company of Heroes 3 crashes, particularly in the middle of the gameplay.
Please keep in mind that it finds a problem but cannot fix; it may be because the RAM module is faulty. You may need to replace the RAM in the worst case.
Additional tips:
If COH3 still keeps crashing on your PC, you can do the following things:
Uninstall your Antivirus and Firewall to see if it helps.
Re-install the game completely.
Update Windows to the latest version.
We also suggest you check out this ultimate guide on how to fix any game-crashing problems.
This article has explained how you can fix Company of Heroes 3 crashing issues. You can let us know if you have any questions or know a better method that may help others.
If you encounter any issues or errors while playing your favorite games and require support, feel free to contact us here. Our team is always ready to assist you and ensure your gaming experience is seamless and enjoyable.