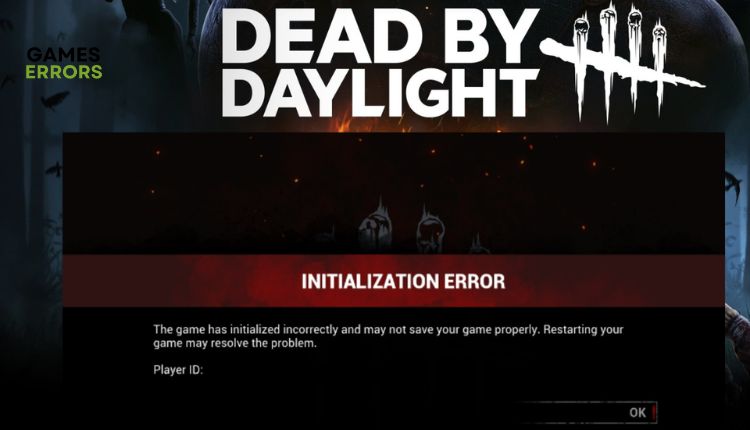 Dead By Daylight Initialization Error [Fixed]
If you're experiencing an "initialization error" in Dead By Daylight, we have an effective fix for this problem. 👍
X
INSTALL BY CLICKING THE DOWNLOAD FILE
Dead by Daylight is a slasher simulation where you can play as either a crazed serial killer or a small team member trying to survive. The game features complex mechanics for various abilities and tactics when creating characters. You can enjoy hours of thrilling and brutal entertainment with the right team. Unfortunately, it's not uncommon to encounter some errors or issues while playing the game. One such error is an initialization error during the game launch. This guide will help you fix the problem and enjoy this excellent horror game.
Why do I get an initialization error in Dead by Daylight?
You can get an initialization error on the Dead By Daylight game while trying to open and log in to the game. Possible reasons for this error are gaming server issues, unstable internet connection, outdated or corrupted drivers, restricted NAT, and a corrupted game folder.
How do I fix Dead by Daylight initialization error?
We advise you to do these simple steps first before starting to apply our specific tips:
Check the game server status, and also for Xbox and PS
Power cycle your modem and router
Run the game as an administrator
Restart the game and your PC
If you still have an "initialization error" in Dead By Daylight, do the following:
1. Update your drivers
The leading cause behind many game issues is often outdated or corrupted drivers for GPU, network, sound, and other components. To troubleshoot, start by updating all drivers to their latest versions. Here is an example of how to manually update your GPU driver:
1. Press the Windows+R keys to show up the Run dialog.
2. Type; devmgmt.msc and hit Enter.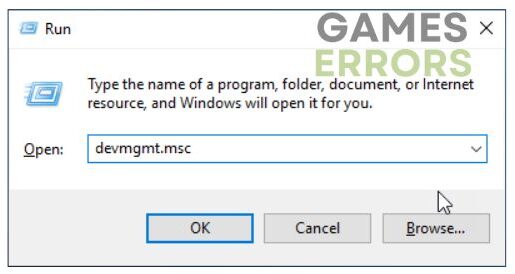 3. Double-click on the Display adapters to expand, right-click on GPU, and select Update driver.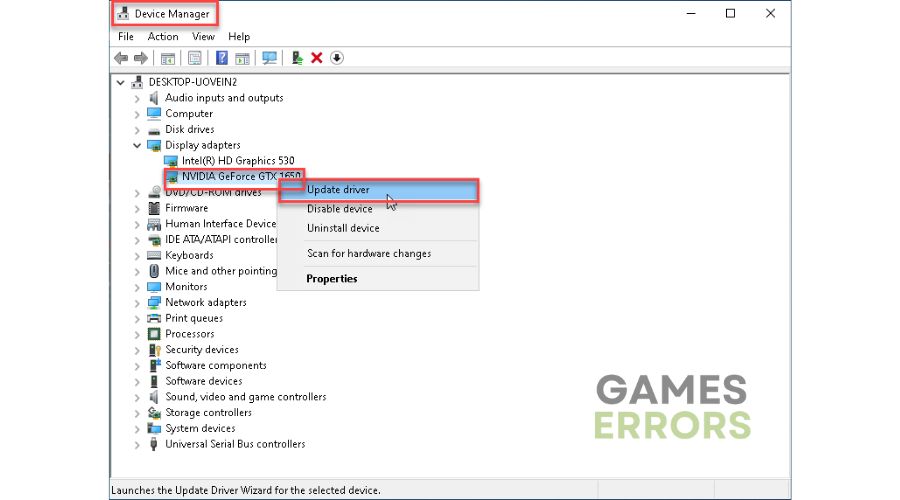 4. Wait while the update process searches for, downloads, and installs the latest driver version.
We suggest using DriverFix as the quickest and simplest method to update all drivers on your Windows computer. This helpful tool ensures that your drivers are always up-to-date, saving you the inconvenience of manual updates and valuable time.
2. Verify game files
If Dead By Daylight encounters an "initialization error," it may indicate that one or more game files are corrupted or missing. We recommend verifying and repairing any corrupted game files by following these steps:
⭐ Xbox App
1. Launch the Xbox game client and go to your game library.
2. Click on the three dots icon and choose Manage.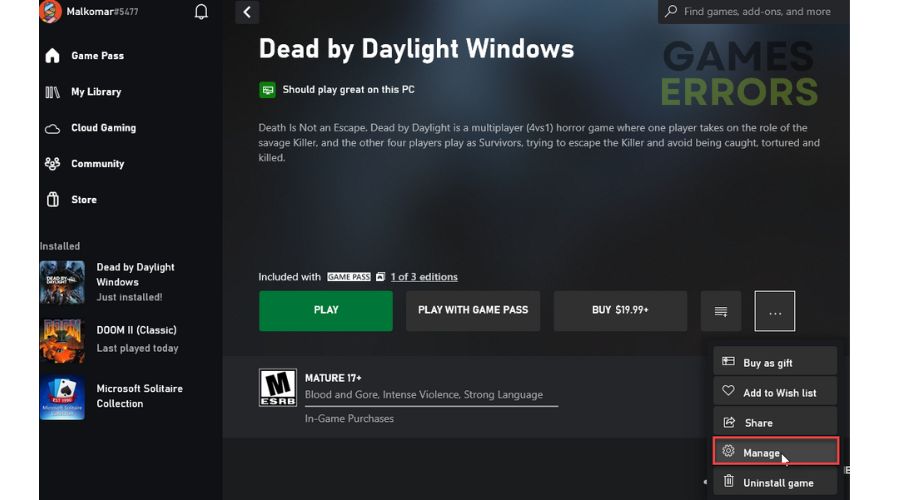 3. Select Files and Verify and Repair.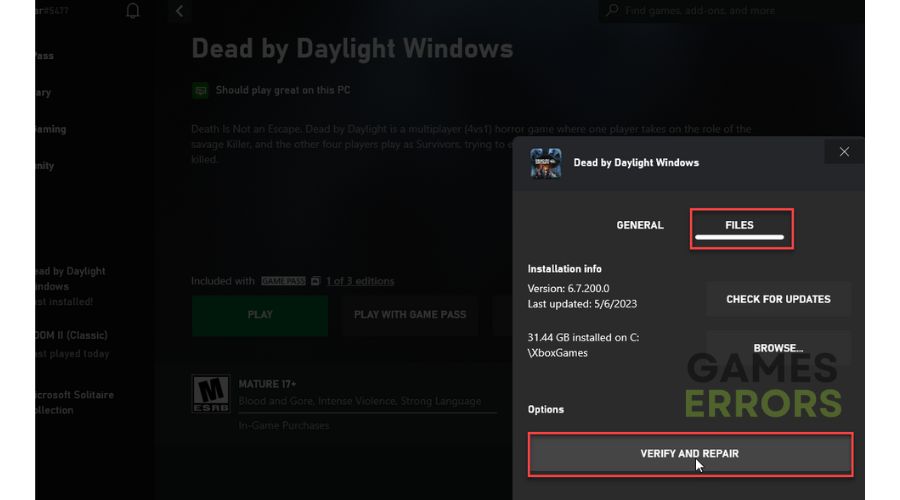 4. Wait until the launcher verifies and repairs all game files, then restart your PC.
5. Launch Dead By Daylight to check if the"initialization error" is gone.
⭐ Steam launcher
1. Launch the Steam client and go to the game library.
2. Right-click on Dead by Daylight and select Properties from the context menu.
3. Select LOCAL FILES from the menu and click on Verify integrity of game files.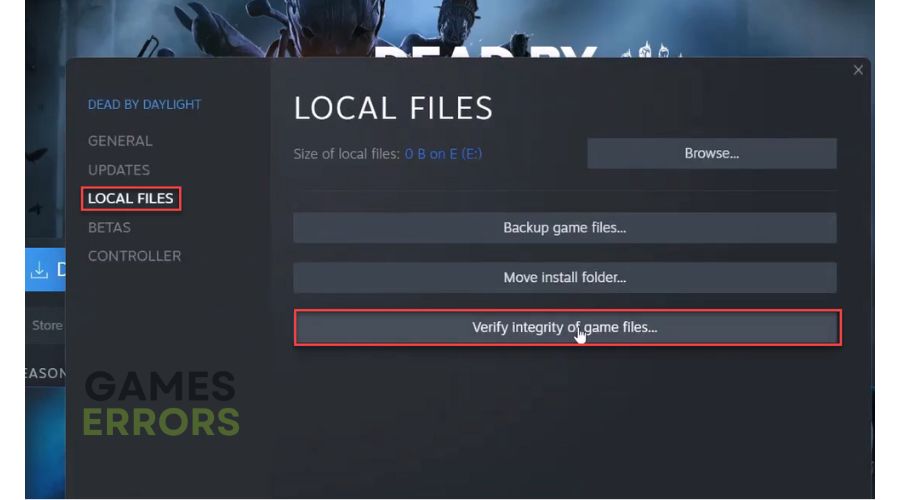 3. Enable UPnP
Time needed: 1 minute.
If you see an "Initialization error" message when playing Dead by Daylight, it might be due to the Network Address Translation (NAT) not being open on your gaming device's network. To resolve this issue, you can open the NAT status to prevent any connectivity problems caused by NAT inconsistency.
Log in to your router menu

Open your favorite browser and log in to your router's admin panel. An example is for TP-Link router interface.

Enable UPnP

Select the UPnP option and select Enable. Confirm changes and exit from the router menu.

Relaunch Dead by Daylight

Now try running Dead by Daylight on your gaming platform to check if an "initialization error" is gone.
4. Delete the game folder
One potential solution for PC users experiencing an error is to remove the game folder and enable cloud synchronization on Steam. Try clearing the game folder and forcing Steam to re-sync all game files. Do following:
1. Navigate to the C:\Program Files (x86)\Steam\userdata.
2. Right-click on a folder named 381210 and select Delete.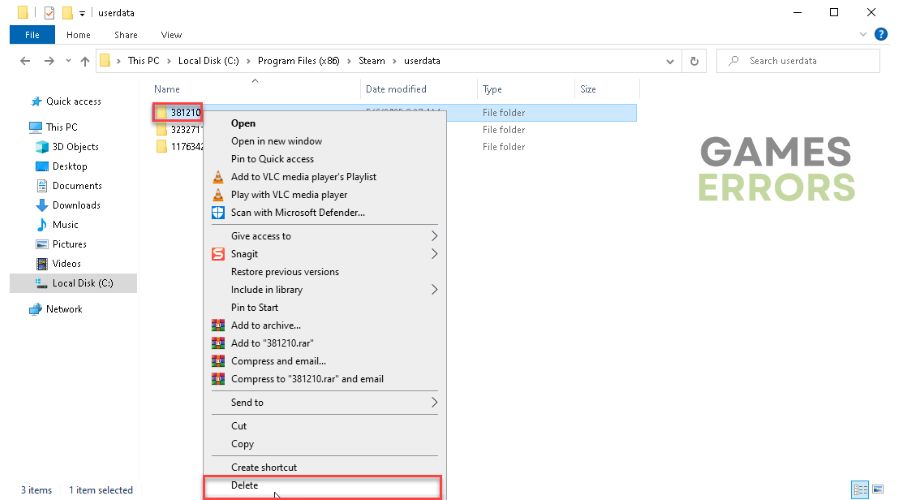 3. Launch the Steam client and select Settings.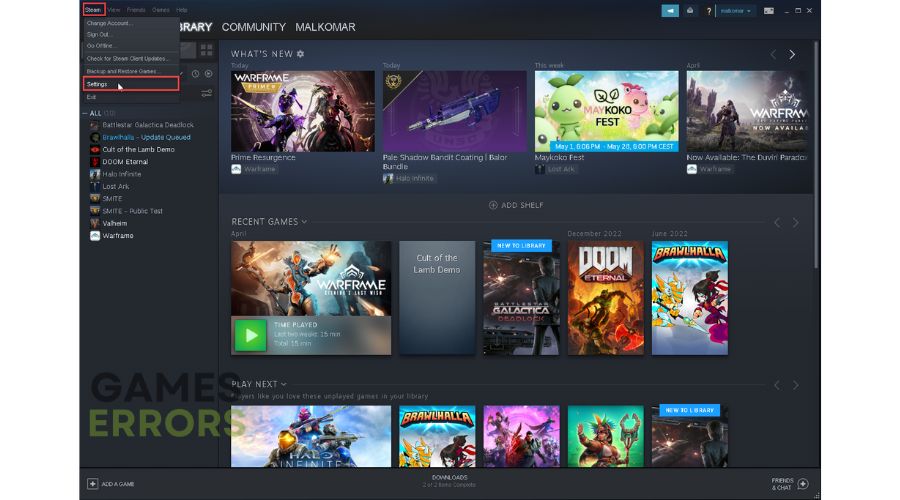 4. Select Cloud on the left side panel, and on the right-hand side, tick the checkbox Enable Steam Cloud synchronization for applications that support it.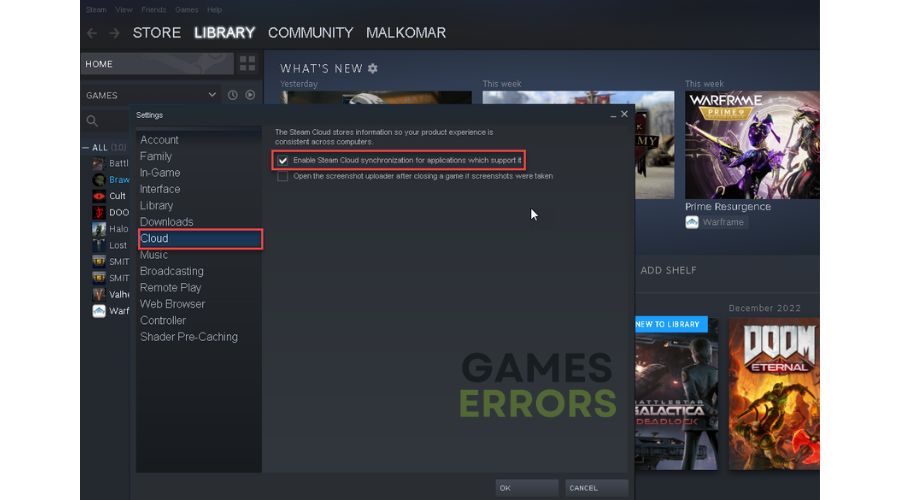 5. Restart your PC and try to run the game to check if an "initialization error" is gone.
Extra steps:
If you have followed our advice and are still encountering an "initialization error" in Dead By Daylight, there are other options you can consider like:
Conclusion
We hope our guide helped you fix the "initialization error" in Dead By Daylight. However, if you've tried all the steps above and still have problems, contact the Dead by Daylight support page and describe your issue in detail. However, don't hesitate to comment with additional questions or suggestions.
If you encounter any issues or errors while playing your favorite games and require support, feel free to contact us here. Our team is always ready to assist you and ensure your gaming experience is seamless and enjoyable.