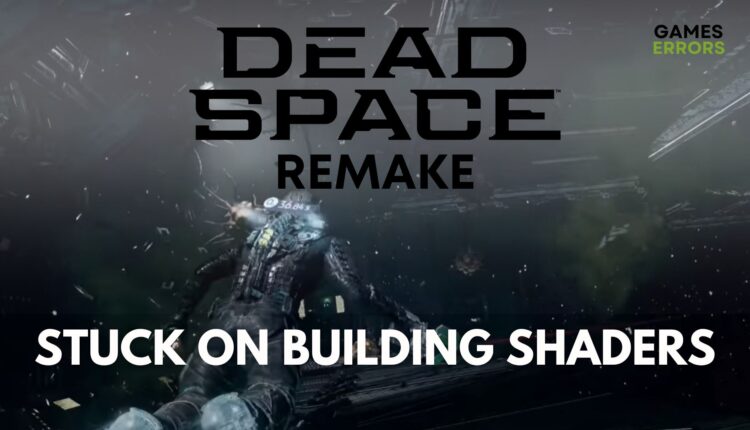 Dead Space Remake Stuck on Building Shaders: Quickly Fixed
Dead Space Remake stuck on building shaders might be caused outdated GPU drivers
X
INSTALL BY CLICKING THE DOWNLOAD FILE
Shaders are quick applications that modify how in-game objects are rendered on the graphics processing unit (GPU). They are a crucial component of game creation because they can significantly improve a game's visual appeal.
If Dead Space Remake stuck on building shaders, it may indicate that the game is having problems loading or processing the visual data.
Why is Building Shaders Taking Forever in Dead Space Remake?
Dead Space Remake is stuck on building shaders because the system lacks the necessary resources, such as memory or computing power. It could possibly be a bug in the game's programming or a conflict with other applications running on the computer. Also, this problem might be caused by:
Outdated graphics drivers
High in-game graphic setting
Too many background apps are eating your CPU
Corrupted game files
How to fix Dead Space Remake stuck on building shaders?
To fix Dead Space Remake building shaders issues, as a preliminary check, make sure to restart your computer and the game. If the problem still persists, try running the game on a different computer or device as your existing setup may be to blame.
In case the pre-check didn't work and you are still encountering Dead Space Remake building shaders stuck, let's dive into troubleshooting:
1. Update your graphics drivers
Search for Device Manager in the search box on the taskbar, then select it.
Locate Display adapters and double-click on it to expand.
Right-click on your graphics driver and select update driver.
Select Search automatically for the driver option.
If you're not confident updating your GPU drivers manually, you can use
DriverFix
– a trusted third-party app that will scan, download and install the drivers automatically. You can save time and effort by doing this instead of manually hunting for and downloading the proper driver.
2. Lower the game's graphics settings
Lowering the game's graphics settings can help to solve the Dead Space Remake stuck-on-building shaders issue because it reduces the number of resources required to render the game's visuals. By doing this, the GPU can avoid being overwhelmed, which could otherwise result in the game freezing or being unresponsive. Lowering the graphics settings can also assist in lowering the memory requirements of the game, which can help to avoid freezing or crashing.
3. Run the game in compatibility mode
Right-click on the Dead Space Remake executable file or shortcut and choose "Properties."
Click on the "Compatibility" tab.
Check the box next to "Run this program in compatibility mode for:" and select the desired operating system from the drop-down menu.
Click "Apply" and then "OK"
Double-click on the game to launch it.
4. Close the background apps
Open Task Manager using the short key Ctrl+Shift+Esc on the keyboard.
Right-click on any program that is consuming your CPU and memory, and select End task to terminate it.
5. Verify the integrity of the game files
Locate the Dead Space game in your Steam Library.
Right-click on the game and choose Properties.
Go to the Local Files tab.
Click on Verify integrity of game files.
That's everything you should do to fix Dead Space Remake stuck on building shaders. It's also advisable to wait for the developer's update or regularly check the official sources like the Twitter handle or Electronic Arts website.
If by any chance you run into low FPS or graphic performance issues in Dead Space, check our latest article in order to quickly fix the problems.
If you encounter any issues or errors while playing your favorite games and require support, feel free to contact us here. Our team is always ready to assist you and ensure your gaming experience is seamless and enjoyable.