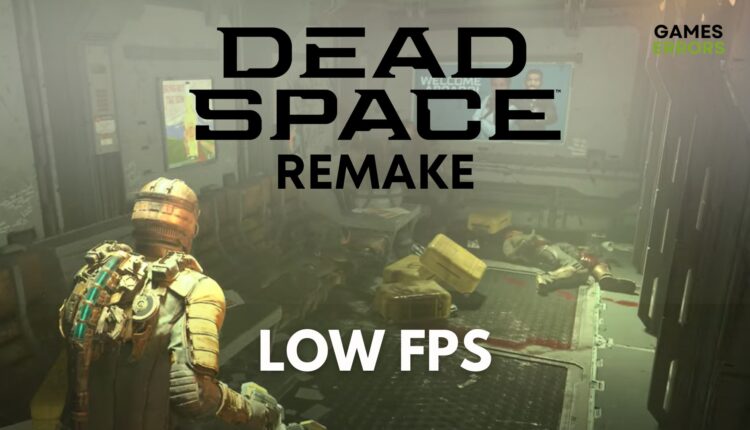 Dead Space Remake Low FPS: How to Fix Performance Issues
Dead Space Remake stuttering? Make sure to keep your GPU drivers up-to-date to improve performance ✅
X
INSTALL BY CLICKING THE DOWNLOAD FILE
One of the most anticipated science fiction survival horror video game-Dark Space Remake has been released on January 27th, 2023 on PlayStation 5, Xbox Series X and Series S, and Microsoft Windows. However, a lot of gamers have complained about a variety of performance problems, including low frame rates and stuttering. This post will explore these issues in-depth and go through several possible fixes to enhance your gaming experience.
Why is my FPS so low all of a sudden in Dead Space remake?
There could be a variety of reasons why Dead Space Remake running slow, lagging, or stuttering:
Outdated or underpowered device
A lack of storage space on your device
The use of too many background programs or applications
An outdated GPU driver
Corrupted game files
How do I increase my FPS in Dead Space Remake?
To fix Dead Space Remake low FPS and increase FPS, perform the basic pre-checks listed below to make sure the issue isn't being caused by straightforward problems before attempting the primary solutions:
Table of contents:
1. Close unnecessary background apps
Dead Space Remake is a CPU and graphically demanding game, as you are probably aware. You will not be able to enjoy the game at its best if there are too many programs running in the background. You can quickly disable them in order to stop them from using up your system RAM. Here is how you do it:
Open Task Manager using the short key Ctrl+Shift+Esc on your keyboard.
Right-click on any program that is consuming your CPU and memory, and select End task to close it.
Terminating unnecessary background apps can free up resources for the game to use, potentially improving its performance and resolving Dead Space Remake low FPS or even not launching problems.
2. Update your GPU drivers
One of the most important parts of your computer is its graphics card. Additionally, your graphics driver is a crucial component of software that ensures that your graphics card will operate at its peak efficiency. Numerous problems can be anticipated if your GPU is up-to-date. You must update your graphics driver to reduce the stutters in-game. Here is how you do it:
Type Device Manager in the search box and select it to open.
Locate Display adapters and double-click on it to expand.
Right-click on your graphics driver and select update driver.
Click on Search automatically for the driver.
If you're not comfortable updating your GPU driver manually, you can use DriverFix which will automatically download and install the necessary drivers simpler and less error-prone. Instead of manually looking for and downloading the right driver, you can save time and effort by using this method.
Furthermore, DriverFix will automatically check your system and keep your drivers updated for you, assisting you in avoiding problems brought on by out-of-date drivers and making Dead Space Remake run at the highest performance.
3. Run the game as an administrator
A game's permissions are increased and it can get around some system limitations that might be slowing it down when it is run as the administrator. Running it as an administrator might potentially fix Dead Space Remake stuttering problems. Here is how you do it:
Find the Dead Space.exe file in the folder where it has been installed and right-click on it.
Click on Properties.
Go to the Compatibility tab and check the Run this program as an administrator box.
Hit Apply and then OK.
4. Update Windows
For a number of reasons, updating your version of Windows can assist in resolving issues with game performance and low FPS. First, more recent versions of Windows might come with updates and patches that boost system speed and optimize your computer for gaming. Here is how to update your Windows:
Press Win + I to access Settings.
Click on the Windows update tab, then click on Check for updates.
If Windows found any updates, click on the Install now button.
5. Verify the integrity of game files
Missing or corrupted game files can result in crashes, low FPS, and Dead Space Remake performance issues. By verifying the integrity of game files, Steam looks for any missing or damaged files and replaces or fixes them as required. This can assist in bringing the game back to its top performance and resolving any low FPS problems. Here is how you fix your corrupted game files:
Locate Dead Space in your Steam Library.
Right-click on the game and select Properties.
Go to the Local Files tab.
Click on Verify integrity of game files.
6. Disable VSync
Disabling VSync can help improve Dead Space Remake performance and fix low FPS issues because it allows the GPU to render frames as fast as it can, rather than being limited to the refresh rate of the monitor. Here is how you disable VSync:
Right-click on your Windows desktop and click on NVIDIA Control Panel.
In the left-hand panel, click on Manage 3D Settings and scroll down to locate Vertical Sync.
Select Vertical Sync and click on Off.
Relate articles:
Conclusion
In conclusion, gamers may find low frame rates to be irritating. However, users should be able to increase their frame rate and improve their gaming experience by following the recommendations offered in this article.
Make sure to leave a comment in the comment sections down below if these solutions have been helpful for you so that other people can learn from your experience. We wish you a wonderful gaming experience and hope that this post was useful in addressing your FPS troubles.
If you encounter any issues or errors while playing your favorite games and require support, feel free to contact us here. Our team is always ready to assist you and ensure your gaming experience is seamless and enjoyable.