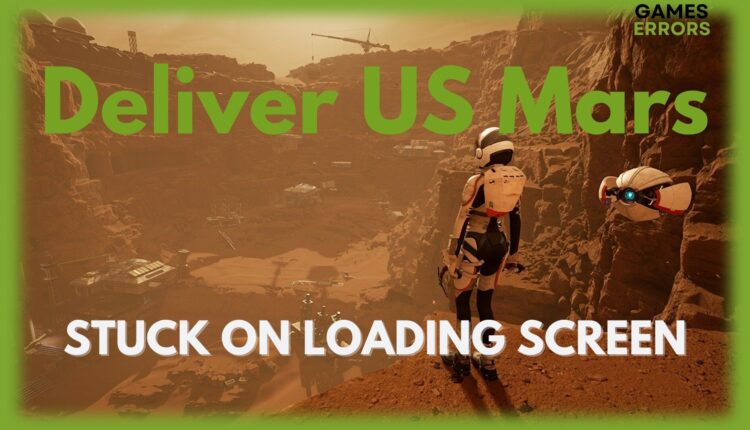 Deliver US Mars Stuck on Loading Screen: Fix it in no Time
Follow our easy troubleshooting guide if you ever got stuck on loading screen while playing Deliver US Mars
X
INSTALL BY CLICKING THE DOWNLOAD FILE
Deliver US Mars is a sci-fi suspense adventure game that allows you to dive into a new world full of adventures, spacious mysteries, and the survival of humanity. The game was released on 2 Feb 2023 on Xbox One, Xbox Series X/S, PS4, PS5, and PC (through Steam and Epic Games Store).
However, there might be a problem you'd have to face. Have you ever encountered a dreaded stuck loading screen while playing Deliver US Mars? It can be frustrating sometimes, especially when you are one step ahead of progress as an astronaut in your favorite game.
In this article, we'll explore why the game gets stuck on the loading screen and how to troubleshoot it.
Why is Deliver US Mars stuck on loading screen?
If the game keeps stuck on the loading screen, it is a puzzle that you need to solve. It could be a glitch within the game itself, or the problem is from your side. As the cause is unknown, here are some reasons that could lead to the game being stuck on the loading screen:
Outdated GPU driver

Your PC specs don't meet the game requirements

Slow network or wifi
One of the main reasons that the game is crashing could be the low hardware and software specs. If you have downloaded the game without consulting the requirements, check out the system requirements for the game below:
Deliver US Mars Minimum System Requirements
MINIMUM:
Requires a 64-bit processor and operating system
OS: Windows 10 64bit
Processor: Intel i5-4590 / AMD FX-8350
Memory: 8 GB RAM
Graphics: NVIDIA GeForce GTX 970 / AMD Radeon R9 390
DirectX: Version 11
Storage: 14 GB available space
RECOMMENDED:
Requires a 64-bit processor and operating system
OS: Windows 10/11 64bit
Processor: Intel i7-7700 / AMD Ryzen 5 2600
Memory: 16 GB RAM
Graphics: NVIDIA GeForce GTX 1080 / AMD RX 5600 XT
DirectX: Version 12
Storage: 14 GB available space
How to fix Deliver US Mars Stuck on loading screen?
To fix Deliver US Mars stuck on loading screen, you should perform the following pre-checks:
✅ Restart your game and PC;
✅ Reboot your router/modem;
✅ Close unnecessary background tasks;
✅ Run the game as an administrator;
If you did the pre-checks above and the game is still stuck on the infinite loading screen, let's dive into the solutions:
1. Update your GPU driver
Deliver US Mars may crash or stuck on loading screen due to old versions of your display drivers. Here's how you can update your system's display driver:
Right-click the start button and tap the "Device Manager" section from the menu.
Click the " Display Adapters" folder to expand it, and tap on your current display driver (AMD or NVIDIA).
Click on "Update Drivers."


Select "Search automatically for drivers."

Let your windows select to search the best available drivers and install them.

Wait for the installation process.

Once done, launch the game after restarting your PC.

Sometimes updating your GPU driver manually might be a bit hard or time-consuming, just know that you can update your drivers automatically with a dedicated third-party app like DriverFix. You can use it for any driver that you want to update, and it works in just a couple of clicks.
2. Verify the integrity of the game files
There may be a problem installing the additional files beyond the game package properly. You can solve the issue using the "Verify the Integrity of Game Files" option on steam or Epic Launcher.
Steam users:
Open the Steam client, head to Library, and right-click on Deliver US Mars.
Choose Proprieties then click on the Local Files tab.
Click on Verify Integrity of Game Files.
Epic Launcher users:
Open the Epic Launch client then head to Library to locate Deliver US Mars.
Click on the Settings icon and then click Verify.
The process of reinstallation of missing files will start automatically. Once it is done, restart your PC and launch the game.
3. Temporarily disable antivirus
Identify the Antivirus or Anti-malware software that detects the game as a threat.

Disable the Antivirus or Anti-malware software temporarily.

Start the game and enjoy playing.

Re-enable the Antivirus or Anti-malware software after the game is closed

If you have Windows Defender installed, repeat steps 2-4.
Note: Disabling the Antivirus or Anti-malware software is only recommended while playing the game and should not be done permanently, as it may compromise the security of your system.
4. Change the Game Mode
Other open applications may disturb the game's opening if you play on Windows. Before playing the game, make sure that all software is closed. You can also enable the game mode to disable unnecessary applications or files which may interfere with your gaming experience. Here's how you can enable the Windows game mode option.
Open the Windows settings

Navigate gaming section

Click the toggle under gaming mode
Take advantage of this mode and take your gaming experience to the next level.
5. Contact official support
If you have tried all the troubleshooting steps, but still the game is stuck on the loading screen, contact the support office. You can reach the official support by visiting the game's official website or joining the discussions on the game on steam. Here's the link to the official website: https://www.deliverusmars.com/.
Frequently Asked Questions – (FAQs)
Will Deliver US Mars Support DLSS 3.0 at launch?
Yes, it supports DLSS 3.0. The support is targeted so the game can launch on PC through different gaming software (Steam and Epic Games). 
Can I play Deliver US Mars on Windows 7?
You can not play this game on Windows 7.
Conclusion
Deliver US Mars is one of the most enjoyable space exploration games available, but it can be frustrating when you encounter a loading screen. We hope our tips have helped fix your problem and allowed you to continue enjoying the game like before.
If you encounter any issues or errors while playing your favorite games and require support, feel free to contact us here. Our team is always ready to assist you and ensure your gaming experience is seamless and enjoyable.