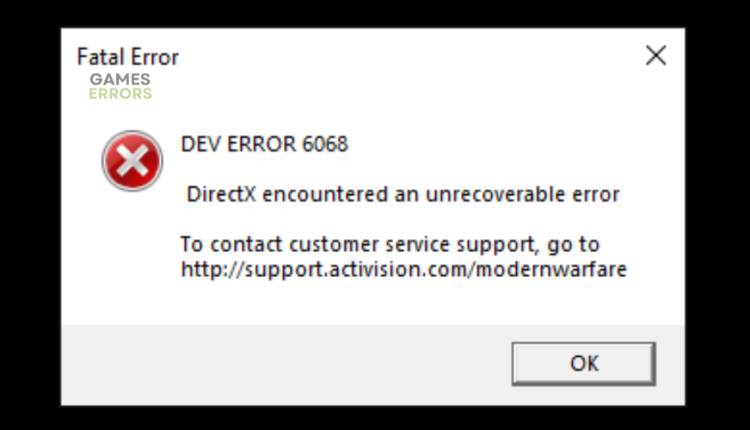 Dev error 6068 in Call of Duty Warzone & MW2? Here's the Fix
Fix dev error 6068 in Call of Duty Warzone by following the troubleshooting tips below ⤵️
X
INSTALL BY CLICKING THE DOWNLOAD FILE
Are you encountering a dev error 6068 when playing Call of Duty Warzone? If so, you are not alone. The dev error 6068 warzone is a fatal error that has been affecting numerous COD Modern Warfare players. It may occur at launch, while playing, or out of nowhere and ruin your game.
If you are facing this error on your PC, this troubleshooting guide can help you fix it.
What causes Dev error 6068?
The dev error 6068 on Warzone may occur due to different reasons. These include:
Issues with graphics settings
Outdated OS, such as PCs running on an older version of Windows 10
Issues with optimal settings and game configuration
Corrupt game files
How do I fix Dev Error 6068 Warzone?
There are several proven solutions for fixing the dev error 6068 Modern Warfare issue on your PC. We've compiled four of the best below to help you troubleshoot it.
1. Launch Warzone on DirectX 11
Some COD Warzone players have fixed the error by running Warzone on DirectX 11 instead of DirectX 12. Try the same to see if the error disappears. Here's how:
Open your Battle.net client
Check the box next to Additional Command Line Arguments.
Launch Warzone to see whether the error disappears.
If not, try the next fix below.
2. Update the graphics driver
Call of Duty Warzone plays best when your PC's GPU has the latest graphics driver. A faulty, broken, or outdated graphics driver can result in errors, including the dev error 6068 on Warzone. Here's how to update your AMD or NVIDIA graphic card's driver using the device manager:
Open the Run box by pressing Windows key + R.
Click on Display Adapters to get a list of the graphic drivers on your PC.
Right-click on the driver you want to update and select Update Driver.
Choose search automatically for drivers and let Windows search and install driver updates.
Restart your PC to apply the changes
Alternatively, you can install
DriverFix
– a trusted third-party app that will help you to update and install your GPU driver automatically hassle-free.
3. Update Windows
Updating your Windows 10 or 11 to the latest version may help fix any bugs affecting your gaming experience on Warzone. This includes the dev error 6068 warzone Windows 11. Here's how to do this:
Press the Windows key on your keyboard to open the Windows Search Menu
Click on Check for Updates and Windows will search for and download the latest updates.
Restart your PC once the download is complete to install all updates.
Run Call of Duty Modern Warfare to see if the error is fixed.
4. Tweak the Video Memory Scale Setting
This is one of the most cited and popular resolutions for the dev error 6068, and it's done by lowering the video memory scale setting. Here's how to do it:
Ensure the game is not running. You can end the game on the Task Manager.
Press Win + E to open the file explorer manager.
Navigate to the following folder: Documents\Call of Duty Modern Warfare\players
Click on Notepad.
Save it, then close Notepad.
Try running the game now to see whether the error is fixed.
Related articles:
Conclusion
Following the resolutions we've listed above may help fix the dev error 6068. You may have to try a few of them to find one that works. If you're still experiencing the problem or have some questions regarding the error, tell us in the comment section below.
Follow us for more Modern Warfare and Warzone troubleshooting guides.
If you encounter any issues or errors while playing your favorite games and require support, feel free to contact us here. Our team is always ready to assist you and ensure your gaming experience is seamless and enjoyable.