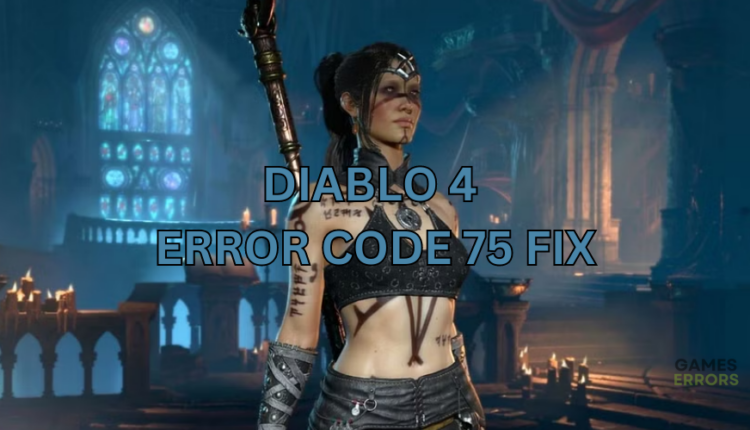 Diablo 4 There Was A Problem Authenticating Your Account [Fixed]
Diablo 4 force shutting in the middle of gameplay due to error 75 is annoying. Fortunately, we know how to fix this below ⤵
X
INSTALL BY CLICKING THE DOWNLOAD FILE
Diablo 4's performance issues continue to frustrate players days after the title's launch. Fans are now running into the error code 75, which force shuts the game on PC. Unfortunately, there isn't much information regarding the error, but Blizzard Entertainment is actively working on fixing it. Meanwhile, players have to find possible workarounds to continue enjoying the game.
Luckily, we have compiled a few proven solutions that may help fix the problem below.
What causes error code 75 in Diablo 4?
Error code 75 is a network and server-related issue that occurs when the client cannot authenticate your Blizzard account for RPG. It also occurs when Diablo 4's servers aren't running optimally or are overloaded. This affects how your PC connects with the game's servers, causing errors. Any scheduled server maintenance or downtime can also trigger error 75.
While experiencing the error 75 in Diablo 4 can be annoying and ruin gameplay, a few possible workarounds can help solve it.
How to fix Diablo 4 error code 75?
Before doing anything, as prechecks, do the following:
Check server status: Since the primary cause of the error code 75 in Diablo 4 is server issues, check the Diablo 4 server status to ensure there are no scheduled maintenance, downtime, or outages. Visit the Battle.net Support webpage to check for the issue and the status. If the servers are down, there isn't much you can do other than wait. Check the status periodically, and once they're up, launch the game to see if the issue is solved.
Verify and repair game files: If your Diablo IV game files are missing or corrupted, it may trigger errors such as 75. Scan and repair them to fix this.
Update Diablo 4: Update the game to the latest version to eliminate any temporary bugs or glitches causing errors. Updates also have patches that fix temporary errors.
Restart Diablo 4: Restarting the game helps eliminate temporary bugs that trigger errors.
If these don't work, try the following fixes:
1. Reinstall the Battle.net launcher
Time needed: 4 minutes
Some users report fixing the error code 75 by uninstalling and reinstalling the Battle.net launcher. This fixes any bugs and glitches that may be causing errors within the game. It also updates your launcher to the latest version. Here's how to do this:
Control panel

Click the Windows search bar, type Control panel, and click on it to open.

Programs

From the list of options under Program, click Uninstall a program.

Uninstall Battle.net

Find the Battle.net application file, right-click on it, and select Uninstall/Change. This will remove Battle.net from your PC.

Delete the game cache folder.

After uninstalling Battle.net, remove the cache folders as well. To do this, press Win+R to open the Run box. Type or paste %programdata% and press Enter.

Delete

Delete the Battle.net folder and the same folder inside the Blizzard Entertainment folder.

Install

Restart your PC and download and install the latest Battle.net client. Relaunch the game and see if the issue is solved.
2. Update your network drivers
Corrupted and outdated network drivers may affect how your PC connects with the game's servers, causing error 75. Updating your network drivers can help solve the issue. To do this:
Right-click on the Start Menu and select Device Manager from the Quick Access Menu.
Navigate to Network Adapters and double-click to expand the list.
Right-click on the driver you're using or the dedicated network driver and select Update driver from the list of options.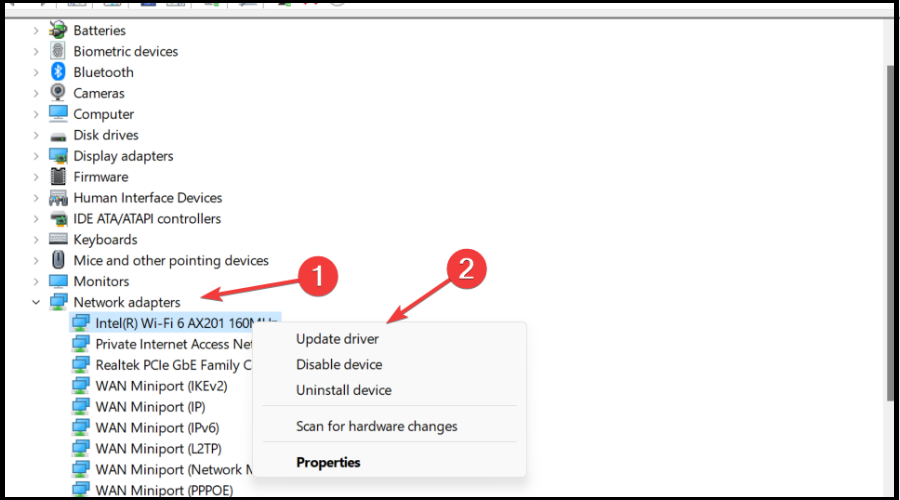 Click on Search automatically for drivers and let Windows search and install them.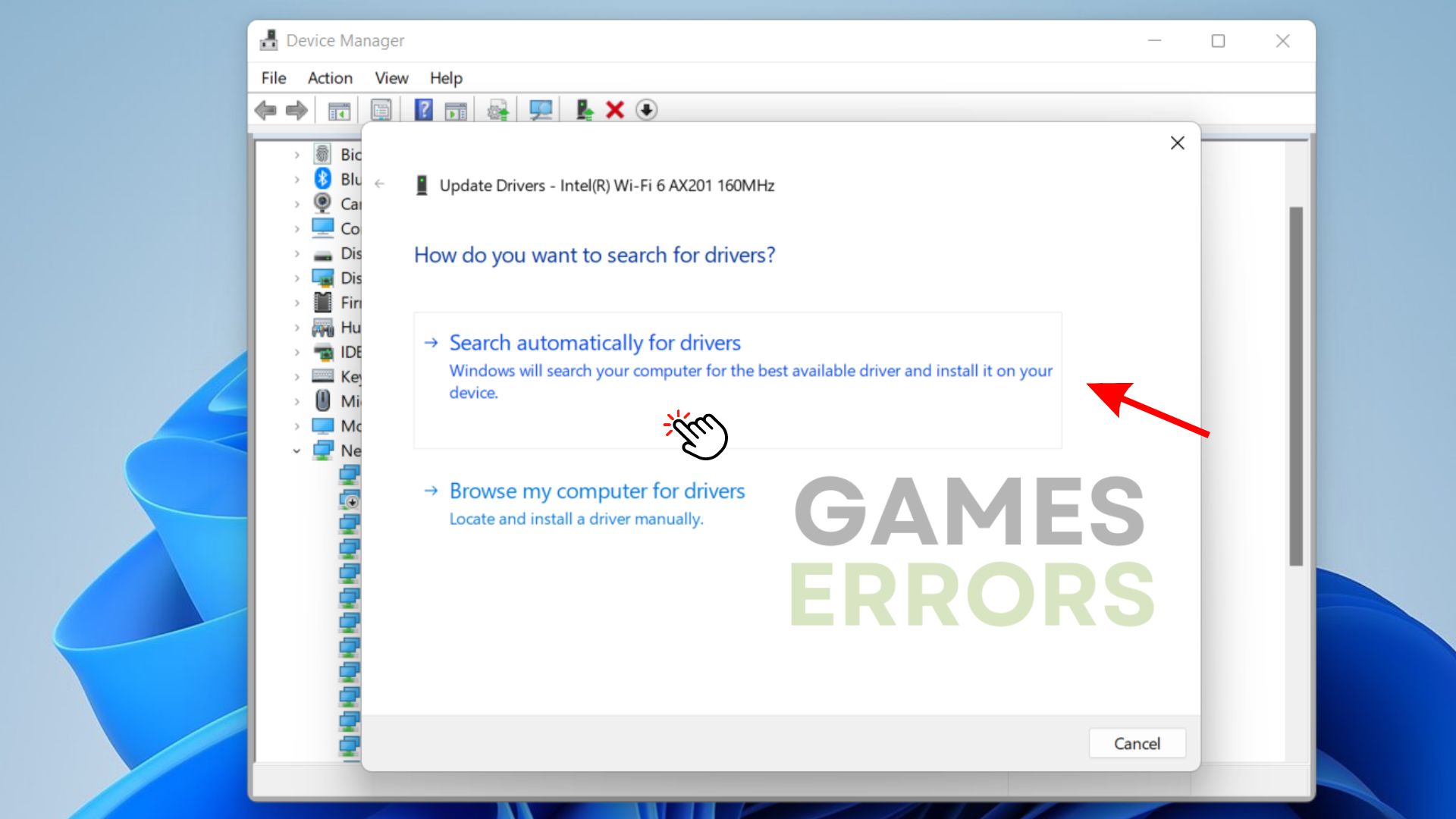 Restart your PC and launch Diablo 4 to see whether the issue is fixed.
If you don't have the patience and time to manually update your graphic drivers, simply download and install Outbyte Driver Updater – a trusted third-party app that automatically updates and installs your GPU drivers hassle-free.
3. Use a wired Ethernet connection
Diablo 4 requires a more stable and faster internet connection to run smoothly. Switching to an Ethernet connection lets you get fast Internet to help fix any network and Internet-related issues, including error 75. Plug in your Ethernet cable on the Ethernet port on your router and PC, and restart the game to see if you're still getting the error. Be sure to turn off your WiFi connection.
Some gamers also report fixing the error code by switching to a different internet connection, such as their phone data. Try it to see if you're still encountering error 75.
🚀Other fixes
Other possible workarounds to fixing error 75 in Diablo 4 include:
Check your internet connection to ensure its stable
Close unnecessary background applications
Contact Blizzard support for help
Related articles
Conclusion
That's it – three proven solutions to help you fix Diablo 4 error 75. Check them out and work down the list to find a solution that works for you. Feel free to leave any additional comments, questions, or fixes below.