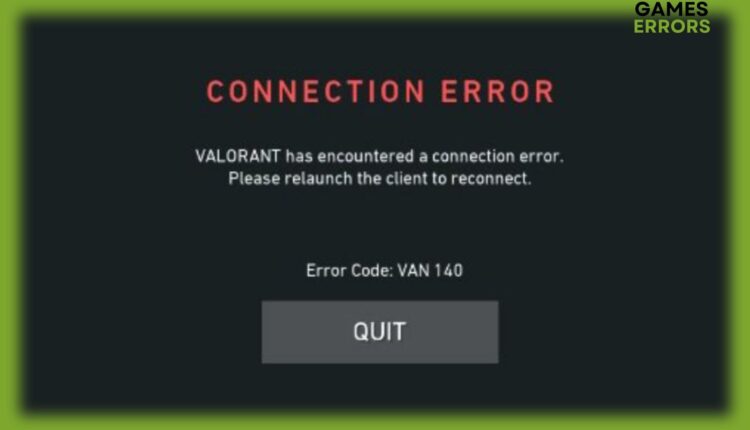 VAN 140 Valorant Error Code: What is & How to Fix
Windows 7 users can no longer play Valorant and VAN 140 error will be displayed😔
X
INSTALL BY CLICKING THE DOWNLOAD FILE
After the most recent Patch 6.0, several players in Valorant have been getting the Van 140 error. Even after restarting their client, Riot Games users are unable to log in.
In this article, we will provide you with solutions on how to fix Van 140 error in Valorant.
What is Van 140 error in Valorant?
Valorant's Van 140 problem could be brought on by Windows 7's outdated operating system compatibility. Also, since the error message is displaying "Connection Error", there might be also a problem with their game servers or your internet connection being poor.
How do I fix Valorant error code VAN 140?
To fix this annoying error code, as a preliminary check, ensure that your internet connection is fast and reliable. Also, don't forget to check Riot's game service status. Access their official website and you should see the status "No recent issues or events to report".
In case your internet connection is stable and the game's servers are up and running, let's dive into the solutions.
✅ Update Windows
Reddit users think that Riot Games cut off all Windows 7 users, and this can be confirmed by Valorant Leaks Twitter handle:
Due to changes made today, you can no longer play VALORANT on Windows 7. | #VALORANT

— Mike | Valorant Leaks & News (@ValorLeaks) January 11, 2023
If your operating system is still Windows 7, in order to play Valorant you'll have to update your Windows. Here is how you do it:
Press Win + I on your keyboard to click on Settings.
Press on the Windows update tab, then click on Check for updates.
Click on the Install Now button if an update is required.
Updating Windows helped a Reddit user to make it work:
Comment
by u/itchyfeetleech from discussion New update causing ERROR VAN 140 and game won't run. Did all necessary troubleshooting steps, suspect new patch is the cause. Any help?
in ValorantTechSupport
If you ever encountered Valorant randomly freezing on your PC, read our article on how to fix the problem.
We truly hope that updating Windows has fixed the issue, however, if you have any other solutions that assisted you in fixing VAN 140 error, please drop a comment down below.