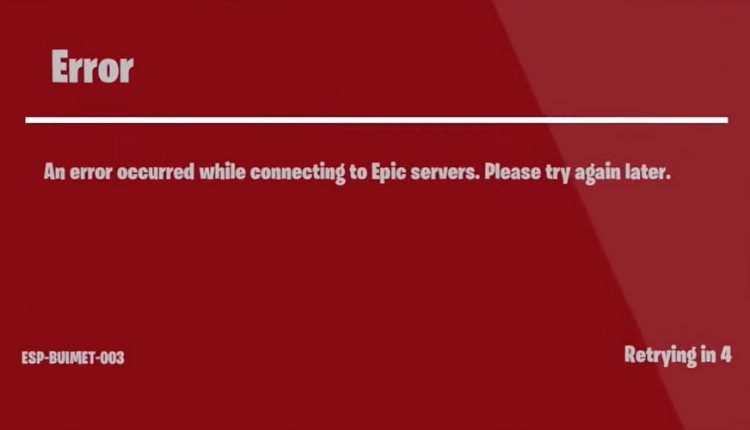 ESP-Buimet-003 Fortnite: What Does it Mean & How to Fix
Many players have been prevented from playing the game by the ESP Buimet 003 error 👾
X
INSTALL BY CLICKING THE DOWNLOAD FILE
Having more trouble with Fortnite? You would think that, for a big and popular game, such issues would be a thing of the past. However, let's keep in mind that this is still an online game and problems are bound to arise from time to time.
Luckily, you have us on your side to always provide assistance. Errors and bugs in our favorite games can really ruin a perfect day. The ESP-Buimet-003 error prevents players from engaging in their most loved battle royal mode out there.
What does error code ESP-Buimet-003 mean?
ESP Buimet 003 is an error that suggests there is something wrong with the login server. It usually appears on Xbox and PS4 consoles but can show up on PC as well. So what can you do? We're about to share four quick tips that will restore game functionality and allow you to resume doing what you do best.
How do I fix ESP-Buimet-003 in Fortnite?
1. Restart your game
Most players dealing with this error while playing Fortnite stated that a simple game restart fixed the problem for them. Others claimed that they had to restart the title multiple times before they could access all features as they would usually do.
So, before we get to the next steps of our guide, we recommend you do the same. If it works, you can keep enjoying Fortnite without worrying.
2. Restart your console
Another easy fix for the ESP-Buimet-003 Fortnite error is to simply power off and then power back on your console. To do this, follow the steps below:
Close all the currently running games on your console.
Hold down the power button.
Unplug the console.
Wait for around 2 minutes.
Restart your console.
3. Check the Fortnite servers' status and uptime
Open your go-to browser.
Visit the Downdetector website and check the server status.
4. Update your network driver
Press the Windows key, search for Device Manager, and click on Open.
Expand Network Adapters, right-click on the one you use, and select Update Driver.
Select Search automatically for drivers.
It goes without saying that quality gaming can be enjoyed without any crashes, lags, or freezes by keeping all drivers up-to-date and error-free easily.
Anyway, in case you extra support with updating drivers on your PC, we provide this insightful guide on how to update drivers to improve gaming performance.
However, sometimes, manual checks are hard to perform. That's why we recommend using an automated assistant that will scan for fresh driver versions daily. In case you're a beginner, you don't have to worry!
Outbyte Driver Updater
is smart, simple, and engaging, and its user interface was built to make your life easier.
5. Check the game file's integrity
In Steam, right-click Fortnite and select Properties.
Select the Local Files tab and click on the Verify integrity of game files.
These are the solutions you can use to get past this annoying situation and keep enjoying your favorite game as if nothing happened in the first place.Check out our dedicated article on how to fix error code val 19 in Valorant as well.
Has this guide helped you in taking care of your Fortnite error ESP-Buimet-003? Share your experience with us in the comments section below.