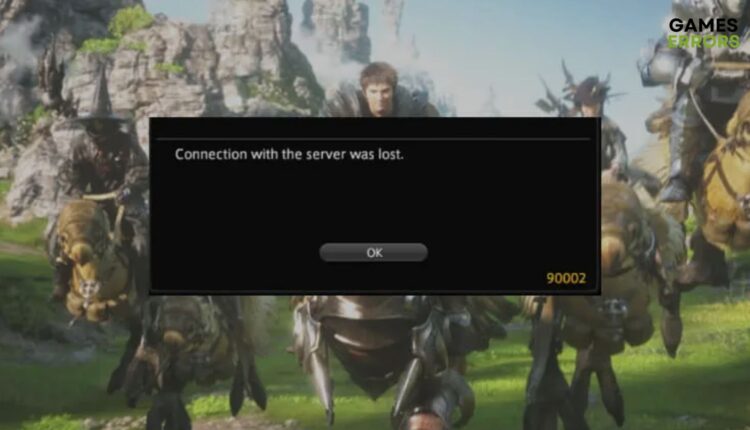 FFXIV 90002 Error: What is and How to Fix it Quickly
This error disconnects players from the game's server 🔌
X
INSTALL BY CLICKING THE DOWNLOAD FILE
FFXIV can be a great place to hang your hat, but sometimes it can encounter some issues, like the infamous FFXIV 90002 error. As with any other FFXIV errors, this one also disconnects you from the server.
If you're at your wit's end, don't fret. We'll share with you a bunch of easy-to-follow fixes that could help you get FFXIV working in no time.
What causes the FFXIV 90002 error?
If you're getting error 90002 in FFXIV, don't fret. It's a common error where the server drops your connection. Unfortunately, it has quite a lot of causes, but also a lot of potential fixes.
We're quite confident that trying out our suggested fixes one by one will eventually fix your issue. Who knows, maybe you won't even have to reach the bottom of our list.
How can I fix the FFXIV error 90002?
1. Check for packet loss
Find out the IP address of the server you're playing on
Run CMD on your computer
Type pathping x.x.x.x (replace x.x.x.x with the server's IP address)
Check for any packet loss throughout your connection.

As a rule of thumb, note that the first node is always your PC (or the device you're running pathping from). At the opposite end is the server you're running the test against (in our case, the FFVXIV server).
Anything in between belongs to your ISP, the game server's ISP, and so on. Check out the screenshot above to figure out which node likely belongs to your ISP.
2. Use a VPN
Purchase a premium VPN subscription plan (we recommend Private Internet Access)
Download and install the VPN on your PC.
Launch the VPN client and log into your account.
Connect to a fast server of your choice (nearby servers are the fastest).
Launch FFVXIV.
Check if you still encounter the error 90002.
3. Reinstall FFVXIV
If the issue was caused by a bad game file, you won't receive the 90002 error. Until a tiny game file becomes corrupted again, that is.
4. Disable the Large Send Offload setting
Access the Settings app on your Windows 10 PC.
Go to Network & Internet.
Click the Change adapter options button.

Right-click your active connection (adapter).
Select Properties.
Click the Configure button.

Go to the Advanced tab
Select Large Send Offload v2 (IPv4)
Set it to Disabled

Next, select Large Send Offload v2 (IPv6).
Set it to Disabled.
Click Ok.
Restart your PC.
Launch FFVXIV and check if you still get the 90002 error.
Large Send Offload is a feature that helps high-level protocols (TCP) break large data packets into smaller bits, each with its individual header. This setting can help increase the quality of your connection, but certain games don't support it.
As a result, you may experience error 90002 if you're playing FFVXIV and this option is enabled. Disabling it might fix your issue in a jiffy.
5. Flush your DNS
Launch an elevated instance of CMD on your computer.

Type the following commands, one by one:
ipconfig /flushdns ipconfig /registerdns ipconfig /release ipconfig /renew netsh winsock reset exit
Restart your PC, then launch FFXIV and check if you're still getting error 90002. If you do, you can try switching to another DNS that's not ISP-assigned.
Make sure to back up the DNS your ISP gave you before doing that.
6. Disable FFXIV UPnP usage
Navigate to My Documents
Open the My Games folder
Access the FF14 directory
Right-click FFXIV.cfg
Open the file with any text editor
Scroll down to the Network Settings section
Locate the UPnP value
Change it from 1 to 0
Save the file without changing its name
Launch FFXIV and check if you're still seeing the 90002 error
Older router models don't support UPnP, which the game is set to use by default. If you disable UPnP usage to fit your router model, you may stop receiving the 90002 error altogether.
7. Temporarily disable your antivirus
Some players have reported that their PC's antiviruses were to blame for this error. Here's what you need to do:
Launch your antivirus.
Turn off the virus protection
Check whether the issue persists.
If not, then it means the antivirus was causing it. In that case, if the antivirus is a third-party app, you can uninstall it and use the built-in Windows Defender instead.
You can use any free public DNS you see fit, such as Cloudflare, OpenDNS, or Google. However, we've used Google's Public DNS and we're nothing short of satisfied.