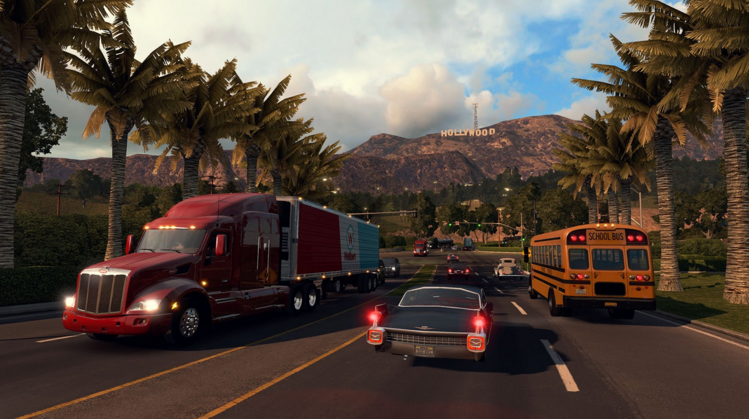 American Truck Simulator Crashing: How to Fix
If ATS keeps crashing keep an eye on your GPU drivers or the programs you're running in the background 🚚
X
INSTALL BY CLICKING THE DOWNLOAD FILE
American Truck Simulator aka ATS crashing were reported by a few players after the game launched this week. These players complained about game issues and bugs that are making the game unplayable:
"Experience legendary American trucks and deliver various cargoes across sunny California and sandy Nevada. American Truck Simulator takes you on a journey through the breathtaking landscapes and widely recognized landmarks around the States."
Why does American Truck Simulator keep crashing?
💥 American Truck Simulator (ATS) may be crashing, because of:
incompatible or outdated graphics drivers
other programs running in the background
not enough system resources ( RAM or CPU)
installation or game files that are faulty overclocking of the CPU or GPU
There are also certain circumstances when the crashes occur:
Crash on startup: out-of-date graphics drivers or a faulty game installation may be to blame
Keeps crashing after update: This could be because your OS doesn't meet the updated requirements, the update introduced new bugs, or had problems working with mods that already existed.
Keep crashing with mods: This may be brought on by mods that are incompatible with the current game version or that interfere with other mods. It's also possible that the mod is pushing the system's resources too far.
How to American Truck Simulator crashing?
For some players, the game crashes at startup or randomly during gameplay. A few of them reported that the game crashes if they are playing with a gaming wheel.
✔️ Precheck: Make sure you have DirectX and Microsoft Visual C++ installed on your PC.
Solution 1: Update your Graphic Drivers
Updating drivers is helpful in fixing crashes in American Truck Simulator (ATS) because new versions of drivers frequently repair known bugs and compatibility problems.
For instance, updated graphics drivers might support brand-new game features or make performance adjustments to enhance the game's stability and performance. Additionally, updated drivers may resolve problems with your graphics card's and the game's compatibility, helping to avoid crashes.
Here's how to do it manually from Device Manager:
Press the Windows key + X or right-click the Start menu.
In the search box type Device Manager and select it.
Go to Display Drivers and select the GPU Driver you want to update.
Right-click on it and select Update Driver.
Select Search automatically for updated driver software. Windows will automatically look for and install any updates that are available.
Restart your PC.
For an easier process of updating drivers, we recommend Outbyte Driver Updater. This software will keep your drivers up and running, in such a way keeping you safe from common game errors and hardware failure. Check all your drivers now in 3 easy steps:
Click Start Scan to find all problematic drivers.
Click Update Drivers to get new versions.
Additionally, updated drivers might be necessary for the game to function correctly after receiving new updates.
You can guarantee that your system has the most recent game updates and optimizations by keeping your drivers up to date. This might reduce the chance of crashes while also enhancing the game's stability and speed.
Solution 2: Close software or background tasks
Close all background processes and programs that are not necessary. Close any unnecessary programs or background processes that may be active before launching the game. Web browsers, chat programs, and other programs that might be using up system resources fall under this category.
Disable programs that don't need to start. Several programs might be set up to launch automatically when your computer turns on. This may drain system resources and result in game problems. To disable unwanted startup apps, utilize the Task Manager.
Look for program incompatibilities. There's a chance that some programs won't work with American Truck Simulator or that they'll clash with other programs you've installed. Any program that you suspect may be causing problems should first be disabled or uninstalled.
American Truck Simulator Not Starting
This is the most reported issue and it seems that some users are unable to start the game. When they click Play in Steam Library nothing happens or they encounter an error saying "American Truck Simulator can not access Steam Client". To fix this issue take a look at our tutorial below and after that, you will be able to start the game.
"You'll have to excuse me for the language I'm about to use. But I've spent 8 ♥♥♥♥ing hours trying to get this game to work. And I can't. I have 64-bit windows OS…I have an AMD FX 8320 processor, and a super-clocked GTX 960. Every ♥♥♥♥ing time I try to start this game. I get this stupid message here, http://imgur.com/0GbGyDG. I've tried everything from uninstalling both steam and ATS, and re-installing them, Verifying the integrity, and a system restart to no avail…I think you can understand why I'm a little ♥♥♥♥♥♥ when I paid $20 for a game expecting to be
Solution: To solve this issue, simply start the game's executable (amtrucks.exe) from the bin\winx_64 directory.
American Truck Simulator Freezes
A few players encountered freezes during the game or bugs like stuttering and low fps from time to time. This error is simple to fix and you can follow the tutorial below to do that.
"I have a problem with ATS I drive my truck then the game just freezes completely the sound is still there and I can still steer my truck if I press CTRL ALT DELETE and goes into the game again it just a black screen? It happens I every 5-15 minutes!?!? Please help because I'm very hyped for this game and I can't play."
Another user reported other freezing symptoms:
"For some reason every few seconds the game freezes for a split second and then is fine again, I've played around in the graphics settings but it doesn't change, not game breaking but extremely annoying, ETS2 didn't do this at all. Please help."
Solution: Update your GPU driver:
We hope that our tutorial helped you fix your American Truck Simulator errors and that now you are playing and enjoying the game. If you encounter any issues or if you have questions please use the comment section below and we will help you fix your game. – GamesErrors Team