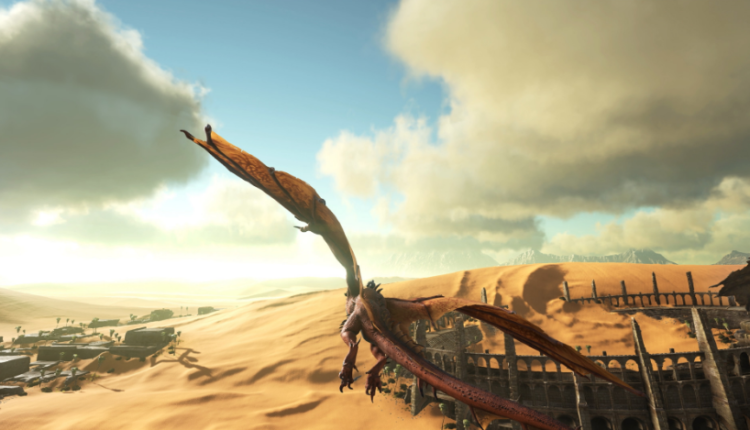 How To Fix ARK: Scorched Earth Errors, Crashes, Performance Issues: Lag, FPS Drops and Low FPS
The new expansion pack for ARK: Survival Evolved is out now, and a lot of players are complaining about ARK: Scorched Earth errors and issues. ARK: Scorched Earth is the name of the new expansion, and the DLC comes with a lot of new exciting features like an entirely new land, composed of six unique, desert themed biomes – dunes, high desert, mountains, canyons, badlands and oasis – each with their own aesthetic and ecosystem. Littered with ruins, geysers, and intricate ancient cave systems, survivors, will find a whole new frontier to explore and master.
You all know that ARK: Survival Evolved is still in beta and that the game has a few bugs and issues that are persisting even today. With the new expansion pack, it seems that a lot more errors and issues appeared in the game and are making the game unplayable. A lot of players complained that after they upgraded to the new expansion pack their game stopped working, either it won't launch or they get random crashes. The most common ARK: Scorched Earth errors that players complained about are Performance Issues, mainly Lag and Low FPS, some players even said that after applying the DLC, their FPS went down by half. Other errors are Crashes, either at startup or randomly in the game.
Below you can find the minimum system requirements of the game; please make sure that your PC meets them if not you should upgrade it. After that, you can go ahead and check your issue in the list below, where you will also find a workaround or a solution on how to fix it.
MINIMUM:
OS: 64-Bit Windows 7 Service Pack 1, or Windows 8
Processor: 2 GHz Dual-Core 64-bit CPU
Memory: 4000 MB RAM
Storage: 10000 MB available space
ARK: Scorched Earth Errors:
#1 ARK: Scorched Earth Performance Issues

A lot of players are complaining that after they upgraded to the Scorched Earth expansion pack, their FPS dropped by half and that they have constant performance issues like lag and freezes. Some players that had constant 60-70 FPS are now getting 20-30 FPS, because of the new DLC.
Some players also complained on the Steam Forum about this:
The real issue is that since the update happened yesterday the majority of players cant play the original game and/or SE because of performance/crashes/low FPS issues.

Regardless of the ethics of releasing DLC in an early access game I sure as hell expect to be able to play the game I paid for and as of yesterday the majority of us cannot.

The Devs need to fix all of the problems they caused with yesterdays update so that we can at least have a working product that we paid them for.
Solution: For a better solution and a quick fix you need to use our patch and apply it to your game, it will fix your Performance Issues and you will get constant high FPS, you can find more details in the tutorial at the end of the post. You can also apply the workaround below and see if it works for you but our patch will analyse your game and select the best workaround to fix the issues.
Go to your game in Steam Library
Right click it and select properties
Go to "Set Launch Options"
Copy and paste this code in there: "-USEALLAVAILABLECORES -sm4 -d3d10 –lowmemory"
#2 ARK: Scorched Earth Crashes

Some players are unable to start the game due to crashes or they can't play for more than 10 minutes because their game randomly crashes. For some players, the game crashes when they try to join the server or when the game map stars loading, especially the new Scorced Earth map.
Solution: To fix the game crashes, either the startup ones or the random crashes, you need to apply our tutorial at the end of the post to your game. Go there and you will find more details about our patch, what it exactly does and how to apply it to your game so you can solve the crashes.
A player reported the following on the Steam Dashboard about the issues in the game:
Have posted already elsewhere about the horrific FPS I'm experiencing on any Island server I enter, but I can't even load into any Scorched Earth server (Official or Unofficial), my game simply crashes during the loading screen. The DLC is not accessible to me basically.

I use a Mac but when I ran the game a few months ago before taking a break, I was getting an average of 20fps (terrible but the game at least ran for me). My graphics are all on Low, my boxes are all unticked. I'm only back because of new content, so help me out devs, can I not run the new content? Very frustrated.
#3 ARK: Scorched Earth Launch Issues
After upgrading to the new Scorched Earth DLC some players complain about launch issues, they simply can't start the game anymore. When they click Play in Steam and try to load the game they receive an error report regarding E3_near and online SE_landscape. If you are encountering this issue too, the best solution for you is to restart Steam and wait for a new update of the game because you have some files missing and with the new update your game should start. If not follow the tutorial below and after you apply it to your game, you will be able to start and play it.
ARK: Scorched Earth Errors Fix Tutorial:
*Only for Performance Issues, Crashes and Launch Issues
So you upgraded to the new Scorched Earth expansion pack and now you can't play the game because it has a lot of issues? Don't worry, our team will help you fix all of them and get back at playing your game. You are here because you probably encounter one of these errors Performance Issues like Lag, FPS Drops and Low FPS, Crashes or you are unable to start your game. If you have one of these issues don't worry anymore because we will help you fix them in the next minutes. So just sit back, relax, follow the tutorial below and in 10 minutes you will be playing the new ARK DLC.
Our team of developers released a patch to help you fix these annoying issues. Below you can see a picture of how our patch looks like and what it does. You will also find a download link and a tutorial that will help you step by step to apply the patch correctly to your game and fix your issue. For your knowledge and safety: our patch won't interfere with your Steam account, it will just change some files and .dll's in the game folder for the errors to be fixed.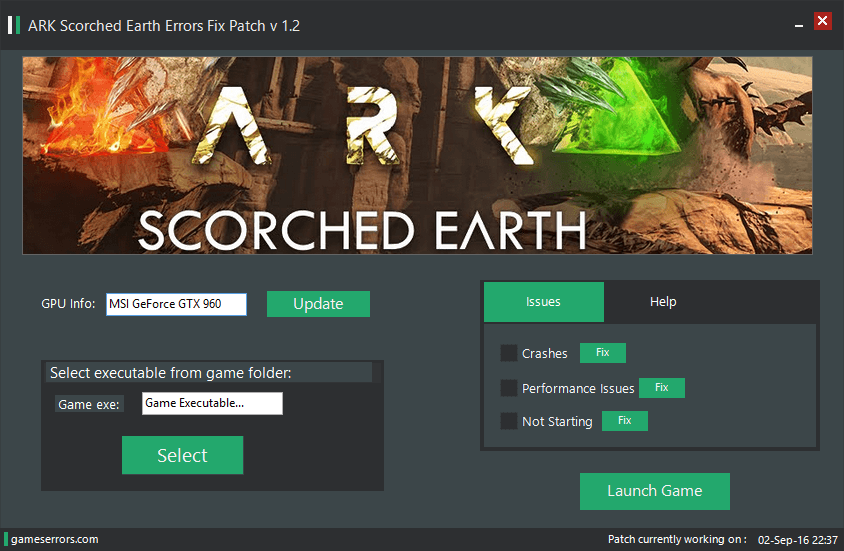 Follow the tutorial below to apply the patch correctly to your game and fix the issues.
How to apply our patch:
Download the archive of the patch from here: download
Extract the downloaded archive on your PC, and open the patch from the folder.
Your GPU will be selected automatically, make sure that you use your dedicated GPU if you have a laptop!
Select the game executable from the game folder, if you used the default install folder it should be: "C:\Program Files (x86)\Steam\SteamApps\common\ARK: Survival Evolved". (you need to use the Survival Evolved folder because Scorched Earth is only an expansion pack for the game)
Select your issue or issues from the box to the right and click the corresponding "Fix" button.
After your errors are successfully fixed, you can click the "Launch Game" button and play the game.
How to download: Well, you might think that our download service is pretty annoying but is very effective. To download you just need to complete a simple offer, it usually takes a few minutes, and after that, you will be able to download the patch. We use this service because is the only way to support our developers and to keep releasing and updating patches for games. Thank you! We hope you understand us and have fun playing ARK: Scorched Earth!
Let's hope that by now you managed to fix all your ARK: Scorched Earth errors and issues and that you are enjoying the game. If you still encounter some issues, and you are unable to fix them, or you don't know how to apply our patch, please comment below or open a Support ticket. After that, a member of our team will help you as soon as possible to fix your issue and enjoy your game.–GamesErrors Team