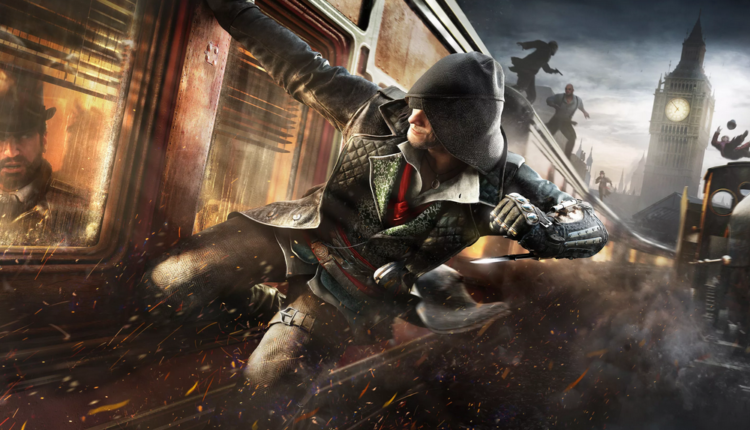 How to Fix Assassin's Creed Syndicate Errors, Crashes, FPS Issues
Assassin's Creed Syndicate is now finally available on Steam, after getting a month delay for the developers to optimize the game for PC. This delay was a pretty good idea because the game seems to work great despite a few errors and issues. But compared to the failure of Assassin's Creed Unity this game works great.
Like most of the games these days, ACS has some issues that are making the game unplayable for some users. The most typical Assassin's Creed Syndicate errors are: Crashes (ACS.exe has stopped working) and some performance issues like Low FPS or FPS Drops, some players also reported stuttering/freezes issues but this errors can be fixed by fixing the lag issues.
How to fix Assassin's Creed Syndicate Errors:
1) Assassin's Creed Syndicate Crashes, it seems that crashes are the most encountered issues in the game. Random crashes during the game and startup crashes, all of them resulting in the ACS.exe has stopped working, were reported by a lot of players. You can fix this errors by following our solution below.
"So has anyone else experienced random crashing? It's only happened twice to me, but they've been at totally random times (one after a cutscene and another halfway through one). So far I've enjoyed it, and any bugs I've encountered haven't been game breaking, just funny."
"Just got Assassins Creed Syndicate. The game runs fine, but there seems to be an issue. Every time I complete the train mission (where you have to eliminate the gang leader), it crashes for some reason. Anyone else who experienced this issue, or have an idea how to fix it?"
Solution: To fix the crashes follow our tutorial at the end on how to fix the major issues of the game.
ACS.exe has stopped working solutions: 
2) Assassin's Creed Syndicate Resolution Issue, because your desktop resolution is not the same as the game resolution you may encounter black screen, stuttering or blurriness. To fix that change your desktop resolution or run the game in  borderless windowed mode.
3) Assassin's Creed Syndicate Unable to Skip Intro Scenes, these intro videos might be long and annoying, and you are unable to skip them. Follow the solution below to fix this.
Solution: The only mode that you can skip these scenes is to delete or rename them. The files you are looking for are in "gamedirectory\videos": delete or rename UbisoftLogo.bk2 and pc_twimtbp.bk2 files. Now go to "videos\locale" and delete or rename Epilepsy.bk2, PC_WarningSaving.bk2 and warning_disclaimer.bk2.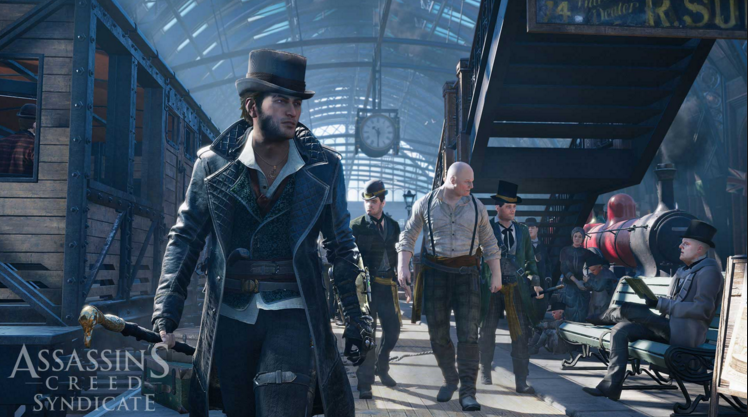 4) Assassin's Creed Syndicate FPS Issues, another issue that is present in the game is the FPS issue; players are complaining about Low FPS or FPS Drops.
"During and only during cutscenes my game would get an FPS drop and twice during sequence three at the end of a cutscene the game would crash. Gameplay is fine, though. Anyone else having this problem? Any fixes?"
"The game seems to be running well at 40-60 fps for me on high settings. But when I'm driving a carriage the game keeps stopping to load the objects ahead. Anyone else has this issue? And does anyone have a fix?"
"Game constantly dips down to 30-40fps, I tried all sorts of settings and still getting glitchy textures and bad performance. I thought maybe it was my drivers, but I'm running the latest ones from nVidia. What should I do?"
Solution: This issue is solved by disabling VSync from the graphics settings in the game. Or if this won't work for you apply the tutorial at the end of the post to optimize the game FPS.
Also, the game developers posted this:
Contrary to a recent report, the team is continuing to work hard on resolving the issue that some PC players have been experiencing on an SLI configuration with NVIDIA graphics cards.

While the upcoming Patch does not directly address the issue at this time, NVIDIA recently released a new driver (361.91) which allows Assassin's Creed Syndicate to scale better for players with SLI configurations. Some players have already seen improved performance with this driver.

The team continues to work together with NVIDIA to explore how performance can further be improved. We will communicate once we have more information.
Assassin's Creed Syndicate Tutorial to Fix Major Issues:
Our team of developers managed to release a patch that helps you fix the errors described above. You can see how our patch looks like below, where you can also find a tutorial on how to use it and a download link. Please follow the tutorial step by step before asking any questions regarding your issues. Our patch won't interfere with your Steam account, it will just change some files and .dll in the game folder for the errors to be fixed.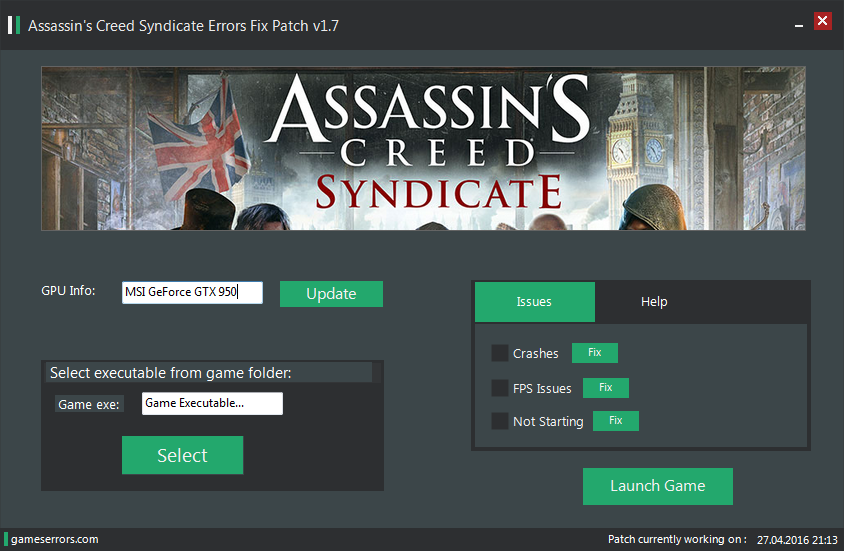 Follow the tutorial below to apply the patch correctly to your game.
How to apply our patch:
Download the archive of the patch from here: download
 Extract the downloaded archive on your PC, and open the patch from the folder.
Your GPU will be selected automatically, make sure that you use your dedicated GPU if you have a laptop!
Select the game executable from the game folder, if you used the default install folder it should be: "C:\Program Files (x86)\Steam\Steamapps\common\Assassin's Creed Syndicate".
 Select your issue or issues from the box to the right and click the corresponding "Fix" button.
After your errors are successfully fixed, you can click the "Launch Game" button and play the game.
How to download: Well, you might think that our download service is pretty annoying but is very effective. To download you just need to complete a simple offer, it usually takes a few minutes, and after that, you will be able to download the patch. We use this service because is the only way to support our developers and to keep releasing and updating patches for games. Thank you! We hope you understand us and have fun playing Assassin's Creed Syndicate!
We hope that our tutorial helped you fix your Assassin's Creed Syndicate errors and that now you are playing and enjoying the game. If you encounter any issues, or if you have questions, please use the comment section below and we will help you fix your game. – GamesErrors Team