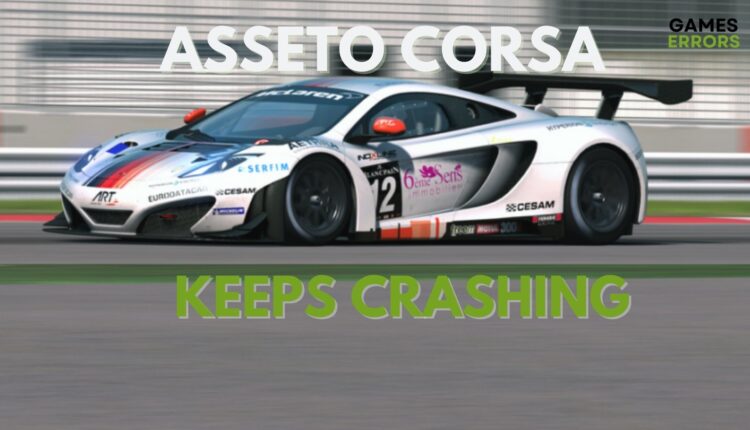 Assetto Corsa Keeps Crashing: How to Fix on PC
If Assetto Corsa is keep crashing on your PC, it might be due to damaged game files
X
INSTALL BY CLICKING THE DOWNLOAD FILE
Assetto Corsa issues were reported by some gamers after the racing simulation game was released.
The most common errors that players encounter are random crashes, Long Loading Times, Black Screens, Blue screens, and FPS Drops.
Different gamers are facing particular crashes while playing this game that is related to Assetto Corsa crashes when loading the car. Not only that, you can encounter Assetto Corsa crashing after loading, crashing on race start, or crashing on start.
Why does my Assetto Corsa keep crashing? 
You can experience crashes on this game if you have corrupted game files or the game is not installed correctly. More, it may be due to outdated video drivers that don't support Assetto Corsa requirements.
Thus, all of these errors are making the game unable to play, you can find them detailed below where you can also find solutions on how to fix them.
How to fix Assetto Corsa crashing on PC?
1. Verify the integrity of game files
Open Steam and press on Library.
If there are corrupted files, repair them accordingly.
Try the game now.
2. Update the GPU driver
Lots of players said the cause of the error involves their graphics driver being outdated or installing the wrong version. Here's the safe method to update your drivers:
Type Device Manager and open the app on the desktop → Go to Display adapters and right-click on the driver → Now select Update driver → Continue with Search automatically for the driver.
On the other hand, you can avoid the manual steps of installing new drivers because you can do it 100% automatically with
DriverFix
. The software will scan the operating system and find old drivers and update them right away with no fuss.
3. Lower the CPU cores for the game
Select the Boot tab and click on Advanced Options.
Tick the Number of Processors box.
Now, Apply and then OK to save the changes.
Restart your PC
4. Run the game as admin
Search for Assetto Corsa in the search box and Enter.
Then, click Apply and OK to close the window.
Furthermore, you may encounter other issues that may determine game crashes on Assetto Corsa due to long loading screen or even heavy errors like the Black screen of death.
🔃 Assetto Corsa Long Loading Time
"I bought the game today but actually i start a race and then i see short my car and it freezes. i can not race or can click the second time on the wheel. Any solutions?" Just wondered if anyone else was having the same problems. After selecting the race i want and hitting start it takes about 5 min to load at least. My system has half decent specs (6 core at 4.2 and gtx 970) but can't understand why it takes so long. Makes the game unplayable. Thanks."
Fix: Try to end most of the background tasks from the Task manager. Also, change the power management mode in the Nvidia control Panel > Manage 3D settings to Prefer maximum performance. This will work.
💻 Assetto Corsa Black or Blue Screen
"The game normally launches but when I start a race -> loading page "assetto corsa" -> and black screen, I have to kill the process, I tried other resolutions windowed -> nothing. Please help me"
Fix: Install the latest patch released by Steam for Assetta Corsa. This patch seemed to have solved many such errors. Sometimes, this might not work for a few PCs.
We hope that our tutorial helped you fix your Assetto Corsa Errors and that now you enjoy playing the game. Please contact us with a comment below if you have any questions.
If you encounter any issues or errors while playing your favorite games and require support, feel free to contact us here. Our team is always ready to assist you and ensure your gaming experience is seamless and enjoyable.