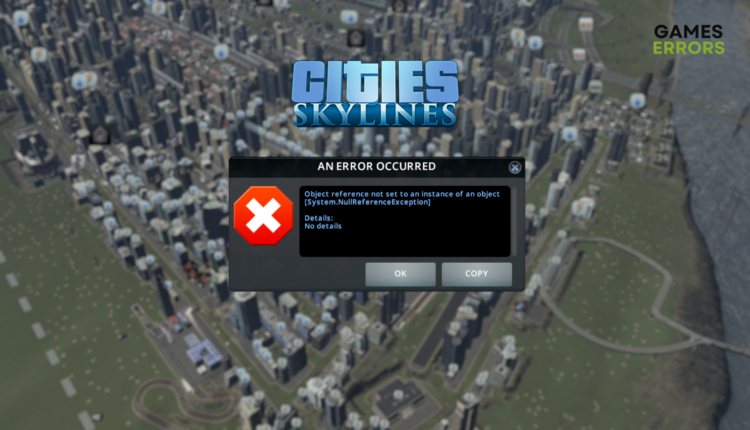 Cities Skylines An Error Occurred: Easy Fixes
If you got Cities Skylines errors, make sure to check your PC minimum specs of the game
Cities: Skylines is released on Steam and has pretty good reviews from the users, but some of them also reported Cities Skylines errors that make the game unplayable.
The most frequent issue discussed by the players is Cities Skylines an error occurred. Plus, there are particular errors such as Cities Skylines error system.nullreferenceexception that you can fix using the simple solutions down below.
The first step you need to make is to verify that your PC meets the minimum system requirements of the game displayed below.
➖ MINIMUM:
OS: Windows 7 64 Bit | Windows 8.1 64 Bit | Windows 10 Home 64 Bit
Processor: Intel Core i7 930
Memory: 8 GB RAM
Graphics: Nvidia GeForce GTS 450 (1 GB) | AMD R7 250 (2 GB)
DirectX: Version 9.0c
Network: Broadband Internet connection
Storage: 4 GB available space
➕ RECOMMENDED:
OS:  Windows 10 Home 64 bit
Processor:  Intel Core I7 2700K | AMD Ryzen 7 2700X
Memory: 16 GB RAM
Graphics: Nvidia GeForce GTX 580 (1.5 GB) | AMD Radeon RX 560 (4 GB)
DirectX: Version 11
Network: Broadband Internet connection
Storage: 4 GB available space
How to fix Cities Skylines if an Error Occurred?
Cities Skylines Error System.Nullreferenceexception
A generic error report when an asset is missing or a mod that requires an asset that's missing fails or vice versa. It's very likely to fix this issue by managing your mods and reinstalling the files on your device as explained below.
It seems that you can fix this display error by managing your game mods and removing the configuration files or Add-ons that might generate the error in the game.
Cities Skylines an Error Occurred Array Index is Out of Range:
A reliable fix to repair this bug is to change the launch options in Steam. You can proceed with this following these steps:
Launch Steam and go to Library.
Right-click on your game and hit Properties.
Paste -noWorkshop or -disableMods in the box
Try to relaunch the game
Plus, you can also reinstall the Surface Painter plugin on your device in order to fix this issue on your PC.
As stated on Steam forums, you have to access the workshop folder and find the 689937287 folder and delete it. This will delete the plugin. Afterward, subscribe to Surface Painter again.
Cities Skylines an Error Cccurred Object Reference
If you're encountering this particular error, the cause is not the game mods but it's due to blocked assets from your workshop mode.
Fix: Make sure you subscribed to the vehicle assets and you have the saved game data → Login to your Paradox account → Reset the initial configuration → Enable the game mods and restart the game.
Cities Skylines an Error Occurred Field
Fix: The resolution you need for this specific error on Cities Skylines is to unsubscribe from the mods incompatible with the Workshop mode.
If you're trying to start the game with outdated mods that interfere with the latest update, it's most probably that you'll face this type of error.
Other errors that may occur in Cities Skylines
Cities: Skyline Unknown Error
Some players are unable to start the game because they encounter the following error Game Failed To Start (Unknown Error). 
✅ Workaround:
This error is always caused by trying to run the game under 32-bit Windows. The game's published minimum requirements explicitly state that 64-bit Windows is required.
If you have Windows 7, 8, or 10 your Windows license covers both 32-bit and 64-bit versions of Windows, so there's no cost to download and switch.
Cities: Skyline Cities.exe has stopped working
You may get this error in many instances, but a lot of players reported that they encounter it just after they launched the game.
So you launch your game, and everything is fine, you just get to the first loading screen, and the game crashes with this error Cities.exe has stopped working. You can simply fix this issue by following the workaround below.
"I really want to play this game, downloaded and installed fine. Went to play and the game immediately crashes, along with a windows message saying, Cities.exe has stopped working. Anyone having similar issues or solutions?"
✅ Workaround:
Press Windows+S and type msconfig
Open Boot and select Advanced options.
Check the number of processors and select 12.
Now, get back to the game.
We hope that our guide helped you fix the Cities: Skylines errors and if you encounter any other errors or problems, contact us with a comment below and we will help you fix them right away.