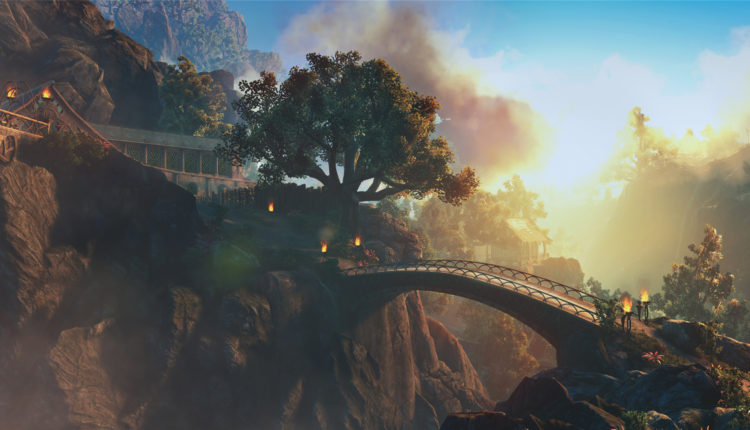 How To Fix Dark and Light Errors, Performance Issues, Character Creation Bug, Stuck at Loading
Dark and Light is now available in Early Access on Steam and players are complaining of a lot of errors and bugs that are making the game unplayable. The game is poorly optimized at the moment and in 1 day from the release, it almost got 1,000 Negative reviews, and all of that because of the various issues.
The vast sandbox RPG has been in development for a few years and it was launched yesterday, 20 July, in Early Access version because developers want to gather real player feedback based on firsthand experience with the game.
Dark and Light's Early Access period is the perfect opportunity for us to continue iterating, balancing, and optimizing in order to ensure that the final product is exactly the kind of experience we have hoped to deliver to our fans since day one.
Players said that the most encountered Dark and Light errors are performance issues like low frame rates and stuttering, mainly due to the game being poorly optimized. Another common issue is the loading bug, where players are trying to join a server and they have to wait a long time to play. Check the list below for the most commonly encountered current errors of the game.
Dark and Light current issues:
Performance Issues
Loading Stuck Bug
Game Not Starting
Character Creation Bug
If you encounter one the issues above, you've come to the right place because our guide will help you fix your Dark and Light issues and you will be able to play the game in no time.
Let's go ahead and fix your game. To do that, first, you need to make sure that you meet the system requirements of the game, you can find them below.
SYSTEM REQUIREMENTS
MINIMUM:
OS: 64-Bit Windows 7 Service Pack 1, Windows 8, or Windows 10
Processor: Intel Core i5 2500K
Memory: 4 GB RAM
Graphics: GeForce GTX 660 or higher
DirectX: Version 10
Storage: 50 GB available space
RECOMMENDED:
OS: 64-Bit Windows 7 Service Pack 1, Windows 8, or Windows 10
Processor: Intel Core i7-5820k 6x 3.3 GHz
Memory: 16 GB RAM
Graphics: GeForce GTX 1070 or higher
DirectX: Version 10
Storage: 50 GB available space
Dark and Light Errors Solutions:
If you meet the system requirements you can go ahead and search for your error in the list below if not, you need to upgrade your PC because maybe that's why you are encountering your problems with the game.
In the list below you will the most common game issues and for each one of them, you will find either workarounds or solutions on how to fix it. If you don't know how to apply our solutions or if you don't find your issue in the list below, you can contact us on our Support page here and someone from our team will help you as soon as possible.
#1 Dark and Light Stuck at Loading Screen Issue

It seems that some players are encountering an infinite loading screen when they try to join a server or play the game in the single player mode.
This is how the issue looks like, reported by a player on Steam: "Tried to play this game, after getting through the menu, selecting which server to play or single player, the game goes into the loading mode where I see the dragon flapping its wings. It goes on for a long time and doesn't seem to load. Any fix?"
Solutions: Some players said that this issue is generated by a high demand on the game servers. Simply, they are full and you don't have any more space to join so the loading screen is similar to a queue. But, there are some things that you can to do fix this, one of them is to close the game and open it again, make sure that you close the Steam client too.
Developers also don't know yet the maximum capacity of their servers:
What's the maximum server capacity?
Because we haven't held any stress tests yet, we haven't been able to determine an exact number. We'll be aiming for 100 players on official servers, but we'll be using the Early Access launch period to determine ideal server capacity and scale from there.
#2 Dark and Light Performance Issues

Developers said that for the best experience, you'll want something comparable to this build, but less powerful builds (i5 + 960GTX + 8GB RAM for example), will be able to run the game just fine on low to medium settings:
OS: 64-Bit Windows 7 Service Pack 1/ Windows 10
Processor: Intel Core i7-5820K 6x 3.3 GHz
Memory: 16GB DDR4 2133MHz (2x 8GB)
Video Card: GeForce GTX 1070 or higher
Hard Drive: At least 50 GB of free space
DirectX: DirectX 10
Because the game is in early access version, it's impossible not to encounter some poor optimization issues. Check the workaround below to improve your fps a little bit and get rid of performance bugs.
Optimization Workarounds:
Add a launch option in the Steam game options tab: -USEALLAVAILABLECORES -sm4 -d3d10 –novsync
 Bump up the 3d render scale
Update your GPU
Close all third-party applications
#3 Dark and Light Not Starting

For some players, the game won't start. The process starts and you can see it in Task Manager but the game won't appear. To fix this issue you just need to wait a little bit more. Check what a player said about this below:
It has on some systems very long load times. My pc is a mid range box and it takes me nearly 10min to load. Give it time, it'll load and hopefully those load times will decrease in the future.
#4 Dark and Light Character Creation Bug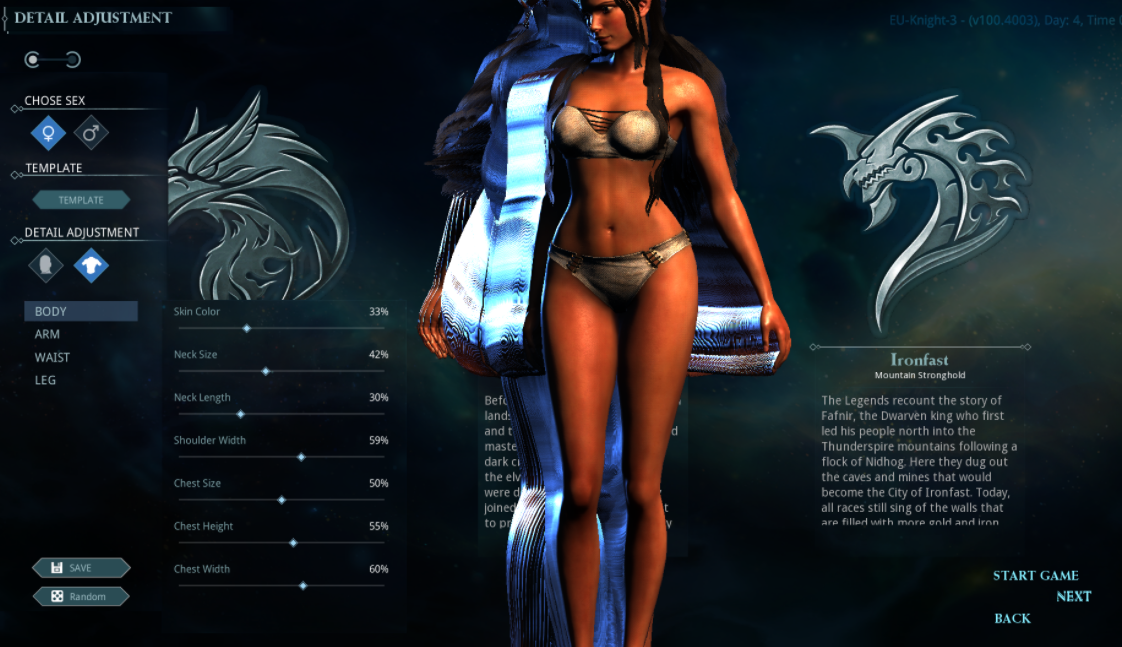 So, yesterday I just booted up a Single Player game and after the (long) wait for the game to create the world it gave me the option to create a character however no model of my character showed up after fiddling with the sliders.. is there any work around for it?
You can see above how this issue looks like. Saddly, at the moment there is no workaround or solution for this issue. You probably need to wait for the developers to patch this issue.
We hope that your guide helped you to fix some of your Dark and Light errors and that now you can enjoy the game and play it. If you have any questions, don't hesitate to comment below. Have fun gaming!
UPDATE:  

We launched our solution tool to help you optimize your game and fix those annoying errors that are still persisting. Go below for more details!
Dark and Light Errors Solution(
update

):

*Only for Character Bugs, Stuck at Loading and Performance Issues

Unable to find your way in the meticulously crafted world of Dark and Light, featuring breathtaking landscapes, a wide variety of mythical creatures, and limitless possibility to craft? Errors and bugs are stopping you from playing the game or enjoying it to the fullest?

Don't worry anymore! We are here to help you fix those issues and play the game in no time with those great optimized frame rates :).

How? That's simple, we developed a tool that will identify your issues and fix it. It's not magic, our tool will optimize your GPU and PC for maximum performance. It will install the required files and redistributables for your game to launch properly and with no crashes. It will check your internet connection and the server responsitivity and will help you login into the game at the correct moment when the queue is not so crowded.
We know that you paid quite a lot of money for your game and not being able to play it just sucks. Below you can find an image on how our tool looks like and also a tutorial on how to properly use it. Please follow the tutorial step by step to make sure that you apply the tool correctly to your game. If you are not sure about some things, please contact our support team. You can find the download link in the first step of the tutorial!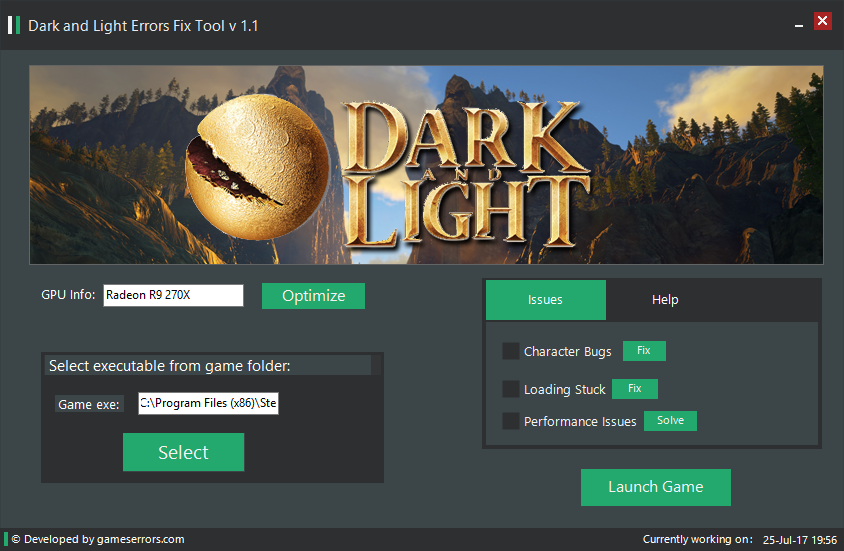 It's pretty simple to use our tool, but you also have a tutorial below. Follow the steps and if you have any questions just leave a comment or use our Support system, and someone from our team will help you.
How to apply our tool:
You can find the download link for our tool here: download
Extract the downloaded archive on your PC, and open the tool from the folder.
Your GPU will be selected automatically, make sure that you use your dedicated GPU if you have a laptop!
Select the game executable from the game folder, if you used the default Steam install folder it should be: "C:\Program Files (x86)\Steam\steamapps\common\Dark and Light".
Now select your issue or issues from the box to the right.
After your issue is successfully fixed, you can click the "Launch Game" button and play the game.
How to download: Well, you might think that our download service is pretty annoying but is very effective. To download you just need to complete a simple offer, it usually takes a few minutes, and after that, you will be able to download the tool. We use this service because it's the only way to support our developers and to keep releasing and updating patches for games. Thank you! We hope you understand us and have fun playing the game!