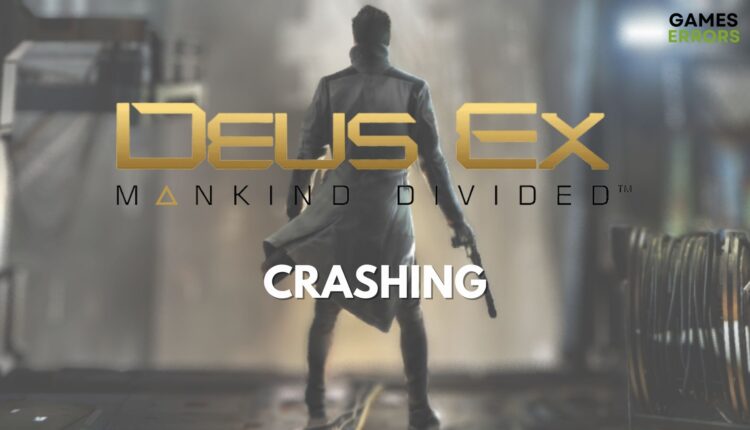 Deus Ex Mankind Divided Crashing: Fix It Quickly
Deus Ex Mankind Divided crash fix should start with updating Graphics Drivers ✅
X
INSTALL BY CLICKING THE DOWNLOAD FILE
Deus Ex: Mankind Divided has about 7.000 mixed reviews on Steam, and this is because of the issues that players are encountering. Like most of the new big game releases these days, the PC port comes with a fair share of errors and bugs.
Players complained about Deus Ex: Mankind Divided issues like:
Crashes: Crash at Shooting Range, Crash in TF29 elevator when bringing DSD back to Smiley, Crash during Subway Loading Scene (M14), Crash at the Train Station, after walk & talk with Vega
Performance Issues: Low FPS, FPS Drops, Stuttering, Freezes, Display Issues on 21:9 resolution
Black Screen
Bugs: Improper Stair Movement and Slope Physics, Non-uniform Horizontal, and Vertical Sensitivity, Missing Geometry in Dubai
Other minor issues that you can find in the list below.
If you experience any of these issues, you are in the right place because in the next part of our post, we will show you workarounds and solutions for all the errors that you just read above.
Crashes are pretty frequent and Deus Ex: Mankind Divided is no exception. People reported having a crash:
on startup
after first mission
after shooting range
not enough resources
crash cutscene
when customizing
to desktop
display driver crash
Why does Deus Ex: Mankind keeps crashing?
There can be a number of reasons why Deus Ex: Mankind Divided may be crashing on your computer. Some causes are:
Outdated or faulty graphics drivers: Make sure you have the latest version of your graphics driver installed, and try updating or rolling back the driver to see if that helps.
Hardware issues: Check for any hardware problems, such as a faulty graphics card or overheating issues, that could be causing the game to crash.
Software conflicts: Conflicts with other software or the operating system can sometimes cause crashes. Try disabling any non-essential programs or services that may be running in the background, or running the game in compatibility mode.
Game bugs: The game may have a bug or other issue that is causing it to crash. If this is the case, you may want to check for any available updates or patches that can fix the problem.
First, you need to make sure that you meet the system requirements. Recommended ones are good but the minimum will work too, don't worry. If not you will need to upgrade your PC because your current issue is maybe generated because of this.
Deus Ex: Mankind Divided System Requirements
➖ MINIMUM:
OS: Windows 7.1 SP1 or above (64-bit Operating System Required)
Processor: Intel Core i3-2100 or AMD equivalent
Memory: 8 GB RAM
Graphics: AMD Radeon HD 7870 (2GB) or NVIDIA GeForce GTX 660 (2GB)
Storage: 45 GB available space
✔️ RECOMMENDED:
OS: Windows 10 64-bit
Processor: Intel Core i7-3770K or AMD FX 8350 Wraith
Memory: 16 GB RAM
Graphics: AMD Radeon RX 480 – 1920 x 1080 or NVIDIA GTX 970 – 1920 x 1080
Storage: 55 GB available space
Additional Notes: 55GB HD space includes DLC
🎯 Deus Ex: Mankind Divided crash FIX
👉 Before going to the detailed solution, you should first make sure that you have the latest version of the game installed and that all available updates have been applied.
1. Update your Graphics Driver
There are a number of possible causes for a display driver Deus Ex: Mankind Divided crashing. These can include hardware issues, such as a faulty graphics card or outdated display driver, as well as software conflicts or other problems with the operating system.
To troubleshoot a display driver crash in Deus Ex: Mankind Divided, you may need to update your graphics driver.
Make sure you have the latest version of your graphics driver installed. You can usually download the latest driver from the manufacturer's website or through the Device Manager from your Windows PC:
Go to Device Manager in the Start Menu → Navigate to Display adapters → Hit the Update driver → choose to Automatically search for drivers.
Afterward, the installation wizard will install the latest graphics driver version if there are any available.
Updating your GPU driver manually might be a bit hard or time-consuming, just know that you can update your drivers automatically with a dedicated third-party app, such as
DriverFix
. You can use it for any driver that you want to update, and it works in just a couple of clicks.
2. Update your Windows PC
Make sure all of your updates are installed on your computer in order to avoid game crashes for Deus Ex: Mankind.
If there are new updates, wait for them to install on your PC.
Restart the computer after it's completed.
3. Disable DirectX 12
If you are experiencing crashes while playing the game, try disabling certain graphics settings and disabling DX12 if it's available.
Launch the Deus Ex Mankind gameplay on your PC.
Access Settings, then go to Advanced settings.
Select Options and Display options.
Restart the game.
4. Run the game in compatibility mode
To apply this solution on short notice, apply the following steps below with the needed actions:
Right-click on the game's executable file → select Properties → then go to the Compatibility tab → Check the Run this program in compatibility mode and → Select an earlier version of Windows from the drop-down menu.
5. Check for software conflicts
If you have other software or services running in the background, try disabling them as in the example below:
Go to the Processes tab.
Perform this action for all the programs that might interfere with your game.
Try to open the Deus Ex Mankind game to see the results.
🪲 Other Errors
Deus Ex: Mankind Divided Mouse Acceleration Bug
Constant mouse acceleration is the most annoying issue in the game. Also, it feels like the vertical axis is slower than the horizontal axis. To fix this follow the workarounds below.
✅ Workarounds:
→ Turn on Vsync
→ Set your mouse sensitivity in-game to 0% and use DPI to increase sensitivity
Deus Ex: Mankind Black Screen Bug

Some players are experiencing a black screen when they try to play the game in fullscreen mode or when some cutscene appears.
If you are experiencing the fullscreen error, you need to press the Alt + Tab to make the game go into windows mode and after that adjust the resolution of your game to the one of your desktop or vice versa. Another workaround is to use a 60hz refresh rate for your screen.
Workaround: To quickly fix the black screen issue you have to update your graphic drivers. You can do this automatically, using a handy tool like DriverFix.
Deus Ex: Mankind Divided Download Stuck
Try to restart your Steam and your router, if these solutions won't help you try to change your download region. This will usually fix the download stuck issue, and your download will start again, after that you can change to your desired region back.
Deus Ex: Mankind Divided Performance Issues: FPS Drops, Low FPS, Stuttering
To fix the performance issues, try to use the workarounds that developers gave on the Steam forum:
→ Update your drivers (See solution 1)
→ Turn off MSAA
→ Turn off Contact Hardening Shadows
→ Keep Volumetric Lighting on or off
→ If you have a 4GB GPU, use settings up to High
→ Use 1080p resolution
→ Enable Exclusive Fullscreen
Let's hope that by now you managed to fix all your Deus Ex: Mankind Divided crashing and issues and that you are enjoying the game.
If you encounter any issues or errors while playing your favorite games and require support, feel free to contact us here. Our team is always ready to assist you and ensure your gaming experience is seamless and enjoyable.