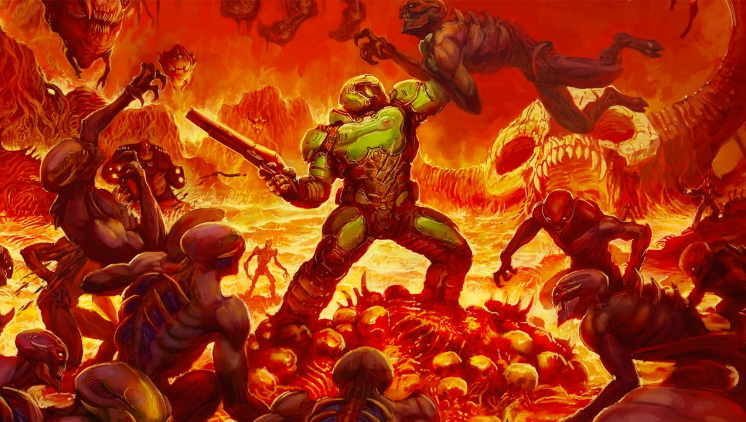 How To Fix DOOM Errors Crashes, FPS Issues, Resolution
The beloved DOOM game returns with the latest instalment in the franchise, DOOM 4. The game was released yesterday, 13 May, on Steam and it was developed by id Software, the studio that pioneered the first-person shooter genre and created multiplayer Deathmatch.
DOOM® returns as a brutally fun and challenging modern-day shooter experience. Relentless demons, impossibly destructive guns, and fast, fluid movement provide the foundation for intense, first-person combat.
Some players encountered a few errors in the game after the official launch on Steam. The most common DOOM errors that players reported on the Steam forum of the game are Crashes, FPS Issues, Resolution Bug, Disk Write error and other minor bugs.
Below you can find the system requirements of the game, make sure that you meet the minimum requirements before proceeding and fixing your issues. After the game requirements, you will find the game issues described and also a solution for each error.
MINIMUM:
OS: Windows 7/8.1/10 (64-bit versions)
Processor: Intel Core i5-2400/AMD FX-8320 or better
Memory: 8 GB RAM
Graphics: NVIDIA GTX 670 2GB/AMD Radeon HD 7870 2GB or better
Storage: 55 GB available space
Additional Notes: Requires Steam activation and broadband Internet connection for Multiplayer and SnapMap
RECOMMENDED:
OS: Windows 7/8.1/10 (64-bit versions)
Processor: Intel Core i7-3770/AMD FX-8350 or better
Memory: 8 GB RAM
Graphics: NVIDIA GTX 970 4GB/AMD Radeon R9 290 4GB or better
Storage: 55 GB available space
Additional Notes: Requires Steam activation and broadband Internet connection for Multiplayer and SnapMap
DOOM Errors:
#1 DOOM Crashes
Some players encounter crashes after the game syncing and some players after the logo, at startup. Also, a lot of players complained about random crashes to desktop while playing the game.
"I am running it on my Intel i76700, GTX 980ti with 16GB RAM. The game runs smooth as butter with no FPS drop issues. But, it crashes without any warning. It happened for few times in Campaign and Multiplayer."
"I have no idea why I am just randomly booted back to the desktop. Nothing really tells me why, no errors or messages of any kind. Every time Doom syncs up to Steam, and I start again. Then randomly I get kicked out."
Solution: To fix the game crashes you need to follow our tutorial at the end that will help you fix the major issues in the game. With our tutorial you will be able to fix different type of game crashes either if it's at startup or randomly in the game.
#2 DOOM Resolution Fix
Some users are complaining about a window in the top corner when they play the game in 1080p or higher resolution. To fix this issue follow the workarounds below:
Workarounds: 
I had the same issue (game only playing in the corner) with a lower-resolution desktop in the background. I went into the in-game settings after choosing Campaign mode, and flipped the resolution and default monitor (I have multiple displays) back and forth a few times until it finally went real fullscreen on my main monitor in 4k. Kind of a mickey-mouse solution, but it worked.
Warning this does require a controller to do.
Step one. – Ensure that either in Radeon or Nvidia control panels that GPU scaling is set to off and scaling mode is set to preserve aspect ration.
Step two – Load doom and set it to the highest resolution you can. In 16×9 (my monitor like some others supports 4096-2160 which is a different option than 16×9) then save and close doom. Also, take note of how many lines the resolution you want is above the current resolution you are saving.
Step Three- Chang desktop Res. to whatever you are trying to run Doom as and ensure that your video adapter settings are set to the same.
Step Four – Restart your PC.
Step Five – Load doom
The res will make most screen invisible hence why we need the controller
Step Six – Select single player
Step Seven – Select your game.
Step Eight – Select settings.
Step Nine – Select Video.
Step Ten – Using the controller go four lines down and select.
Step eleven – Go three lines up and select again. (this is entirely dependent on which resolution your are running and which resolution you want it to be set. This is the number we took note of in step two.
Step Twelve back out and save.
There you go now the resolution should match and be in full screen. Enjoy!
#3 FPS Issues
The most encountered errors in the game are performance issues, in special FPS Issues like low fps or fps drops. Also, a few users complained about a Cap to the FPS. To fix the fps issues and remove the cap follow the solution below.
"When I first started playing I had to drop the graphics to medium to get a consistent 30 FPS, played two missions then switched to Multiplayer where I had to drop down to low to get that, then about halfways through a match my FPS tanked and I took a break from the game. Coming back now I started the 3rd campaign mission and decided to boot the graphics back up to medium, now no matter what I do my FPS fluctuates between 8 and around 29 or so, rarely going to 30."
Solution: To fix the low fps or fps drops issues take a look at our tutorial below and after you apply it, your FPS should be higher and constant. You can also remove the FPS Cap if you want to and get the maximum FPS your rig can perform.
How To Fix DOOM Errors Tutorial:
Our team of developers managed to release a patch that helps you fix the errors described above. You can see how our patch looks like below, where you can also find a tutorial on how to use it and a download link. Please follow the tutorial step by step before asking any questions regarding your issues. Our patch won't interfere with your Steam account, it will just change some files and .dll in the game folder in order for the errors to be fixed.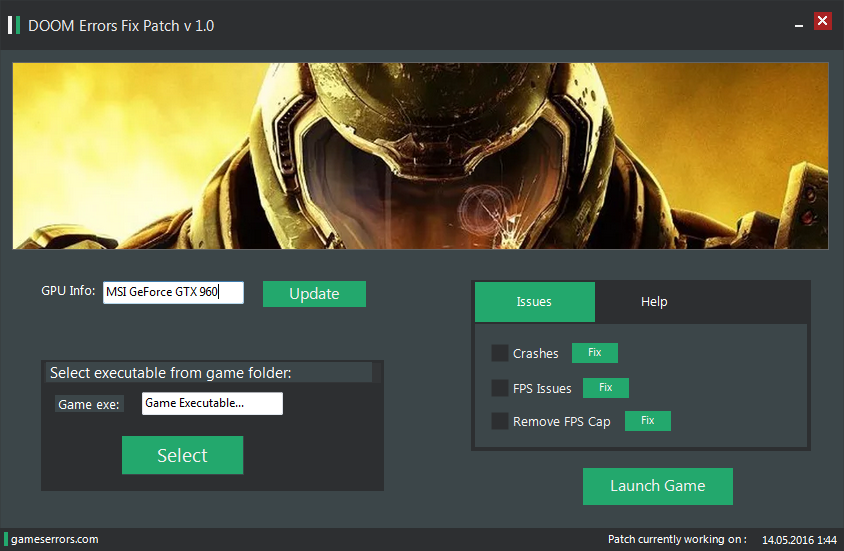 Follow the tutorial below to apply the patch correctly to your game.
How to apply our patch:
Download the archive of the patch from here: download
 Extract the downloaded archive on your PC, and open the patch from the folder.
Your GPU will be selected automatically, make sure that you use your dedicated GPU if you have a laptop!
Select the game executable from the game folder, if you used the default install folder it should be: "C:\Program Files (x86)\Steam\Steamapps\common\DOOM"
 Select your issue or issues from the box to the right and click the corresponding "Fix" button.
After your errors are successfully fixed you can click the "Launch Game" button and play the game.
How to download: Well, you might think that our download service is pretty annoying but is very effective. To download you just need to complete a simple offer, it usually takes a few minutes, and after that, you will be able to download the patch. We use this service because is the only way to support our developers and to keep releasing and updating patches for games. Thank you! We hope you understand us and have fun playing DOOM!
We hope that your tutorial helped you fix your DOOM errors and bugs, if you encounter any other issues in the game or if you don't know how to apply the patch to your game, comment below or use our contact page and we will help you fix your game. – GamesErrors Team