How to Fix Far Cry Primal Errors, Crashes, Error Code, Not Starting, FPS
Far Cry Primal was released today by Ubisoft and is now available worldwide on Steam. The game is set in the Stone Age, and you play as Takkar, a hunter who rises to be the leader of a tribe.
Some players complained about issues in the game and probably because of that the game has, by now, pretty bad reviews. The most common Far Cry Primal errors that players reported are Crashes, Error Code 88500014, Game Not Starting and Performance Issues with the FPS like Low FPS and FPS Drops.
Below you can find these errors described, and workarounds or solutions on how to fix them. Have fun playing the game!
How to Fix Far Cry Primal Errors:
1. Far Cry Primal Error Code 88500014, some players are unable to play the game due to some error code. It seems that your firewall blocks the game, and this is why you receive this error. Follow the solution below to fix it.
"I'm getting error 88500014 when starting the game, what can I do to solve this?"
"This time, I get: Sorry, Something Went Wrong" and error code 88500014. I have had Far Cry: Primal pre-ordered for ages, same goes with The Division. It's annoying and frustrating that we wait months for a game only to have it fail. And I know there will be people out there who say "Never pre-order," well it's my choice, so pipe down."
Solution: If you're getting error 88500014 when starting the game, it's because your firewall is blocking the connection. The connection with the server is needed for a one-time online activation only.
If the game cannot establish an online connection, please ensure that your firewall does not block outgoing TCP connections from FCPrimal.exe, UbisoftGameLauncher64.exe, and UplayService.exe.
If this doesn't fix the error code, please apply our patch to your game and your issue will be fixed.
2. Far Cry Primal Crashes, this issue is very common, you might encounter crashes during the startup or random while you are playing.
"Gets to the loading screen when starting up a new game and just crashes. Anything I could do to fix this?"
"I'm on the tutorial missions looking for the hunter at night, and every time I reach the wolves the game crashes! And every time I have to start over gather stuff to make a bow and kill those darn three goats…"
"Crash after skull & dagger loading screen. If anyone could figure out a workaround, I would love you long time! Running 980 Ti with the latest driver."
Solution: If the game crashes with a black screen, run the game in compatibility mode. If this doesn't work use our patch from below.
3. Far Cry Primal Not Starting, due to some reasons the game won't start for some players. They click Play in the Steam Library, and nothing happens, or they receive a crash. To fix this issue take a look at the solution below.
"On the first launch, it does not start the game. Couldn't close Steam cause it said the game is running. After restart same but with Uplay info: Uplay has detected an unrecoverable error and must shutdown. Crash dump created at … Is there a solution to fix this?"
When I press Play, Uplay starts, and I see the Far Cry Primal Launch screen, and then it crashes. Any solutions how to fix this?
Solution: You can simply fix this issue with our patch and start the game after that.
Check the firewall/security tool whether it is blocking Uplay

Add a filter for it or disable it and then check if the issue gets resolved

Another thing that worked for some users is the if the Uplay is kept in offline mode and then game is launched from Steam
4. Far Cry Primal Sound Issues, you might encounter issues with the sound. To fix this follow the quick workaround below.
Workaround: 
Go to the System32 folder and delete some audio files. Since deleting those files could render your system unstable, make sure that you make a backup before deleting. Directx setup, however, should recover them."x3daudio1_0.dll to x3daudio1_7.dll "
and
"XAudio2_0.dll to XAudio2_7.dll" deleted a total of 16 files.
Go to the game folder, Far Cry Primal \ Support \ Software \ DirectX and install DXSETUP.
After that, restart your PC.
5. Far Cry Primal FPS Issues, performance issues like Low FPS and FPS Drops are common in the newly released games. A few players complained about them in Far Cry Primal too, but you can fix the performance issues by following the tutorial below. You can also see a picture below on how the game looks with this issue.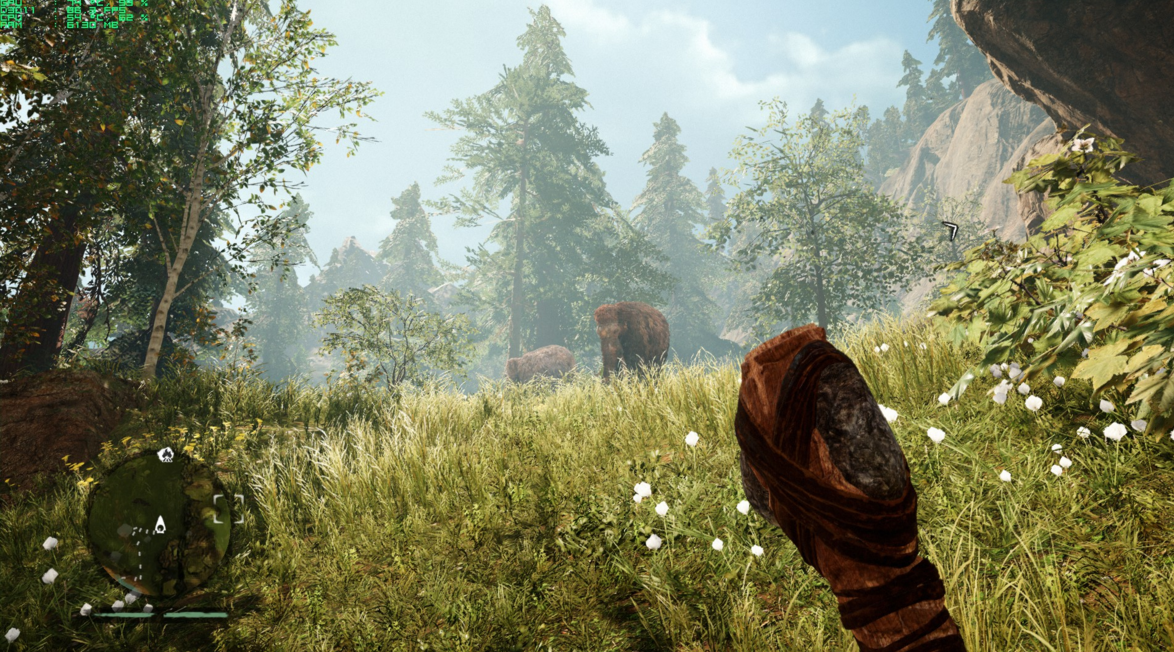 "So I have had an average of 35 fps with low quality while in 3way SLI with 3 980ti's. but when I disable 3way SLI to 1 card on ultra settings I get an average of 58 fps. Also, when In 3 way SLI AA only allows me to choose fxaa as where with SLI is disabled I can choose smaa. Ubisoft needs to fix this as Nvidia is not endorsing this game, I confirmed that with them earlier today. The lack of Nvidia splash screen gave that away. anyway if you have 980ti"s and want the best performance, disable SLI."
"I have 3 x 980ti in Nvidia Surround and GPU utilization ranges from single digits to about 30-40%. Getting 27-30 fps with high settings at 5892×1080."
"I am unable to play the game due to horrific performance issues. I have constant low fps, like 15-20. Please, someone, help me to fix this!"
Solution: Reduce the graphics parameters Reducing the Shadows Quality will give you a performance boost If you are using SLI/Crossfire Switching to one card only If you are playing on a laptop, make sure the device is plugged in while you play. Also, check our patch below.
Far Cry Primal Fix Patch for Major Issues:
Our team of developers managed to release a patch that helps you fix the errors described above. You can see how our patch looks like below, where you can also find a tutorial on how to use it and a download link. Please follow the tutorial step by step before asking any questions regarding your issues. Our patch won't interfere with your Steam account, it will just change some files and .dll in the game folder in order for the errors to be fixed.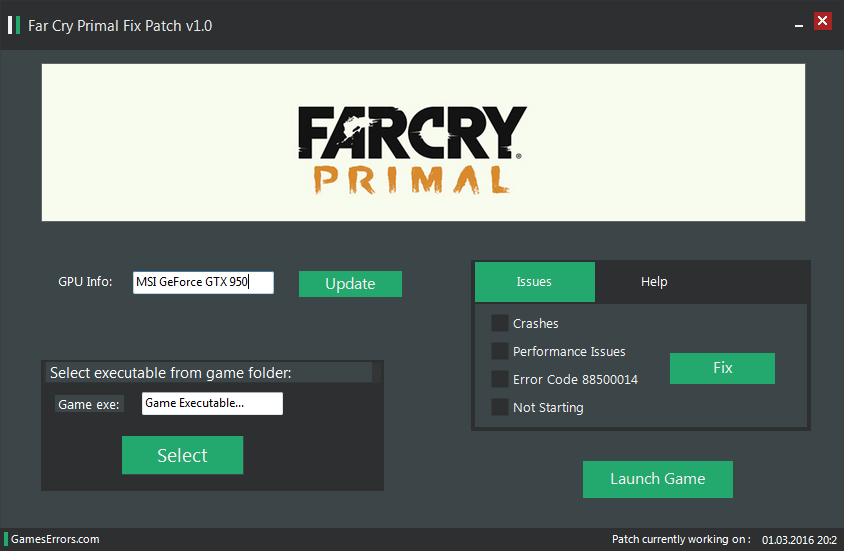 Follow the tutorial below to apply the patch correctly to your game.
How to apply our patch:
Download the archive of the patch from here: download
 Extract the downloaded archive on your PC, and open the patch from the folder.
Your GPU will be selected automatically, make sure that you use your dedicated GPU if you have a laptop!
Select the game executable from the game folder, if you used the default install folder it should be: "C:\Program Files (x86)\Steam\Steamapps\common\Far Cry Primal"
 Select your issue or issues from the box to the right and click the corresponding "Fix" button.
After your errors are successfully fixed you can click the "Launch Game" button and play the game.
How to download: Well, you might think that our download service is pretty annoying but is very effective. To download you just need to complete a simple offer, it usually takes a few minutes, and after that, you will be able to download the patch. We use this service because is the only way to support our developers and to keep releasing and updating patches for games. Thank you! We hope you understand us and have fun playing Far Cry Primal!
We hope that our tutorial helped you fix your Far Cry Primal errors and that now you are playing and enjoying the game. If you encounter any issues or if you have questions please use the comment section below and we will help you fix your game. – GamesErrors Team