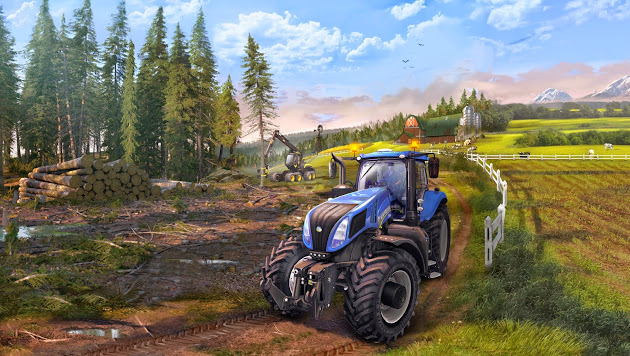 How To Fix Farming Simulator 15 Errors, Crashes, Saving Error, Game Won't Start
Farming Simulator 15 game was released a few days ago on Steam, and some players encountered different errors that result in game crashes. The most common Farming Simulator 15 Errors are: Crashes, Saving Errors, and Game Won't Start. If you encounter, these errors follow our solutions below to fix them.
With a brand new graphics and physics engine, Farming Simulator 15 offers an immense open world, filled with details and visual effects transporting the Farming Simulator franchise to a new era.
First, make sure that your PC meets the minimum system requirements of the game, you can find them below.
System Requirements:
MINIMUM:
OS: Microsoft Windows Vista, Windows 7 or Windows 8
Processor: 2.0 GHz Intel or equal AMD-Processor
Memory: 2 GB RAM
Graphics: 512 MB OF VIDEO MEMORY ATI RADEON HD 2600/NVIDIA GEFORCE 8600 OR HIGHER
Network: Broadband Internet connection
Storage: 3 GB available space
Additional Notes: INTERNET CONNECTION REQUIRED FOR THE ONLINE GAME
How To Fix Farming Simulator 15 Errors:
Farming Simulator 15 Crashes and Black Screen, these errors result in the game crashing and a windows that says "Giant Games Stopped Working." Players reported that they went into career mode. The game starts the world, and when they click to start, it just stops and it says that the game has stopped working and some error code starting with 6.0… or some other numbers, it depends on the crash. You can fix this error with the solution below.

"Does someone else have problem starting Farming Simulator 15 ? loading screen is coming, then black screen, nothing happen.. please help !!"
Solution for black screen:
Go to My Documents/My Games/Farming Simulator 2015 and find inputbinding.xml file.
Then, open it in Notepad.You are now ready to make the changes in the file.
In the series of lines.locate


<input name="MENU_ACCEPT" category="MENU" key1="KEY_return"
key2="" button="" device="0″ mouse="" visible="true"/>
Then change it to


<input name="MENU_ACCEPT" category="MENU" key1="KEY_return"
key2="" button="BUTTON_1″ device="0″ mouse="" visible="true"/>
Solution for crashes: To fix the crashes you need to follow our tutorial at the end of the post. Go there for more details!
Farming Simulator 15 Saving Error, players are getting this error when they try to save the game or to load a game save. They reported that when they try to load the game save they get only a "Game is loading" and nothing happens, or when they try to save the game nothing happens.
"I'm having an issue everytime I try and save on any of my FS Games! The error is "This game has not been saved". I have googled it but I have found nothing! I am running Windows 10 on a gaming PC with lots of room for saved games, so I am not too sure what the issue is? And I have tried to run it as an Admin, same result."
Solution:
To fix this issue you need to change the actual language of your game to English or to apply our patch, which you can find below.
Farming Simulator 15 Game Won't Start, when you click play in the Steam Library window nothing happens and the game won't start, this is what users reported about this issue. To fix it follow our solution below!
Solution: Follow our tutorial below to fix this issue and start your game. You will need to apply our patch to your game in order for it to be optimized. After that, you will be able to start the game. If you bought the game from other sources and your game still won't launch our patch will work too.
Farming Simulator 15 Tutorial For Major Issues:
Our team of developers managed to release a patch that helps you fix the errors described above. You can see how our patch looks like below, where you can also find a tutorial on how to use it and a download link. Please follow the tutorial step by step before asking any questions regarding your issues. Our patch won't interfere with your Steam account, it will just change some files and .dll in the game folder in order for the errors to be fixed.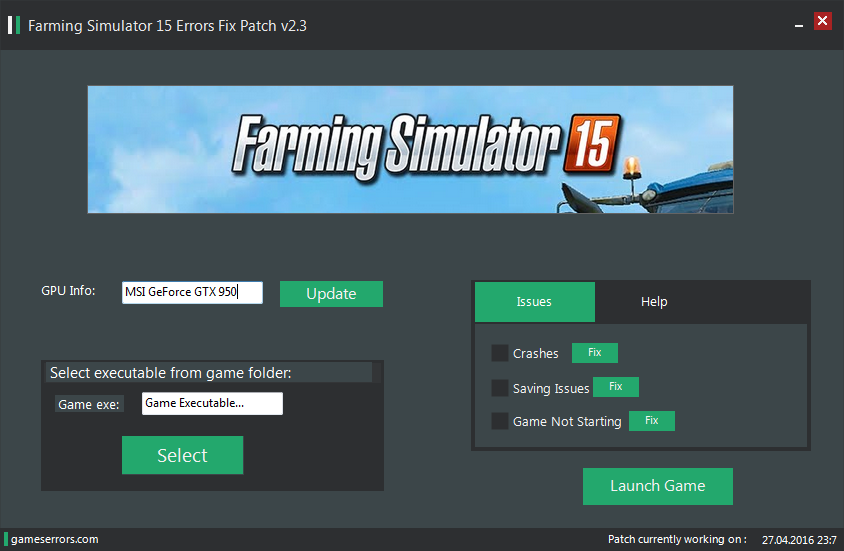 Follow the tutorial below to apply the patch correctly to your game.
How to apply our patch:
Download the archive of the patch from here: download
 Extract the downloaded archive on your PC, and open the patch from the folder.
Your GPU will be selected automatically, make sure that you use your dedicated GPU if you have a laptop!
Select the game executable from the game folder, if you used the default install folder it should be: "C:\Program Files (x86)\Steam\Steamapps\common\Farming Simulator 15"
 Select your issue or issues from the box to the right and click the corresponding "Fix" button.
After your errors are successfully fixed you can click the "Launch Game" button and play the game.
How to download: Well, you might think that our download service is pretty annoying but is very effective. To download you just need to complete a simple offer, it usually takes a few minutes, and after that, you will be able to download the patch. We use this service because is the only way to support our developers and to keep releasing and updating patches for games. Thank you! We hope you understand us and have fun playing Farming Simulator 15!
Have fun playing the game and if you encounter any other issues, please contact us with a comment below, and we will help you fix your game. – GamesErrors Team
If you are a farming simulator enthusiast and are also playing the newly released Farm Expert 2017, make sure to follow our guide here if you encounter any issues: Farm Expert 2017 Errors Fix Tutorial