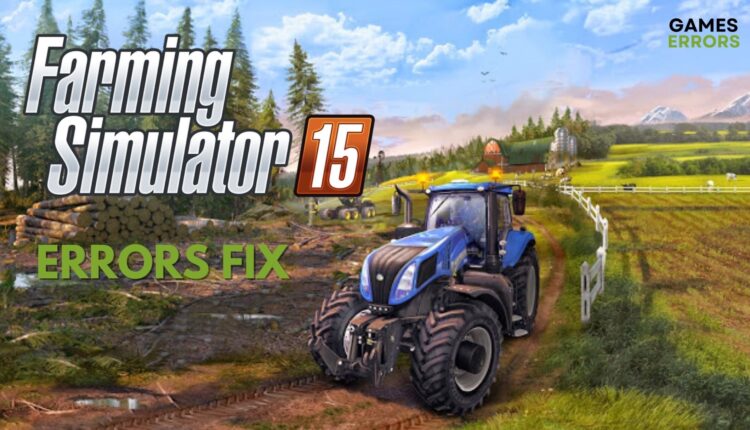 How to Fix Farming Simulator 15 Errors and Issues
Enjoy your farming activities on Farming Simulator 15 with no errors using our fixes
X
INSTALL BY CLICKING THE DOWNLOAD FILE
Farming Simulator 15 game is released on Steam, and some players encountered different errors that result in game crashes.
The most common Farming Simulator 15 issues are crashes, saving errors, and the game won't start. If you face these errors, follow our workarounds below to fix them.
First, make sure that your PC meets the minimum system requirements of the game, you can find them below.
System Requirements:
MINIMUM:
OS: Microsoft Windows Vista, Windows 7, or Windows 8
Processor: 2.0 GHz Intel or equal AMD-Processor
Memory: 2 GB RAM
Graphics: 512 MB OF VIDEO MEMORY ATI RADEON HD 2600/NVIDIA GEFORCE 8600 OR HIGHER
Network: Broadband Internet connection
Storage: 3 GB available space
Additional Notes: INTERNET CONNECTION REQUIRED FOR THE ONLINE GAME
How to Fix Farming Simulator 15 issues
There are various problems that can occur while playing this simulator game, so we're going to show you how to resolve them separately with practical solutions such as updating outdated drivers or modifying language settings.
Farming Simulator 15 crashes and black screen
The Players reported that they went into career mode, the game starts the world and when they click to start, it just stops and it says that the game has stopped working and some error code starting with 6.0.
Update the graphics driver
On Device Manager, go to Display adapters to expand.
Restart Windows to apply the effects.
As an alternative, you can utilize a dedicated driver manager to update any drivers in seconds with DriverFix. The software will fully scan the operating system and find outdated drivers, hence updating them all at once or individually.
Go to My Documents > My Games > Farming Simulator 2015 and find the inputbinding.xml file.
Then, open it in Notepad. (it's where you make the changes in the file).
In the series of lines, locate
<input name="MENU_ACCEPT" category="MENU" key1="KEY_return"
key2="" button="" device="0″ mouse="" visible="true"/>
Then, change it to
<input name="MENU_ACCEPT" category="MENU" key1="KEY_return"
key2="" button="BUTTON_1″ device="0″ mouse="" visible="true"/>
Farming Simulator 15 saving error
Different players reported that when they try to load the game save, they get only a "Game is loading" and nothing happens.
Workaround: To fix this issue, you need to change the actual language of your game to English and see if the problem is solved.
Farming Simulator 15 Game Won't Start
When you click play in the Steam Library window nothing happens and the game won't start, this is what users reported about this issue.
Have fun playing the game and if you encounter any other issues, please reach us with a comment below, and we will help you fix the game.
If you encounter any issues or errors while playing your favorite games and require support, feel free to contact us here. Our team is always ready to assist you and ensure your gaming experience is seamless and enjoyable.