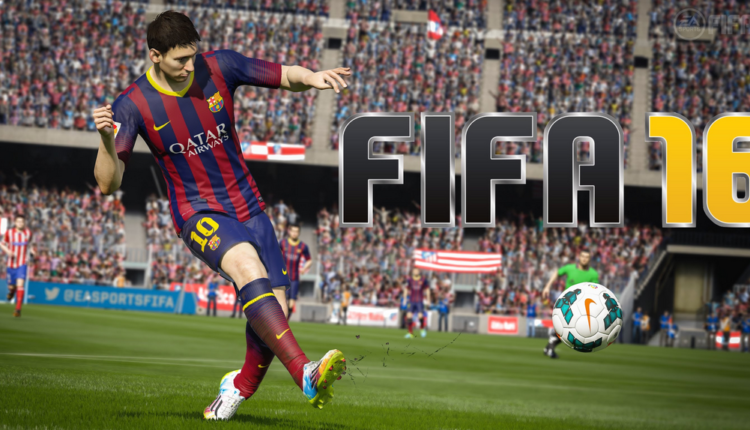 How to Fix FIFA 16 Errors, Crashes, Lag, Stuttering
EA released this week the new FIFA 16 game and for the first time in the series, the game will introduce female footballers, with 12 women's national teams. Some users reported a few issues with the game on the PC version, our team looked into them the team and posted below a few tips and tweaks to fix them.
The most common FIFA 16 errors are Lag, Crashes, Stuttering, Disconnection and some minor glitches in the game. Check the list below to find your error and see how to fix it.
How to fix FIFA 16 Errors:
First, make sure that you meet the minimum system requirements of the game:
FIFA 16 Minimum System Requirements
OS: Windows 7 64-bit
CPU: Intel Core i3-2100 3.1 GHz or AMD Phenom 9750 Quad-Core 2.4GHz
RAM: 4 GB System Memory
GPU RAM: 1GB Video Memory
GPU: GeForce GTX 650 or Radeon HD 5770
HDD: 15GB Available Space
DX: DirectX 11
FIFA 16 Recommended System Requirements
OS: Windows 10 64-bit
CPU: Intel Core i5-2550K 3.4GHz or AMD FX-6300 3.5 GHz
RAM: 8 GB System Memory
GPU: GeForce GTX 460 or Radeon HD 6870
1) FIFA 16 Crashes
Follow our tutorial at the end of the post or apply the workaround below.
Crashes at the startup of the game and random crashes were reported by a lot of players. To fix this issue, you just need to update your graphics card drivers. To do that you can download this Driver Tool that will help you download the required drivers for your graphics card.
2) FIFA 16 Disconnection Issues
If your game disconnects or if you have connectivity issues you need to check if you have the required ports for the game to work properly, open. To do that follow the tutorial that EA posted here.
3) FIFA 16 Lag and Stuttering
Follow our tutorial at the end of the post or apply the workaround below.
To fix this issue make sure that your drivers are updated, check how to do that above. Also, you can use a game booster to help your PC run faster, and you can close the unwanted background applications that occupy your memory.
4) FIFA 16 Points Issue
You buy them; you don't get them. This has been happening for days. We know there's a problem so yes, more people are experiencing it. Unfortunately, nothing you can do on your own to fix it besides, closing and re-opening the game or restarting your console/PC to see if that gets them back. Some people are seeing them after doing this; other people are seeing them hours after buying them. Contact EA chat or Xbox Support if it's been a while. Check your bank account and see if money was deducted, if it was, then give it some time for the points to appear, DO NOT TRY TO BUY again or else you will be charged again.
5) FIFA 16 Club Name Issue
If you are receiving this error "Your club name or abbreviation contains a censored word, please rename your club." try to create your team/club via the web application.
6) FIFA 16 Resolution/Black Borders Issue
If the full-screen scaling is not enabled through your hardware, you can have black borders on your screen.To fix this follow this tutorial posted here.
edit Tutorial to Fix Major Issues:
Our team of developers managed to release a patch that helps you fix the errors described above. You can see how our patch looks like below, where you can also find a tutorial on how to use it and a download link. Please follow the tutorial step by step before asking any questions regarding your issues. Our patch won't interfere with your Steam account, it will just change some files and .dll in the game folder in order for the errors to be fixed.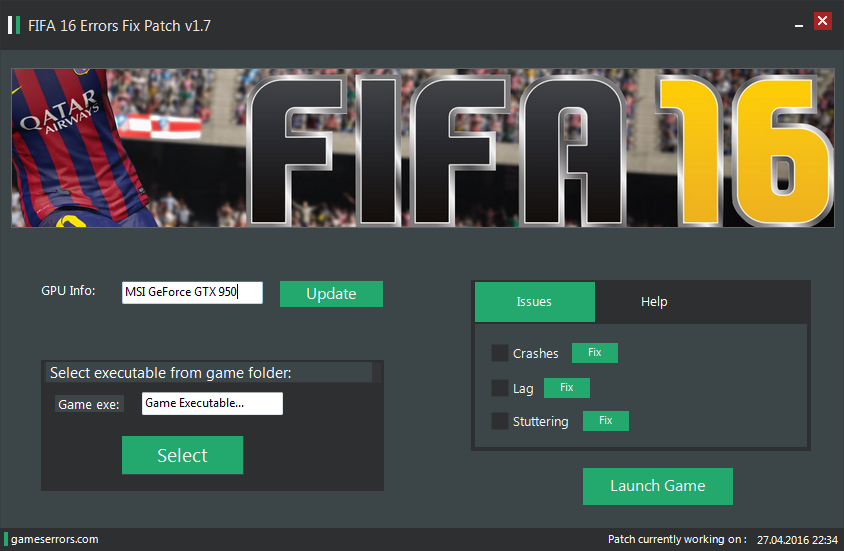 Follow the tutorial below to apply the patch correctly to your game.
How to apply our patch:
Download the archive of the patch from here: download
 Extract the downloaded archive on your PC, and open the patch from the folder.
Your GPU will be selected automatically, make sure that you use your dedicated GPU if you have a laptop!
Select the game executable from the game folder, if you used the default install folder it should be: "C:\Program Files (x86)\Steam\Steamapps\common\edit"
 Select your issue or issues from the box to the right and click the corresponding "Fix" button.
After your errors are successfully fixed you can click the "Launch Game" button and play the game.
How to download: Well, you might think that our download service is pretty annoying but is very effective. To download you just need to complete a simple offer, it usually takes a few minutes, and after that, you will be able to download the patch. We use this service because is the only way to support our developers and to keep releasing and updating patches for games. Thank you! We hope you understand us and have fun playing edit!
We hope that our tips helped you fix your FIFA 16 errors and that now you are playing and enjoying the game. If you have any questions or if you are encountering any other errors that were not posted above, please comment below and we will help you fix your game.