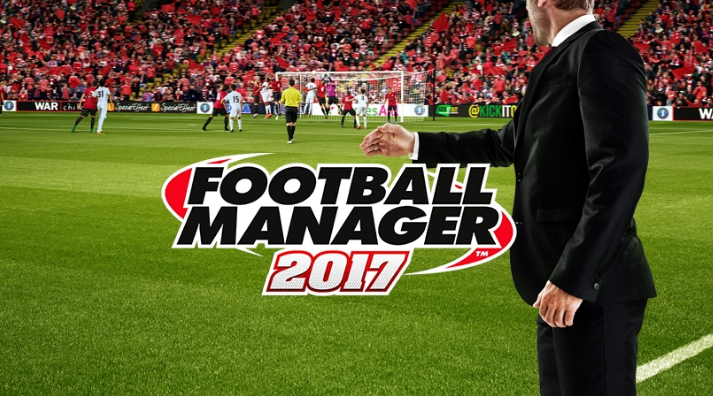 How To Fix Football Manager 2017 Crashes, Not Starting, Black Screen
X
INSTALL BY CLICKING THE DOWNLOAD FILE
In the community hub of the game, players are complaining about Football Manager 2017 issues. The most common errors are Crashes, Game Not Starting and Black Screen. Most of these issues are making the game unplayable and users are getting angry.
Players are also complaining that they don't see any improvement in the game and they say that the game is less enjoyable because nothing is fixed with the game engine except the new camera view and the crowd, that looks a little better. It seems that the core aspects of the game remain the same.
If you are one of the guys that are complaining about issues let's go ahead and fix them! First, make sure that you meet the minimum system requirements of the game, you can find them below. If everything is ok with your PC go ahead and find your error in the list below.
MINIMUM:
OS: Windows Vista (SP2), 7 (SP1), 8, 8.1, 10 (1607) – 64-bit or 32-bit
Processor: Intel Pentium 4, Intel Core or AMD Athlon – 2.2 GHz +
Memory: 2 GB RAM
Graphics: Intel GMA X3100, NVIDIA GeForce 8600M GT or AMD/ATI Mobility Radeon HD 2400 – 256MB VRAM
DirectX: Version 9.0c
Storage: 3 GB available space
Football Manager 2017 issues:
Here you can find the most common Football Manager 2017 issues that are making the game unplayable and a lot of players angry. For each issue, you will find a workaround or solution on how to fix it.
#1 Football Manager 2017 Crashes

For some players, the game will crash at startup or randomly while playing a match. Most of them are complaining about random crashes because they are unable to save the game and they lose all the progress. If you are one of these players follow the solution below to fix this issue.
Before applying our solution and fixing your issue, make sure that you apply the tips below.
Remove any custom graphics, logos or skins
For Crash Dump on Start:


If you receive a crash dump on game launch, please bear in mind a crash dump is the generic response for any type of crash – deleting the crash dump file will not help. There are a few troubleshooting techniques we suggest you undertake in order to get the game running.Normally a crash dump on game start is related to a system or conflicting error, so we suggest the following steps to be completed in the following order:- Make sure your Graphics Card drivers and installed and fully up to date
– If running on a laptop with dual graphics cards, make sure they are configured for the correct card to run with FM
– Make sure your Anti-Virus isn't interfering with Steam or FM as this can cause problems when installing or launching the game
– Make sure your Windows Updates, DirectX and Net Framework are installed and up to date
Solution: To fix the startup or random game crashes you need to apply our patch to your game. For more details go to the end of the post!
#2 Football Manager 2017 Has Run Out of Memory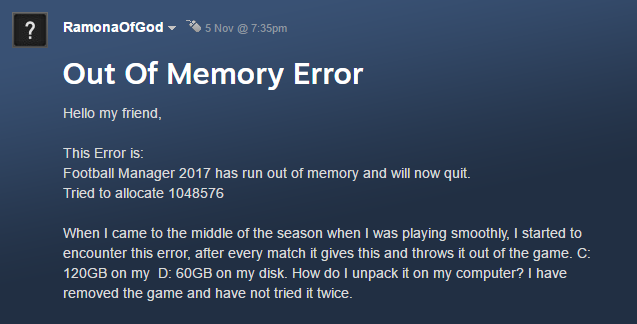 If you receive an error message stating the game has run out of memory whilst the game is loading, it may mean you save file is corrupted. If your system shut down or crashed mid-save then the file will be corrupted and cannot be fixed.

Likewise, if your game has been force closed for any reason there is a chance of save game corruption. The only opportunity to get the save back is to try and use Windows 'Restore Previous Versions' function. This will not always be on by default so may only work for some users.To use this functionality, first, go into your 'Documents' folder. Within there should be a Sports Interactive Folder. Go into the Football Manager 2017 folder. Go into 'games' and right click on your save which no longer loads. In the menu that opens is an option called 'Restore Previous Versions', click that and see if it works. It'll first scan for a previous version then potentially give you the option to 'Restore'.If you receive an out of memory message at any point of the game, please follow the troubleshooting steps listed below:
First of all, if you're running any custom graphics, logos, skins or other add-ons, please remove these for the time-being.
Delete Cache
Delete Preference
Reverify Cache
Then try the game again
If after doing all of the above, you're still encountering issues, go to the following screen:
FM -> Add/Remove Leagues
See how many players are loading in your game
If the total is over 70,000 players and you're running on a 32-bit Operating System you are over the recommended amount and your game cannot support that many players.
#3 Football Manager 2017 Not Starting

Some players are unable to start the game, when they click the Play button in the Steam Library nothing happens and the game doesn't show up. To fix this issue and start FM 17 go ahead and apply the workaround below. If nothing changes you need to use our solution and after that, you will be able to star the game.
Workaround:
Go to the following location: C:\Program Files (x86)\Steam\steamapps\common\Football Manager 2017
Right-Click on the FM.exe
Click 'Run as Administrator'
Best Solution: The best solution to fix this issue and start your game is to apply our patch. You can find more details at the end of the post!
#4 Football Manager 2017 Black Screen
A quick way to fix the black screen issue is to apply the following workaround. If this won't help you, follow the best solution below
Open Steam and access your Games Library
Right-click on Football Manager 2017 -> Properties -> General -> Set Launch Options
Type this in the box: –no_exclusive_fullscreen
Click on OK, close the window and launch FM17 through Steam
This will enable the game to launch in maximum borderless windowed mode and you should no longer encounter the issue.
Let's hope that by now you managed to fix all your Football Manager 2017 errors and issues and that you are enjoying the game. If you still encounter some issues, and you are unable to fix them, or you don't know how to apply our patch, please comment below. After that, a member of our team will help you as soon as possible to fix your error so you can enjoy your game.
If you encounter any issues or errors while playing your favorite games and require support, feel free to contact us here. Our team is always ready to assist you and ensure your gaming experience is seamless and enjoyable.