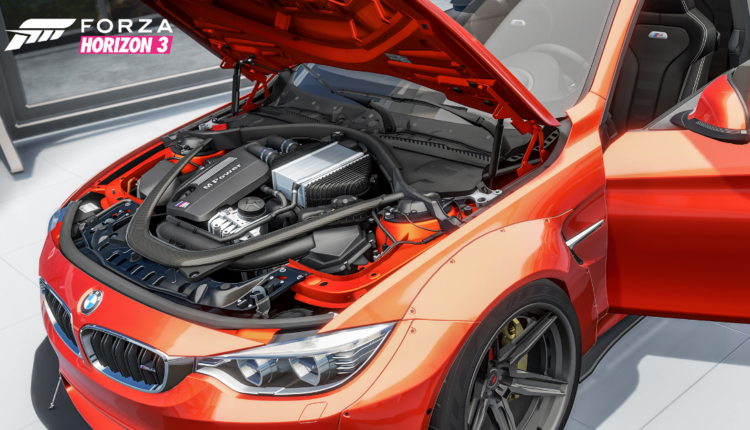 How To Fix Forza Horizon 3 Errors, Crashes, Low FPS, Error 0x80073CF9, Stuttering
Forza Horizon 3 is now available on Xbox One and Windows 10. Because the game requires a lot from your PC and because just a week has passed since the launch you might encounter some Forza Horizon 3 errors or bugs.
The new installment of the open world racing video game comes with a lot of new features like:  the largest map and most diverse open world in Forza history, actually the new Australian map is twice as large as Horizon 2's map; new vehicle types, the game now contains 350 cars, with entirely new vehicle types like off-road buggies and trophy trucks.
Horizon 3 was released worldwide on 27 September and even though a week has passed since the game launch and developers updated the game with a few patches since then, players are still encountering errors and crashes that are making the game unplayable. The most common Forza Horizon 3 errors  that users complained about are Crashes, Low FPS or FPS Drops, Stuttering and Error 0x80073CF9. As it seems the most annoying issues are the Performance Issues related to the frame rate of the game.
Below you will find the recommended system requirements of the game, make sure that your PC meets them and that you can properly run the game. If your PC fails the specs below, you need to upgrade it because this is why the game is not working for you. After you check the system specs, you will find a list of the common errors listed above, for each one of them you will either find a solution or a workaround to fix it.
System Requirements:
CPU: Intel Core i5 – 3570 – 3.40 GHz
GPU: Nvidia GeForce GTX 750 Ti | ATI Radeon R7 250X
VRAM: 2/4GB
RAM: 8GB
Hard Drive Type: HDD
Available Space: 55GB
Windows Version: Windows 10 (64-Bit)
CPU: i7 3820 @ 3.6GHz
GPU: NVIDIA GTX 970 or NVIDIA GTX 1060
AMD: R9 290X or AMD RX 480
VRAM: 4GB
RAM: 12GB
Hard Drive Type: HDD
Available Space: 55GB
Resolution: 1920 x 1080
Windows Version: Windows Anniversary Edition 64-bit 14393.101
Here is the errors list with solutions and workarounds. If you don't know how to apply a workaround to your game, please contact our Support Team here, and someone will help you as soon as possible.
Forza Horizon 3 Errors:
#1 Forza Horizon 3 Error 0x80073CF9 and other codes

Some players are complaining about the error above when they try to preload or download the game, apparently, it will only download for a portion and after that crash with this error 0x80073CF9. Our team found the workaround below and tested it to see if the game downloads 100% after that and it works. Check it below and apply it to your game.
net stop wuauserv
rename c:\windows\SoftwareDistribution softwaredistribution.old
net start wuauserv
If any of the above commands fail, you will need to start your PC in safe mode and run the commands.
Another way to fix the download stuck issue is to update your Windows. A new Windows 10 update has been released that will resolve the issue, according to Microsoft's Larry Hryb. You'll want to make sure Windows Update grabs KB3194496, a small patch that will bring your version of Windows 10 to 14939.222.
If you are encountering other error codes, check them below.
Step 1: Open up "Run" either by searching for it or pressing the Windows button + R.
Step 2: Type "%Appdata%"
Step 3: Go up 1 level until you see the folders "Local", "LocalLow" and "Roaming."
Step 4: Go Into the "Local" folder
Step 5: Find the folder called "Packages", right click on it and then click "Properties."
Step 6: Untick "Read-Only" and proceed to the "Security" tab
Step 7: Click on "Advanced"
Step 8: Click "Add"
Step 9: Click "Select a principle" and type in "COMPUTERNAME\Users\" where I have written "COMPUTERNAME" type what is written under "From this location".
Step 10: Click apply on everything you can and then press OK afterward.
Go to Games > Xbox Live Games > Forza Horizon 3 or Forza Horizon 3 Deluxe/Ultimate Edition > under "In this bundle" click Forza Horizon 3 (not deluxe/anything else) > Download.
#2 Forza Horizon 3 Crashes
A few players are encountering crashes in the game; they are either startup crashes or random crashes while they are playing. Both startup and random crashes are making the game unplayable because if your game crashes you won't be able to save your progress and you will have to start the game again. There is a simple solution on how to fix the crashes, check it out below.
Solution: To fix the Forza Horizon 3 crashes you need to follow the tutorial at the end of the post and apply our patch, after that your game will work perfectly with no crashes. Go to the end of the post for more details!
#3 Forza Horizon 3 Error FH501
To fix this FH501 Code error follow the tips below.
Under Run in the Start Menu, type in DxDiag to open up the DirectX Diagnostic Tool. If you are getting this error, you are likely running a lower version of DirectX than 12, which is necessary to run this game
Go to Microsoft's website to download DirectX 12 and install it if you are on a lower version
#4 Forza Horizon 3 Performance Issues: Low FPS, FPS Drops and Stuttering

Various players are constantly complaining on forums and blogs about the performance issues of the game. The most common errors are with the frames, Low FPS and FPS Drops but some of them are also encountering Stuttering and Freezes. The best way to fix the performance issues of the game is to follow the solution below, you can also try the workarounds(you can find them below too) and see if you can fix the game.
Solution for Performance Issues:  To fix the performance issues of Forza Horizon 3 you need to apply our patch to your game in order to optimize it. After that, your frame rate will be stable and you won't experience any drops or stutter. For more details on how to apply the patch and for a download link check the tutorial at the end of the post!
Workarounds:
For the FPS Drops of the game you can try to apply the quick workarounds below and see if it improves your game with some frames. Changing the affinity pf the game from Task Manager helped some players to get rid of the drops and play a normal game.
While running the game in the background, Open the Task Manager
Right click on 'Forza Horizon 3' and open details
Right click on 'forza_x64_release_final.exe' and then click on 'Set Affinity'
Un-check the 'Core 0' option and leave all other things checked.
The stuttering issue is encountered a lot by users that are playing the game on Xbox. Multiple reports from players said that you could fix the stuttering and optimize your game on console by applying the steps below.
Step 1: Go to Xbox App and then to SETTING and then click on the NETWORK TAB
Step 2: Check to see if you "teredo address" is broken, you should receive a warning if it is
Step 3: Follow the steps within the app to uninstall and reinstall it.
How To Fix Forza Horizon 3 Errors Tutorial:
*Only for Crashes, Performance Issues(Low&Drops in FPS and Stuttering), also Launch Issues
Are you trying to play the new Forza Horizon 3 and you are unable  because of annoying issues and bugs? Don't worry, our team will help you fix all of them and you will play the game in a few minutes. You are here because you probably encounter one of these errors Random Crashes, Performance Issues or you are unable to start your game. If you have one of these issues don't worry anymore because we will help you fix them in the next minutes. So just sit back, relax, follow the tutorial below and in 10 minutes you will be playing the new installment of Forza Horizon.
Our team of developers released a patch to help you fix these annoying issues. Below you can see a picture of how our patch looks like and what it does. You will also find a download link and a tutorial that will help you step by step to apply the patch correctly to your game and fix your issue. For your knowledge and safety: our patch won't interfere with your Steam account, it will just change some files and .dll's in the game folder for the errors to be fixed.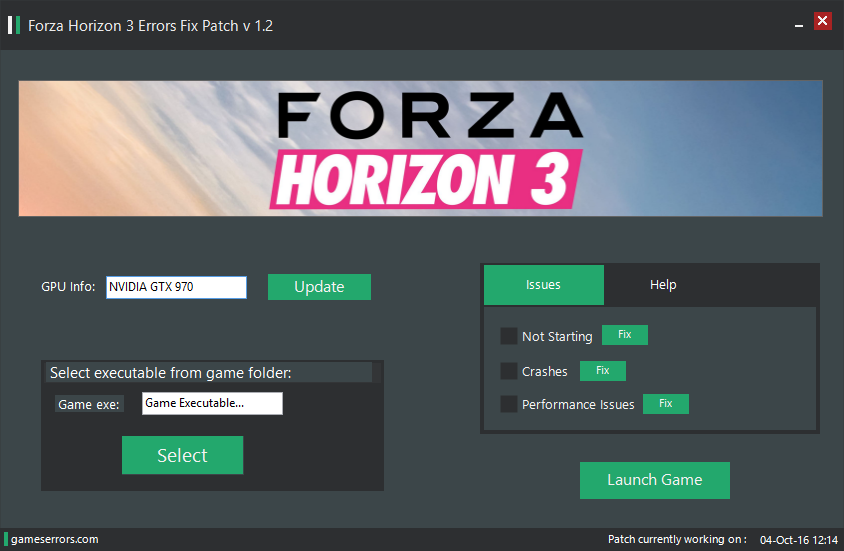 To make sure that you apply the patch correctly to your game please follow the tutorial below step by step. If you are not sure about something just ask us, our Support Team answers in a matter of minutes.
How to apply our patch:
Download the archive of the patch from here: download
Extract the downloaded archive on your PC, and open the patch from the folder.
Your GPU will be selected automatically, make sure that you use your dedicated GPU if you have a laptop!
Select the game executable from the game folder, if you used the default Origin install folder it should be: "C:\Program Files (x86)\Steam\SteamApps\common\Forza Horizon 3″.
Select your issue or issues from the box to the right and click the corresponding "Fix" button.
After your errors are successfully fixed, you can click the "Launch Game" button and play the game.
How to download: Well, you might think that our download service is pretty annoying but is very effective. To download you just need to complete a simple offer, it usually takes a few minutes, and after that, you will be able to download the patch. We use this service because is the only way to support our developers and to keep releasing and updating patches for games. Thank you! We hope you understand us and have fun playing Forza Horizon 3!
Let's hope that by now you managed to fix all your Forza Horizon 3 errors and issues and that you are enjoying the game. If you still encounter some issues, and you are unable to fix them, or you don't know how to apply our patch, please comment below or open a Support ticket on our support page. After that, a member of our team will help you as soon as possible to fix your issue so you can enjoy your game.–GamesErrors Team