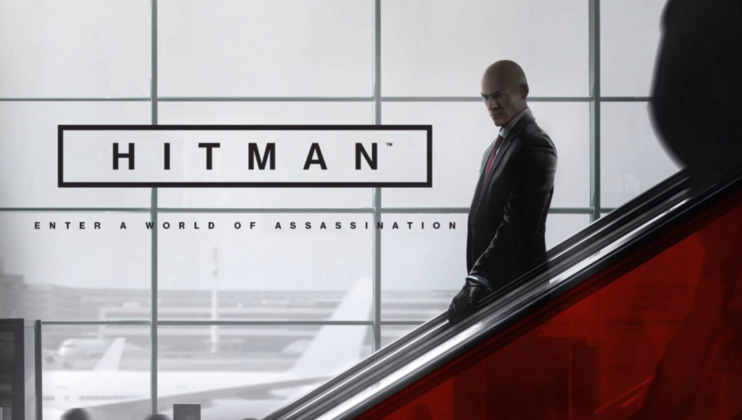 How to Fix HITMAN Errors, Crashes, Not Starting, Performance Issues
HITMAN was released today on Steam and by not it got some pretty bad reviews. Players complained about a lot of game crashing bugs and issues, and it seems that this release is not so good. In the game, you play as Agent 47, the world's ultimate assassin.
As Agent 47, you perform contract hits on high-profile targets in exotic locations around the world. Future locations – in April, Sapienza Italy, track down a scientist residing in the sunny coastal town. In May, the hustle and bustle of Marrakesh, Morocco. And as the story expands you will travel to Thailand and the USA before concluding in Japan later in 2016.
The most common HITMAN errors and bugs that players encountered and complained about on the Steam's Dashboard of the game are Crashes, Game Not Starting and Performance Issues like Freezes, Issues with the FPS: Low FPS and FPS Drops.
Below you will find all of the game issues described to see exactly which one you got and you will find solutions on how to fix them for each issue. You can also skip directly to your issue and check the solution to fix your game.
How to Fix HITMAN Errors:
First, make sure that you meet the system requirements below:
Minimum:
OS: OS 64-bit Windows 7
Processor: Intel CPU Core i5-2500K 3.3GHz / AMD CPU Phenom II X4 940
Memory: 8 GB RAM
Graphics: NVIDIA GeForce GTX 660 / Radeon HD 7870
DirectX: Version 11
Storage: 50 GB available space
Recommended:
OS: OS 64-bit Windows 7 / 64-bit Windows 8 (8.1) or Windows 10
Processor: Intel CPU Core i7 3770 3,4 GHz / AMD CPU AMD FX-8350 4 GHz
Memory: 8 GB RAM
Graphics: Nvidia GPU GeForce GTX 770 / AMD GPU Radeon R9 290
DirectX: Version 11
Storage: 50 GB available space
Below you can find the most common HITMAN issues and solutions on how to fix them.
1. HITMAN Crashes, a lot of players are complaining about crashes, the game crashes at the startup, during the intro, or randomly through the game while playing.
"I can't run this game. Deleted and installed again even reinstalled the driver but nothing helps. It keeps crashing! Please, someone, help me."
"Between the constant crashes, on DX12 and Dx11, and non-stop graphical glitches this game is completely unplayable."
"Running a 980ti with an FX 8350 @ 4.4GHz and the game will be happily running along then completely crash. Any advice on this?"
Solution: Right-click on the game in Steam Library and go to Properties and then Set Launch Options. Here add the following line -SKIP_LAUNCHER. If you still encounter crashes after that please use our patch to fix this issue, you can find it at the end of the post.
If this doesn't help you try to run the game in windowed mode or with DirectX 11. After that press ALT+ENTER to go back to fullscreen mode.
2. HITMAN Not Starting, for some players the game won't even start, when they click Play in Steam Library nothing happens, or they receive some long code errors, like the one in the picture below.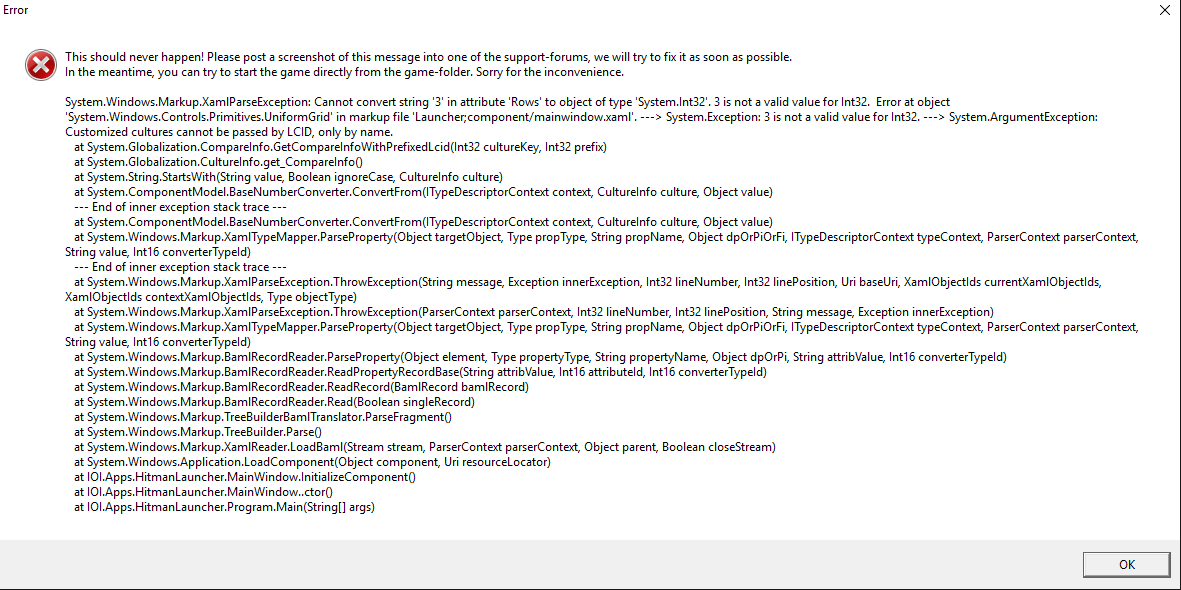 "I get the small launch screen 'preparing to launch Hitman' when I hit play, but the game does not start. Any ideas?"
"When I click start on Steam nothing happens, the game doesn't run. I even tried to start with the exe file and nothing happened."
"I just downloaded the game, and once the menu pops up and I pressed play, it just doesn't play and close directly. Is there any solution to this? I met the minimum PC requirement."
Solution: If you are unable to start the game due to crashes follow the solution from crashes above, if your game simply won't start when you press Play in Steam, apply our patch, you can find it below, and your game will start after that.
3. HITMAN Performance Issues, the most common issues in the game are performance issues like Freeze, Low Fps, Stuttering and FPS Drops. You can also fix all these performance issues with the tutorial below.
"The game freezes every time I enter the 2nd floor in the Yacht, right after I exit the stairs as a Mechanic. This did not happen before the before when I played the beta. I also got this Direct3D12 enabled, thinking it is new, probably faster, and more good looking. I've read on other forums that an additional option in this causes loading errors etc., disabled that. No, go, is it the Dx12 settings that are just bugged overall?"
"My GTX 670 is old, but that gives this game no excuse. I'm getting 15 FPS on LOW at 1600×900, with everything locked to the lowest settings. This is actually inexcusable, I can run The Division on High and The Witcher 3 on High, but this game doesn't run well at even the lowest settings. Very disappointed and hoping for a patch soon."
Solution: To fix the performance issues try to disable the VSync from graphic options or to run the game in DirectX11, also make sure that you have the latest graphic card drivers. You can do that with our patch that will also fix the performance issues of the game.
HITMAN Fix Patch for Major Issues:
Our team of developers managed to release a patch that helps you fix the errors described above. You can see how our patch looks like below, where you can also find a tutorial on how to use it and a download link. Please follow the tutorial step by step before asking any questions regarding your issues. Our patch won't interfere with your Steam account, it will just change some files and .dll in the game folder in order for the errors to be fixed.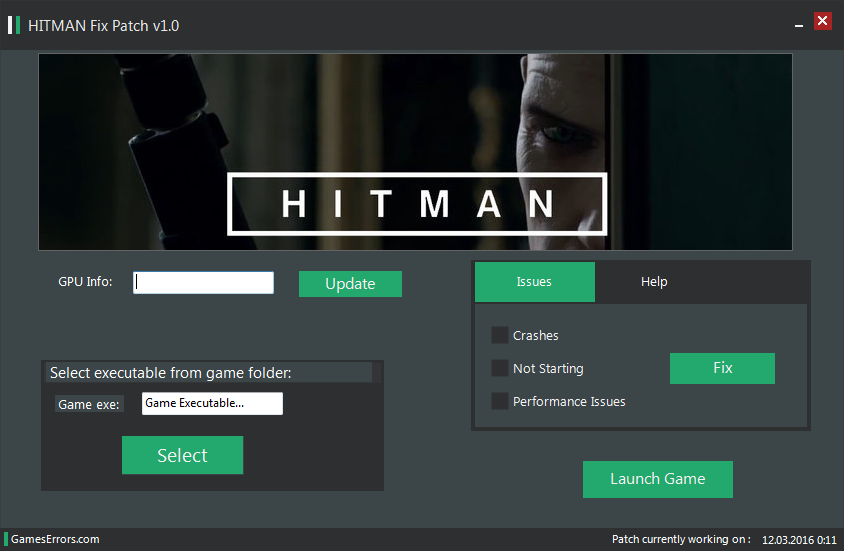 Follow the tutorial below to apply the patch correctly to your game.
How to apply our patch:
Download the archive of the patch from here: download
 Extract the downloaded archive on your PC, and open the patch from the folder.
Your GPU will be selected automatically, make sure that you use your dedicated GPU if you have a laptop!
Select the game executable from the game folder, if you used the default install folder it should be: "C:\Program Files (x86)\Steam\Steamapps\common\HITMAN"
 Select your issue or issues from the box to the right and click the corresponding "Fix" button.
After your errors are successfully fixed you can click the "Launch Game" button and play HITMAN.
How to download: Well, you might think that our download service is pretty annoying but is very effective. To download you just need to complete a simple offer, it usually takes a few minutes, and after that, you will be able to download the patch. We use this service because is the only way to support our developers and to keep releasing and updating patches for games. Thank you! We hope you understand us and have fun playing the game!
We hope that our tutorial helped you fix your HITMAN errors and that now you are playing and enjoying the game. Have fun playing it and comment below if you have any questions, and we will help you fix your game! – GamesErrors Team