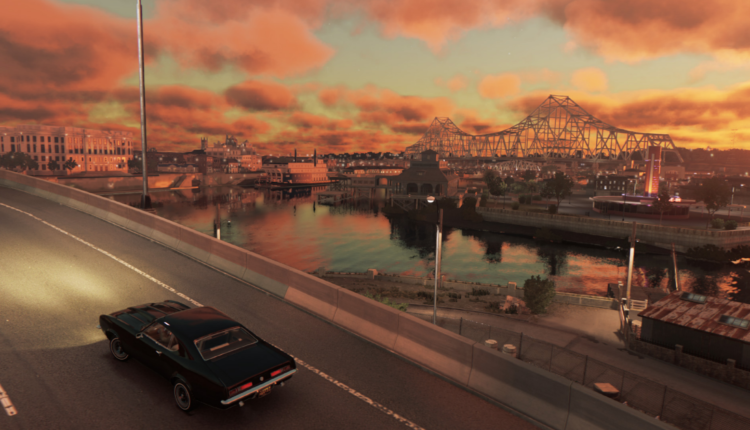 How To Fix Mafia 3 Errors, Startup Crash, Performance Issues, Random Crashes, Optimization
The Mafia game comes back with the third installment in the series and this time, a lot of players are complaining about Mafia 3 errors and issues. In this third part, the game is developed by Hangar 13, being the debut title for the company, and published by 2K Games. In Mafia 3, you will play in 1968 as Lincoln Clay, an orphan and a Vietnam War veteran, who is on a quest to build a new crime organization to confront the Italian mob.
The game was released this week, on 7 October, on Steam but it was available earlier by pre-ordering it. Players complained from the pre-order version of the game about bugs and errors but they hoped that the developers would fix them until the official launch. At this time, a lot of users are complaining about Mafia 3 errors like Startup Crash, some of them are unable to start the game due to a startup crash or the game simply won't start when they click Play; Performance Issues, these type of issues are normal at the release of a game, you might encounter Low FPS, Stuttering or FPS Drops, also players reported that the game has a 30 FPS Cap; Random Crashes, another common issue, the game just randomly crashes while you are playing and you will lose your progress.
It's 1968 and after years of combat in Vietnam, Lincoln Clay knows this truth: family isn't who you're born with, it's who you die for. Now back home in New Bordeaux, Lincoln is set on escaping a criminal past. But when his surrogate family, the black mob, is betrayed and wiped out by the Italian Mafia, Lincoln builds a new family on the ashes of the old and blazes a path of military-grade revenge through those responsible
Coming up, we will help you fix your Mafia 3 issues so you can start and enjoy your game. First, make sure that you at least meet the minimum system requirements of the game, you will find a list of both minimum and recommended specs below. This game requires a lot from your graphic card so you should have Radeon HD7870 & GeForce GTX 660 or higher. If you don't meet the minimum specifications and you are encountering errors, you need to upgrade your PC and see if these errors are persisting.
Before Lincoln Clay goes to war against the Italian Mob in Mafia III, he needs to gear up and systematically plan his attack. Same goes for all you PC gamers out there. So, to make sure your gaming rig is primed for the mean streets of New Bordeaux, here's what you need to be packin'.
MINIMUM SYSTEM REQUIREMENTS:
OPERATING SYSTEM: Windows 7 64-bit
INTEL CPU: I5-2500K
AMD CPU: AMD FX-8120
RAM: 6GB
AMD GPU: Radeon HD7870
NVIDIA GPU: GeForce GTX 660
VIDEO MEMORY: 2GB
HD: 50GB (free space)
RECOMMENDED SYSTEM REQUIREMENTS:
OPERATING SYSTEM: Windows 7 64-bit
INTEL CPU: I7-3770
AMD CPU: AMD FX 8350 4.0 Ghz
RAM: 8 GB AMD
AMD GPU: Radeon R9 290X
NVIDIA GPU: GeForce GTX 780 or GeForce GTX 1060
VIDEO MEMORY: 4GB
HD: 50GB (free space)
Now you can go ahead and fix your issues, below you will find a list of the common Mafia 3 errors and for each error, you will have a tweak, workaround or solution on how to fix it and optimize your game for maximum performance. If you don't know how to apply a workaround to your Windows or how to use a solution, don't worry, a member of our support team will help you fix your game. For more details on how to contact our Support Team go here. (Note: We have 24/7 support so you can contact us anytime!)
Mafia 3 Errors:
If you your PC runs a Windows 8, check the developer's note below:
During development and testing, it's come to our attention that there are some very important Windows KB updates for this version of the Operating System. Instead of including the 800MB for all users, we instead wrote this supplemental information Article.
How to check if you have the KB installed
If you keep up-to-date with your Windows Updates, you should be all set! But, in case you haven't, you can check if this is installed when you go to "Add Remove Programs" in Windows 8.1. Along the left side, there's a feature to view your "Installed Windows Updates." This list is pretty long, but if you can see KB2919355 (800 megs) and KB2919442 (about 10 megs), then you're good to go!
Where do I download these?
If you don't have these, here are the Microsoft links for the two System Updates we are referring to.
https://www.microsoft.com/download/details.aspx?id=42162
NOTE: Even though the KB number is newer, this one should be installed first
https://www.microsoft.com/download/details.aspx?id=42335
NOTE: This will download about four files, and there is a specific order in which these need to be installed.
http://support.2k.com/hc/en-us/articles/226214648-A-Note-For-Windows-8-Users
#1 Mafia 3 Startup Crash & Game is not starting

As you can see in the image above,  players are angry because the game won't even start for some of them. They will either encounter a startup crash, a crash at the launcher or when they try to press the Play button in the Steam Library, nothing happens, and the game doesn't start. For example, this is what a user reported in the Steam Dashboard: "If I click mafia3.exe I see the first window from the game and next If I click "Play" I see a black screen and nothing more. What happened?"
A lot of players that are encountering the startup crash are playing the game on an AMD Phenom chipset; this might be an issue. Try to upgrade all your drivers and after that check our workarounds below.
Workarounds:
Go to Steam > Settings > Downloads> Clear Download Cache
Install latest Windows updates. Then uninstall Microsoft Visual C++ Redistributable for Visual Studio 2015 x86 and x64 from the control panel. Then download both of them from here and reinstall: https://www.microsoft.com/en-us/download/details.aspx?id=48145
Note: If nothing above works for you, go ahead and apply the tutorial at the end of the post to your game and after that it will start. For more details go to the end of the post! (Go Now)
#2 Mafia 3 Borderless Window
It seems that the game options menu doesn't have the option to play the game in borderless window mode. To do that, you need to follow the steps below:
Right-click on the game in your Steam Library.
Choose Properties.
Select Set Launch Options under the General tab.
Write "-windowed -noborder -h (your resolution height) -w (your resolution width)" without the quotation marks
Save and launch.
#3 Mafia 3 Performance Issues: Low FPS, FPS Drops, Freezes
If you are the guy that complained in the image above, we have a good news for you, you will find a fix for your FPS Drops in the workarounds below.
Performance Issues in Mafia 3 is one of the most common errors that players reported on the Steam forum. In every page, you can see "How to fix my Low FPS?", "Help me optimize my game!" and other titles like that. If you can't play the game because your game is poorly optimized, use our workarounds below and after that, you will have constant high FPS and no freezes or stuttering.
Performance Optimization Workarounds:
For Nvidia users:

Use NVIDIA Profile Inspector and enable these settings: Vertical Sync: 1/2 refresh rate, Triple Buffering and 1 for Maximum pre-rendered frames.
If you are annoyed about the 30 FPS Lock, check the update from the developers below:
We currently have a patch running here at the studio that includes 30, 60, and unlimited frames-per-second options in the video menu, among other improvements for the PC version of Mafia III. We're verifying the patch now to ensure everything is working as expected. If everything goes well, we expect the update to go live this weekend. We will be keeping the PC community up-to-date on the status of the patch throughout the weekend and thank you for all the feedback!
Best solution: The best way to fix the performance issues in the game is to apply our patch to your game, it will automatically update your GPU to the desired driver that the game need and it will optimize the game for constant FPS and no drops or stuttering. For more details check the tutorial at the end of the post! (Go Now)
#4 Mafia 3 Blurry Image
To fix the blurry image and sensation in Mafia 3 you need to disable the Motion Blur from the game settings and if this doesn't work try to disable the Depth Of Field. Make sure to restart your game and Steam after that. Also add this texture shader to your game: https://sfx.thelazy.net/games/preset/6215/
#5 Mafia 3 Random Crashes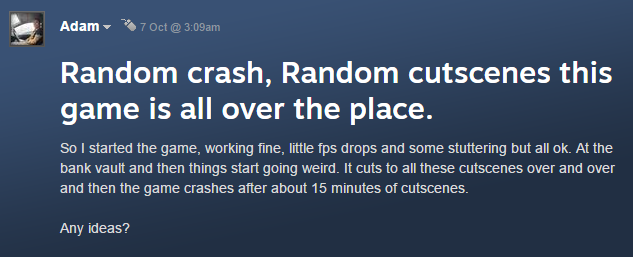 From time to time the game the game randomly crashes for some players and they lose their progress until then. It seems that these crashes are every 10 or 15 minutes and the game crashes to desktop either with no error, with some error code or with "Mafia3.exe has stopped working". To fix this error use the tweaks that our team posted below.
Tweaks for random crashes:
Update your GPU drivers
Verify the integrity cache of the game

Best solution:

Follow our tutorial below and apply the patch to your game in order for the random crashes to be fixed. Go there now for more details!
How To Fix Mafia 3 Errors Tutorial:
*Only for Startup Crash, Random Crashes and Optimization for Performance Issues
Are you trying to play the new Mafia 3 and you are unable  because of annoying issues and bugs? Don't worry, our team will help you fix all of them and you will play the game in a few minutes. You are here because you probably encounter one of these errors Random Crashes, Performance Issues or you are unable to start your game. If you have one of these issues don't worry anymore because we will help you fix them in the next minutes. So just sit back, relax, follow the tutorial below and in 10 minutes you will be playing the new installment of Mafia.
Our team of developers released a patch to help you fix these annoying issues. Below you can see a picture of how our patch looks like and what it does. You will also find a download link and a tutorial that will help you step by step to apply the patch correctly to your game and fix your issue. For your knowledge and safety: our patch won't interfere with your Steam account, it will just change some files and .dll's in the game folder for the errors to be fixed.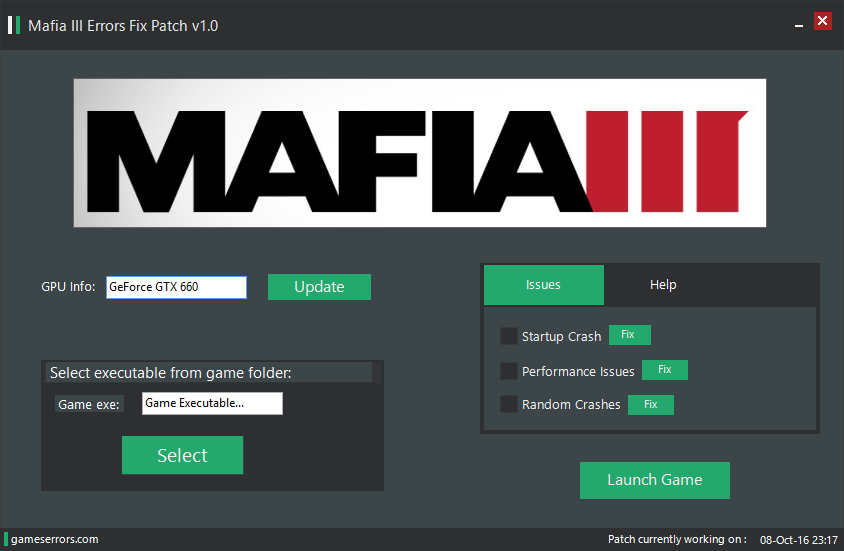 To make sure that you apply the patch correctly to your game please follow the tutorial below step by step. If you are not sure about something just ask us, our Support Team answers in a matter of minutes.
How to apply our patch:
Download the archive of the patch from here: download
Extract the downloaded archive on your PC, and open the patch from the folder.
Your GPU will be selected automatically, make sure that you use your dedicated GPU if you have a laptop!
Select the game executable from the game folder, if you used the default Origin install folder it should be: "C:\Program Files (x86)\Steam\SteamApps\common\Mafia III″.
Select your issue or issues from the box to the right and click the corresponding "Fix" button.
After your errors are successfully fixed, you can click the "Launch Game" button and play the game.
How to download: Well, you might think that our download service is pretty annoying but is very effective. To download you just need to complete a simple offer, it usually takes a few minutes, and after that, you will be able to download the patch. We use this service because is the only way to support our developers and to keep releasing and updating patches for games. Thank you! We hope you understand us and have fun playing Mafia 3!
Let's hope that by now you managed to fix all your Mafia 3 errors and issues and that you are enjoying the game. If you still encounter some issues, and you are unable to fix them, or you don't know how to apply our patch, please comment below or open a Support ticket on our support page. After that, a member of our team will help you as soon as possible to fix your issue so you can enjoy your game.–GamesErrors Team