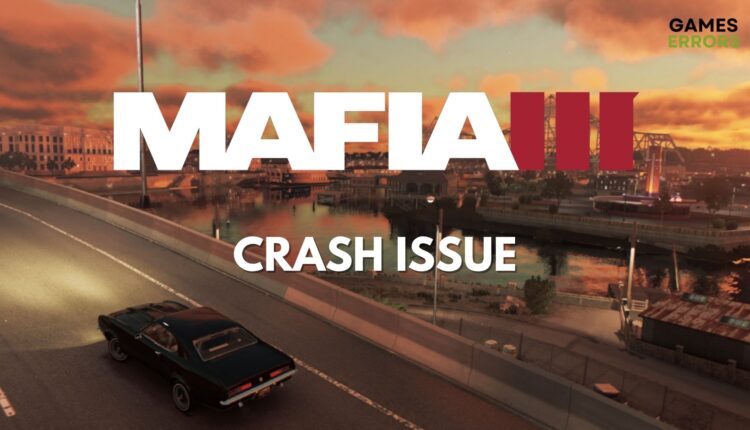 Mafia 3 Crash FIX: How to Stop It from Crashing
You're a big fan of Mafia 3 but the game keeps crashing? Worry not and apply our quick fixes
X
INSTALL BY CLICKING THE DOWNLOAD FILE
The Mafia game comes back with the third installment in the series and this time, a lot of players are complaining about Mafia 3 issues. The game is developed by Hangar 13 and you will play in 1968 as an orphan and a Vietnam War veteran, who is on a quest to build a new crime organization to confront the Italian mob.
At this time, a lot of players are complaining about issues with this game such as Mafia 3 crash on startup or crash on the loading screen.
On the same note, there are gamers that also confirmed troubles with Mafia 3 keeps crashing on Xbox One, PS4, PS5, or the PC.
First, make sure that you at least meet the minimum system requirements of the game, you will find a list of both minimum and recommended specs down below.
💥 Why does my Mafia 3 keep crashing?
In a few words, you may encounter crashing errors on your device due to conflicting programs running on your system or outdated drivers that aren't compatible with the game requirements.
MINIMUM
OPERATING SYSTEM: Windows 7 64-bit
INTEL CPU: I5-2500K
AMD CPU: AMD FX-8120
RAM: 6GB
AMD GPU: Radeon HD7870
NVIDIA GPU: GeForce GTX 660
VIDEO MEMORY: 2GB
HD: 50GB (free space)
RECOMMENDED
OPERATING SYSTEM: Windows 7 64-bit
INTEL CPU: I7-3770
AMD CPU: AMD FX 8350 4.0 Ghz
RAM: 8 GB AMD
AMD GPU: Radeon R9 290X
NVIDIA GPU: GeForce GTX 780 or GeForce GTX 1060
VIDEO MEMORY: 4GB
HD: 50GB (free space)
How to fix Mafia 3 crashing?
Before trying more complex methods, you can run the game as an administrator as a preliminary check by accessing the game properties and enabling Run this program as an administrator.
1. Get the latest graphics driver
Under Display adapters, right-click on the display driver.
Now, select Search automatically for the driver.
Restart your PC.
On the other hand, you can as well utilize the dedicated driver software
DriverFix
and manage any driver that needs updating or repairing on your PC. The tool will entirely scan your system and detect problematic drivers, updating them on short notice.
2. Repair the corrupted game files
On the Steam app, switch to Library.
Right-click on the game and select Properties.
Fix the corrupted files if there are any.
3. End the background programs
Go to the Processes tab
Navigate in the list and find apps that may interfere with your game (the antivirus, for example).
Repeat the action for other programs.
If none of the solutions described above didn't work in your case, you can also consider reinstalling the game from scratch.
You can perform it either from your game launcher or using Control Panel's Program and Feature tool in order to uninstall it.
🐛 Additional Mafia 3 issues that may occur
Other players also shared frequent issues with Mafia 3 not launching on their PC or performance issues that can also lead to crashes while playing the game.
Many players encountering the startup crash are playing the game on an AMD Phenom chipset; this might be an issue.
From time to time the game randomly crashes for some players and they lose their progress until then. It seems that these crashes are every 10 or 15 minutes and the game crashes to the desktop.
We hope that by now you have managed to fix all your Mafia 3 problems and that you are enjoying the game. If you still encounter some issues, and you are unable to fix them, please leave a comment below for more support.
If you encounter any issues or errors while playing your favorite games and require support, feel free to contact us here. Our team is always ready to assist you and ensure your gaming experience is seamless and enjoyable.