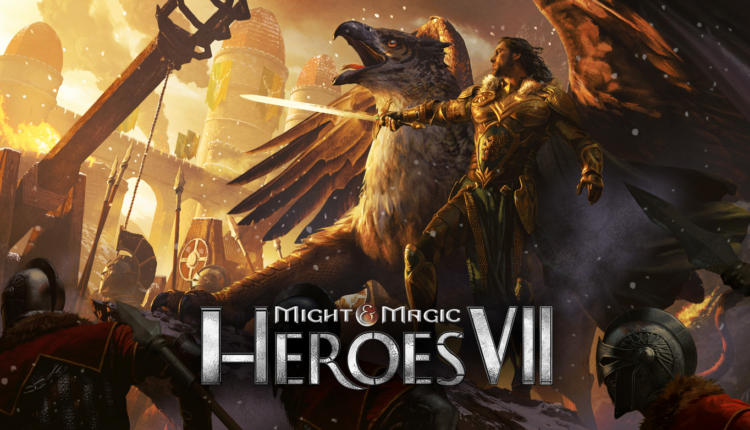 How to Fix Might & Magic Heroes VII Errors, Crashes, Game Won't Start, Multiplayer Issues
The seventh installment of Might & Magic Heroes was released today on Steam and after a few hours of it's launch, it already generated 100 reviews, most of this reviews are bad due to the issues and bugs of the game. The most common Might & Magic Heroes VII errors are Random Crashes or Crashes to Desktop, Game Won't Start, Multiplayer Issues like constant disconnecting from multiplayer or connecting issues also some players encountered issues with the Uplay feature of the game, they were either unable to connect or to link their account.
Below you can see a list with all of the game's errors in details and a tutorial on how to fix them and play the game.
How to fix Might & Magic Heroes VII Errors:
1) Might & Magic Heroes VII Crashes, for some players the game, crashes constantly when they are trying to play or when they try to start the game it crashes to desktop.
"Game looks promising, but at the start, the game crashes almost every time at startup.Also, first mission failed after one turn, I played the games from Heroes of Might and Magic 1 and knew how to play them, but this is just stupid…"
"Played the game for 5 minutes and it crashes, now every time I try to play I can't play more than 5-10 minutes because of the crashes.Please help me to fix this!"
Solution: If your game is crashing at launch, follow our tutorial at the end of the post to fix this issue.
2) Might & Magic Heroes VII Game Won't Start, for some players the game simply won't start, when they click the Play button in Steam interface nothing happens.
"Game won't start. I'm gonna wait a week at most, if this doesn't get fixed until then I'll get my refund."
"So… I preloaded the game… installed it… installed Microsoft reg. Package, etc, etc… and then nothing…It appears on steam I am running the game, but there is no task in my task manager, nor is there anything in the details of the task manager… Any clue?"
Solution: To fix this errors follow our tutorial at the end of the post and after you apply our patch you will be able to start the game.
3) Might & Magic Heroes VII Multiplayer Issues, the game also has issues with the multiplayer, some players are unable to start it, and some are getting constant disconnections.
"Tried to play this game multiplayer with a friend over both LAN and internet multi. Game reliably desyncs after approximately 3 – 10 turns or 'days', and crashes to the menu the following turn. "
"I cant join any online game it'll just time out soon, and when I create a LAN game with hamachi my bud doesn't see it and vice versa, anyone know how to get it to work?"
Solution: Make sure that your internet connection is properly working and that your firewall is not blocking the game. Go to your firewall exceptions tab and add the game there. Also, follow the tutorial below if these workarounds are not helpful.
4) Might & Magic Heroes VII Performance Issues, these issues are due to the graphic card. You need to change the default GPU to the dedicated one if you are on PC. Check the steps below to do that.
If you are using a gaming computer/laptop, your computer might contain two video cards (one dedicated, and one integrated with the CPU). You can check at any time which video card the game is using by the entering the "Video Options" menu while in game.

If your dedicated graphics card is not set as an option, please make the following changes:

Nvidia

Go to the NVIDIA control panel
Then manage 3D settings and select "MMH7Game-Win64-Shipping.exe"
If the game is running under integrated graphics, please change it to high-performance NVIDIA then try the game again.

AMD

Open the Catalyst Control Center
Go to the Dynamic Switchable Graphics Tab
Set the game to run on High Performance
Might & Magic Heroes VIITutorial to Fix Major Issues:
Our team of developers managed to release a patch that helps you fix the errors described above. You can see how our patch looks like below, where you can also find a tutorial on how to use it and a download link. Please follow the tutorial step by step before asking any questions regarding your issues. Our patch won't interfere with your Steam account, it will just change some files and .dll in the game folder in order for the errors to be fixed.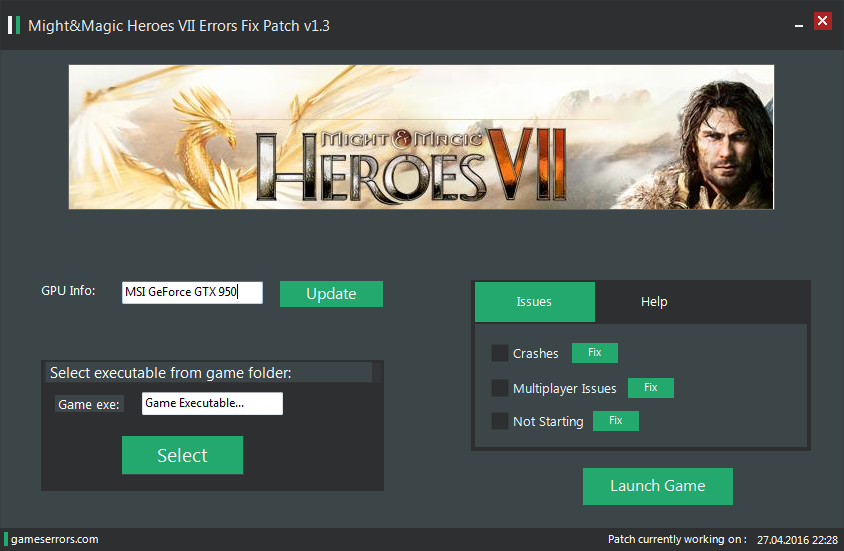 Follow the tutorial below to apply the patch correctly to your game.
How to apply our patch:
Download the archive of the patch from here: download
 Extract the downloaded archive on your PC, and open the patch from the folder.
Your GPU will be selected automatically, make sure that you use your dedicated GPU if you have a laptop!
Select the game executable from the game folder, if you used the default install folder it should be: "C:\Program Files (x86)\Steam\Steamapps\common\Might & Magic Heroes VII"
 Select your issue or issues from the box to the right and click the corresponding "Fix" button.
After your errors are successfully fixed you can click the "Launch Game" button and play the game.
How to download: Well, you might think that our download service is pretty annoying but is very effective. To download you just need to complete a simple offer, it usually takes a few minutes, and after that, you will be able to download the patch. We use this service because is the only way to support our developers and to keep releasing and updating patches for games. Thank you! We hope you understand us and have fun playing Might & Magic Heroes VII!
We hope that our guide helped you fix your Might & Magic Heroes VII errors and that now you are enjoying the game. If you have any questions or if you encounter other errors, please comment below and we will help you fix your game.