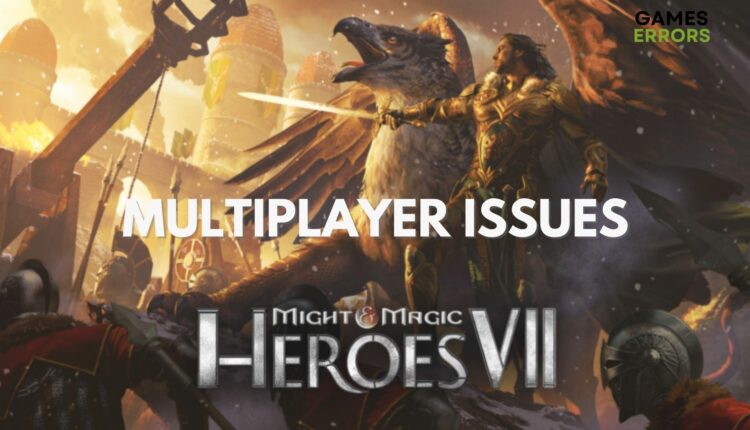 Heroes 7 Multiplayer FIX: 3 Simplest Solutions
If you have Heroes 7 Multiplayer connection issues, diagnose your Internet connection 🌐
X
INSTALL BY CLICKING THE DOWNLOAD FILE
The most common Might & Magic Heroes 7 issue is that the game constantly disconnects from multiplayer.
Also, some players encountered issues with the Uplay feature of the game, they were either unable to connect or link their accounts. Plus, you may wonder how to play online multiplayer on Heroes of Might and Magic 7 without being disconnected.
Unfortunately, the game generates multiplayer issues such as Heroes of Might and Magic 7 multiplayer out of sync. This guide is here to provide you with technical support to resolve this issue.
How to fix Might & Magic Heroes VII Multiplayer Issues
1. Verify your Internet connection
Select Internet troubleshooting.

Now, click on Run next to Internet Connection.
Click Next to diagnose the potential network issues.
2. Check for software conflicts
This solution includes closing background applications that may interfere with the game and blocking multiplayer gameplay. Here's how to do it:
Go to the Processes tab and right-click on the program.
Repeat the process for the needed programs.
3. Flush your DNS address
This solution can work to resolve multiplayer issues on Might & Magic Heroes VII because in this way, you're erasing the IP address cache with the visited web servers.
To do so, type Command Prompt on the Windows search bar → Open as an administrator → Type the ipconfig /flushdns command
The game also has issues related to crashing, some players being unable to start it, and some getting constant disconnections. Check the following scenarios to dive into it
Might & Magic Heroes VII Game Won't Start
For some players, the game simply won't start, when they click the Play button in Steam and nothing happens.
"Game won't start. I'm gonna wait a week at most, if this doesn't get fixed until then I'll get my refund."
Fix: Go to Device Manager by entering the Windows search bar → Expand the Display adapters and click the Update driver option → Select Search automatically for drivers → Restart your PC to apply the changes
To avoid these types of problems, you can use an automatic tool that will find, download, and install the right driver version on your PC fully automatically in just a couple of clicks, so we strongly recommend
DriverFix
.
Heroes of Might and Magic 7 Crash Fix
For some players, the game crashes constantly when they are trying to play, or when they try to start the game it crashes on the desktop.
Solutions:
Verify the integrity of the game files: Open Steam, go to Library, and right-click on Heroes 7. Choose Proprieties then click on the Local Files tab. Click on Verify Integrity of Game Files.
Update your GPU driver: Device Manager → Expand the Display adapters & click the Update driver on the driver you want to update → Select Search automatically for drivers → Restart your PC (alternatively, you could use the driver updater tool recommended above for an easier process).
Check Heroes 7 system requirements. Your PC should at least comply with the minimum specs if it doesn't satisfy the recommended requirements.
Close unnecessary background applications
Might & Magic Heroes 7 Performance Issues
These issues are due to the graphic card. You need to change the default GPU to the dedicated one if you are on a PC.
If you are using a gaming computer/laptop, the PC might contain two video cards (one dedicated, and one integrated with the CPU). You can check at any time which video card the game is using by entering the Video Options menu while in the game.
Fix If your dedicated graphics card is not set as an option, please make the following changes:
➡️ for Nvidia users:
Go to the NVIDIA Control Panel.

Then manage 3D settings and select "MMH7Game-Win64-Shipping.exe".
If the game is running under integrated graphics, please change it to high-performance NVIDIA then try the game again.
➡️ for AMD users:
Open the Catalyst Control Center.
Go to the Dynamic Switchable Graphics Tab.
Set the game to run on High Performance.
We hope that our guide helped you fix your Might & Magic Heroes 7 multiplayer issue, and the other crashing, launching, and performance issues and that now you are enjoying the game. If you have any questions or if you encounter other errors, please comment below and we will help you fix your game.
If you encounter any issues or errors while playing your favorite games and require support, feel free to contact us here. Our team is always ready to assist you and ensure your gaming experience is seamless and enjoyable.