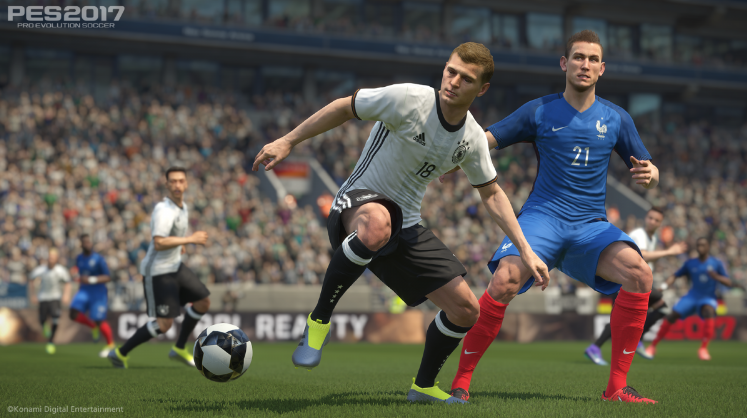 PES 2017 Keeps Crashing: How to Fix & Avoid Other Issues
Make sure that you have the latest updates for the game and for your operating system ⚡
X
INSTALL BY CLICKING THE DOWNLOAD FILE
PES 2017, also known as Pro Evolution Soccer 2017, is a soccer simulation video game developed by PES Productions and published by Konami. Like any other software, PES 2017 is not immune to crashing or other errors.
Some users have reported experiencing crashing, freezing, or even PES 2017 crash after match, and PES 2017 crash before the match while trying to play the game.
These issues can be caused by a variety of factors, including hardware and software conflicts, outdated drivers, and corrupt game files.
In this article, we will discuss some common causes of the PES 2017 crashing and provide some potential solutions to fix and avoid these errors.
👥The most common PES 2017 errors that players are complaining about are:
Crashes – the game crashes at startup or randomly while playing
Server Issues –

players are unable to connect to the server game or the server is down

Performance Issues

  – like Low FPS and FPS Drops. These issues are making the game so hard to play due to the constant low FPS, lag, and stuttering that, in the end, lead to crashes.
⚡Why PES 2017 keeps crashing?

There are several possible reasons why PES 2017 might crash. Some possible causes include:
The game is not compatible with your computer's hardware or operating system.
The game files are corrupt or damaged.
You have a low-quality graphics card or an outdated driver for your graphics card.
You have too many background programs or services running on your computer, which can interfere with the game.
You have overclocked your computer's hardware, which can cause instability.
Your computer's CPU, RAM, or hard drive is failing or has insufficient capacity.
You have a virus or malware infection on your computer.
It's also possible that the game is crashing due to a bug or issue with the game itself. In this case, the game developer may release a patch to fix the issue.
In this article, we came up with a list that contains workarounds and solutions for the issues above so you can fix them and play your game.
How to fix PES 2017 keeps crashing?
Users are complaining about crashes, most of them encounter startup crashes and are unable to play the game at all and some of them encounter random crashes while playing a match but they can't play the game for more than 10-15 minutes because it crashes.
✅ Preliminary check:
Before skipping to your issue and fixing it first, make sure that you meet the minimum system requirements of the game, you can find them below. If your PC can handle the game, go ahead and find your issue in the errors list below. If not, you need to upgrade it and see if you encounter the same issue again.
System Requirements:
➖ MINIMUM:
OS: Windows 10, 8.1, 8, 7 SP1, Vista SP2
Processor: Intel Core2 Duo 1.8GHz / AMD Athlon Ⅱ X2 240 or equivalent processor
Memory: 1 GB RAM
Graphics: DirectX 9.0c compatible video card. 1024MB Pixel Shader 3.0 (NVIDIA GeForce 8800 / AMD/ATI Radeon X1600 / Intel HD Graphics 3000 or better)
DirectX: Version 9.0c
Storage: 8 GB available space
Sound Card: DirectX 9.0c compatible sound card
Additional Notes: 800 x 600 monitor resolution; 4x DVD-ROM Drive; TCP/IP 512 kbps or higher
✔️RECOMMENDED:
OS: Windows 10, 8.1, 8, 7 SP1, Vista SP2
Processor: Intel Core i3 530 / AMD Phenom Ⅱ X4 925 or equivalent processor
Memory: 2 GB RAM
Graphics: DirectX 9.0c compatible video card. 1024MB Pixel Shader 3.0 (NVIDIA GeForce GTX 260 / AMD/ATI Radeon HD4850 / Intel HD Graphics 4000 or better)
DirectX: Version 9.0c
Storage: 8 GB available space
Sound Card: DirectX 9.0c compatible sound card
Additional Notes: 1280 x 720 monitor resolution; 8x DVD-ROM Drive; TCP/IP 1.5 Mbps or higher
1. Update Graphic Drivers
Crashes at the startup of the game and random crashes were reported by a lot of players. To fix this issue, you just need to update your graphics card drivers. To do that you have two options:
➡️ Update GPU Drivers via Device Manager
Click on the Start button and type "Device Manager" in the search bar.
Open Device Manager.
Expand the "Display adapters" section.
Right-click on the graphics driver and select "Update Driver".
Select "Search automatically for updated driver software".
If a new driver is available, Windows will download and install it automatically.
➡️ Update GPU Drivers via the driver updater tool
To save time and avoid any potential confusion, you may want to consider using a trusted third-party tool called Outbyte Driver Updater to help you download the necessary drivers for your graphics card. This can help you avoid any potential issues that may arise when manually trying to find and install the correct drivers.
2. Diagnose your Internet connection
Close the wizard and check your game again.
3. Change the game settings
Open the Nvidia Control Panel.
Access the 3D Settings tab.
For the Maximum rendered pre-frames, pick 4.
Set the Single display performance mode for GPU acceleration.
For Tripple buffering, leave it on.
Turn on the Vertical Sync.
You may encounter PES 2017 crash on startup or low FPS performance in case your computer doesn't support the maximum game performance.
Thus, the players who are using Nvidia GPU can tweak their game settings and optimize it as shown above for improved gameplay without any lag.
PES 2017 Server Issues

A lot of players are complaining about server issues, it seems that on the first day of the release, the game servers were down. This issue is persisting for some players and they receive this error when trying to connect to the server: "PES 2017 server is not reachable", "Service is unavailable!".
Other players are complaining about different error codes when they try to connect to the game servers, this is because some application or antivirus is blocking their connection.
To fix the server issues and connect to the game server follow the workarounds below.
✔️ Workarounds:
First, make sure that the problem is not your PC and that your internet connection is working, try to restart your router or modem and connect to the game again.
Make sure that the game is not blocked by your firewall or any other antiviruses that you have installed on your PC
You should consider setting up a port forward for it to better your online gaming experience.
There are quite a few reasons to set up a port forward for Pro Evolution Soccer 2017, such as fewer crashes when online, easier to play with friends, improved connection, less lag, more stability, and enhanced overall online experience.
If you need an open port on your router then you need to create a port forward. Open ports are used to allow a connection into your home network from the Internet. They are common in gaming, torrenting, and VOIP configurations. Use these guides to help you learn how to forward ports with ExpressVPN.
PES 2017 Black Screen
When you start the game you encounter a black screen, the sound works but you can't see anything. To fix this issue you need to make sure that your screen resolution is the same as the game resolution.
✅ To change the game resolution, go to settings.exe, and to find out your screen resolution go to Desktop -> Right-Click -> Screen resolution.
If you can't find your resolution in settings.exe follow this: Open properties of Settings.exe and in the compatibility tab, check the option that says "Disable Digital scaling on high DPI settings".
PES 2017 Performance Issues

Players that have a good PC and meet the recommended system requirements of the game encounter a lot of performance issues. Some of them are Lag, Low FPS, FPS Drops, and Stuttering.
Note: Any game problem related to server errors, black screen, or performance issues like low FPS will lead to a PES 2017 game crash.
✔️ Workarounds: 
If you have an Nvidia GPU, go into your Nvidia control panel, under Program settings, and make the game run with these five settings changed:
👉 Maximum pre-rendered frames: 4
👉 Multi-display/mixed GPU acceleration: Single display performance mode
👉 Power management mode: Prefer maximum performance
👉 Triple buffering: On
👉 Verticle Sync: On
Switch off the Vertical Sync from Settings.exe.
If none of this helps you, install your latest GPU drivers. You can do it manually or automatically. Outbyte Driver Updater will help you to scan, download and install your latest PC drivers automatically within a few minutes.
Let's hope that by now you managed to fix all your PES 2017 errors and issues and that you are enjoying the game.