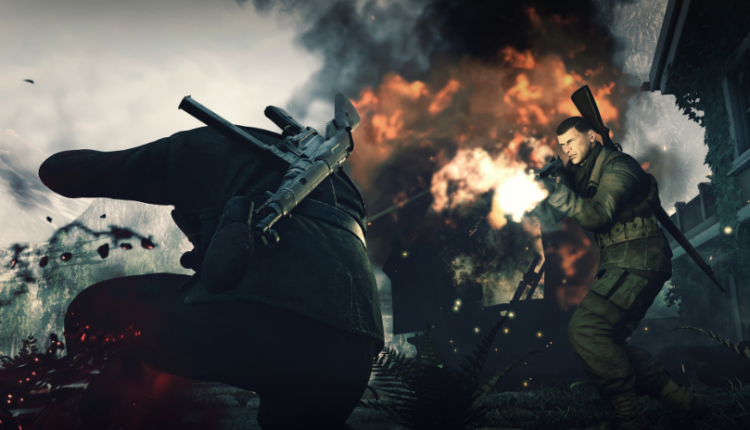 How To Fix Sniper Elite 4 Errors, Not Starting, FPS Problems, And Other Issues
Sniper Elite 4, the largest World War 2 shooter ever built, is finally available on Valentines Day. The game comes as a third-person tactical stealth shooter in which you will make choices and epic longshots across gigantic levels as you liberate wartime Italy from the grip of Fascism.
The game is well developed but being that massive, with over 20 hours of gameplay, from time to time you might encounter some errors. The most common Sniper Elite 4 errors that players are currently complaining about are FPS Problems, Game Not Starting, Crashes and other minor issues. You can fix all of these problems and enjoy the game so don't worry. We provided solutions below on how to fix the game issues and how to optimize it for maximum performance.
The shooter empowers you to make your own path and take your own choices. The story is spread across eight huge campaign levels with a gameplay of one or two hours. Sniper Elite 4 has far longer missions than any shooter out there, with a total gameplay of approximate 20 hours.
The World War 2 shooter is developed by Rebellion Developments and they did a great job so far. I'm sure that they will continue to address all the game issues and help you with them but until then take a look at our workarounds below and fix your game now, so you don't need to wait for a game update.
Before applying our solutions and fixing your game, you need to make sure that you meet the system requirements of the game. To do that just check them below and compare with your PC. If everything checks out go ahead and find your issue in the list after the requirements.
Sniper Elite 4 System Requirements:
Minimum:
OS: 64-bit Windows 7, 64-bit Windows 8.1 or 64-bit Windows 10
Processor: Intel CPU Core i3-2100 or AMD equivalent
Memory: 4 GB RAM
Graphics: AMD Radeon HD 7870 (2GB) or NVIDIA GeForce GTX 660 (2GB)
Recommended:
OS: 64-bit Windows 7, 64-bit Windows 8.1 or 64-bit Windows 10
Processor: Intel CPU Core i7-3770 or AMD equivalent
Memory: 8 GB RAM
Graphics: Nvidia GPU GeForce GTX 970 / AMD GPU Radeon RX 480
Below you will find a list with the most common Sniper Elite 4 errors, and for each one, you will have a workaround or a solution on how to fix it.
Fix Sniper Elite 4 Errors:
If you are not sure about something or you don't know how to apply a workaround just ask your question in the comment section below or leave us a message in our Support Section here. We are here to help you 24/7.
#1 Sniper Elite 4 Not Starting

It seems that the game simply won't start for some players. When they try to launch it and click the Play button in the Steam Library, nothing happens. The Steam icon turns green suggesting that the game us running and you can also find the process of the game running in Task Manager, but no game shows up.
If you are experiencing this issue and you can't start your game, try our workarounds below and see if they help you. If nothing works for you, go and check our solution in the green box below.
Workarounds:
Close Steam. Press CTRL+ALT+DEL and close Steam.exe in the Task Manager.
Open Steam and attempt to run the game.

If it still doesn't work, right-click Sniper Elite 4 in your Library.
Go to Properties -> Local Files -> Verify Integrity of Game Files

Close any third party applications like antiviruses that might interfere with the game
Make sure that you have enough free space on your hard drive
Solution to launch your game! If none of the workarounds work for you and you still can't start your game, you need to use our tool to see what is going on and why you can't launch it. Maybe you have some missing files or some outdated drivers. Our tool will identify the cause of your issue and fix it. More details at the end of the post!
#2 Sniper Elite 4 Micro-stutters and stalls on AMD CPUs
If you are playing the game on an AMD chipset, you might encounter from time to time micro-stutters and stalls. These annoying performance issues are generated because at the moment there is some incompatibility between the game and AMD graphic cards.
Thanks to people's feedback, we've identified an issue with XAudio sound processing when running on AMD CPUs.
The developers said that if you see micro-stutters or stalls, they recommend setting the audio reverb quality to OFF in the launcher (bottom right corner) and see if that improves matters. They also said that they hope to address this in a future patch.
#3 Sniper Elite 4 Crash and DirectX Crash

There are multiple instances where the game crashes. One of them is random while on a mission and one is at the startup of the game and players usually receive a DirectX error. To address these issues check our green box with a solution below.
Solution for crashes! To fix the Sniper Elite 4 crashes, you need to optimize your game and make sure that your game files are not corrupted. To do that you need to use our tool, which will help you fix the random crashes and the DirectX crashes. For more details about our tool check the tutorial at the end of the post!
There is also another type of crash that players are currently experiencing and it has something to do with your DirectX version. The error that users are experiencing is "SniperElite4_DX11.exe Has Stopped Working".
One way to fix that is to roll back your drivers because the new nVidia driver apparently causes this. To do that check the following steps. If you don't want to roll back your drivers, you can use the tutorial at the end of the post to fix this crash.
To Rollback Drivers for Nvidia:
Go to the Device Manager (In Control Panel / System)
Expand Display Adapters -> Open NVIDIA GPU
Open DRIVER Tab -> Click "Roll Back Driver"
#4 Sniper Elite 4 FPS Problems and other performance issues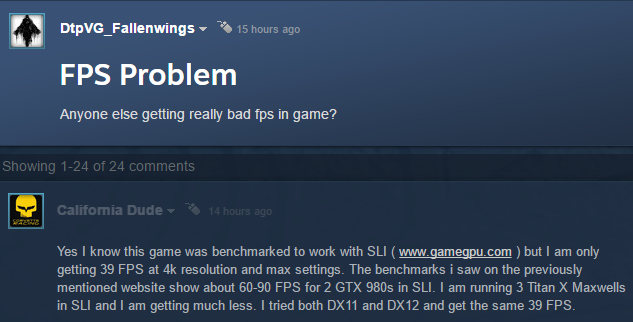 Players are complaining about performance issues on high-end PC's. For example, the user above is experiencing low framerates, and he has 3 TitanX Maxwell graphic cards. So the issue is not that his PC can't support the game, the issue is generated by the game not being properly optimized for maximum performance.
To optimize your game and get maximum performance from your PC check our workarounds below. Also, make sure to check our solution in the green box for a quick and easy fix.
Enable VSync in the game settings
Lower DX12 to DX11 because the new version is causing some problems with the framerates
Disable SLI
In the nVidia Control Panel, Set Triple Buffering to On; Set Maximum Prerendered Frames To: 1 and Set Threaded Optimization to On
Turn off anti-aliasing and lower post-processing
Solution For Optimization! If you don't want to compromise your game graphics or play your game with an SLI profile, you need to use our tool to optimize your game and PC for maximum performance. This way, you will keep your graphics at maximum with constant and high framerates. Check the tutorial below for more details!
Sniper Elite 4 Errors Solution Tutorial: (Tool)
*Only for DirectX&Random Crashes, Not Starting and Framerate Problems
Do you want to start discovering unrivaled sniping freedom in the largest and most advanced World War 2 shooter ever built? But you are unable to do this because your game won't start or maybe because you experience horrible frames?
Don't worry anymore! We are here to help you fix those issues and enjoy your game.

How? That's simple, we developed a tool that will identify your issue and fix it. It's not magic, our tool will optimize your GPU and PC for maximum performance. It will install the required files and redistributables for your game to launch properly and with no crashes.
We know that you paid quite a lot of money for your game and not being able to play it just sucks. Below you can find an image on how our tool looks like and also a tutorial on how to properly use it. Please follow the tutorial step by step to make sure that you apply the tool correctly to your game. If you are not sure about some things, please contact our support team. You can find the download link in the first step of the tutorial!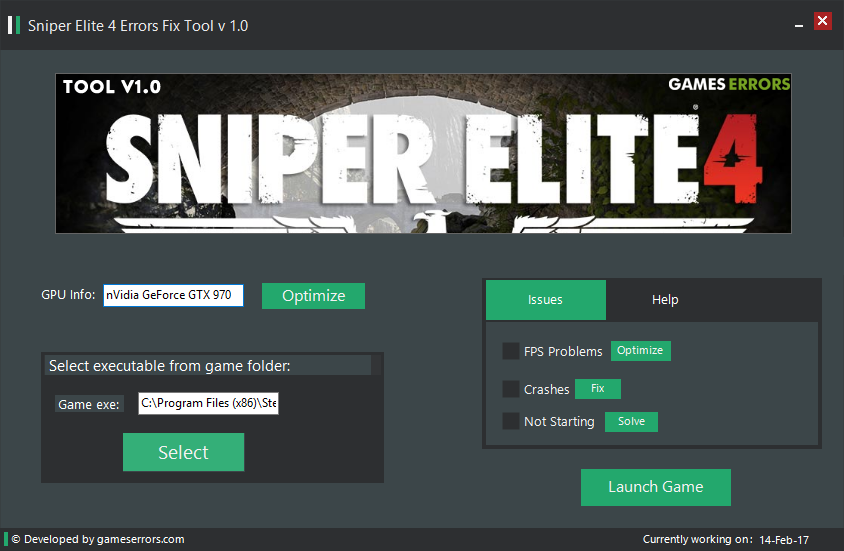 It's pretty simple to use our tool, but you also have a tutorial below. Follow the steps and if you have any questions just leave a comment or use our Support system, and someone from our team will help you.
How to apply our tool:
You can find the download link for our tool here: download
Extract the downloaded archive on your PC, and open the tool from the folder.
Your GPU will be selected automatically, make sure that you use your dedicated GPU if you have a laptop!
Choose the game executable from the game folder, if you used the default Steam install folder it should be: "C:\Program Files (x86)\Steam\steamapps\common\Sniper Elite 4".
Now select your issue or issues from the box to the right.
After your issue is successfully fixed, you can click the "Launch Game" button and play the game.
How to download: Well, you might think that our download service is pretty annoying but is very effective. To download you just need to complete a simple offer, it usually takes a few minutes, and after that, you will be able to download the tool. We use this service because it's the only way to support our developers and to keep releasing and updating patches for games. Thank you! We hope you understand us and have fun shooting in Sniper Elite 4!
We hope that our tool and our tips helped you to fix your Sniper Elite 4 crashes or the other bugs. If you are encountering any issue that we didn't talk about don't hesitate to leave a comment below or send us an email and we will help you fix your game. Have fun with your warriors! – GamesErrors Team