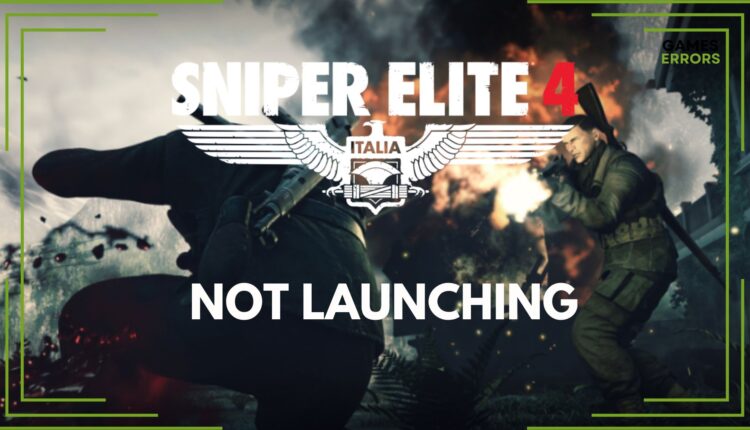 Sniper Elite 4 Not Launching: How to Make it Start Smoothly
Sniper Elite 4 won't start if you have outdated graphics drivers on your device 💻
X
INSTALL BY CLICKING THE DOWNLOAD FILE
Sniper Elite 4 is a well-developed game, but from time to time, you might encounter some launching errors.
Various gamers reported that Sniper Elite 4 won't launch on PC devices, while others confirmed that the game not launching on Xbox One and PS4 as well.
Before applying our solutions and fixing your game, you need to make sure that you meet the system requirements of the game.
How to fix Sniper elite 4 not launching?
As a preliminary check, consider simply restarting your PC. If this doesn't work for you, then proceed with the following solutions:
Table of contents:
1. Update graphics drivers
Expand the Display drivers and right-click on your driver.
After the installation is done, restart your PC.
As an alternative, you can rely as well on an automated driver support expert which will help you update or repair any drivers on your PC with minimum effort.
The process is straightforward and you only have to install Outbyte Driver Updater → Open it on your desktop to automatically scan your system for outdated or missing drivers  → Then download the latest drivers from the official manufacturers' database.
2. Get the Microsoft Visual C++ Redistributables
Numerous players confirmed on the Steam discussion board that downloading this Visual C++ file helped them resolve launching issues for this game.
Go to the Microsoft official website.
Download the Microsoft Visual C++ 2015 on your PC.
Choose the suitable file for your OS (vc_redist.x64).
Install the addition on your system to fix potential bugs.
Try to launch the game again.
3. Turn off Windows Defender protection
Open the Start Menu search bar, and type Windows Security.
In the prompted window, go to Virus & threat protection.
Under Virus threat protection settings, click on Manage settings.
Find the Real-time protection option and slide the button to Off.
Close the app and check your game again.
If our practical solutions didn't work out in your case, we suggest you apply the workarounds presented below as a last shot to fix Sniper Elite 4 once and for all.
✅ Other solutions that may work:
Close Steam. Press CTRL+ALT+DEL and close Steam.exe in the Task Manager. Open Steam and attempt to run the game.
If it still doesn't work, right-click Sniper Elite 4 in your Library. Go to Properties -> Local Files -> Verify Integrity of Game Files
Make sure that you have enough free space on your hard drive
To prevent any launching issues you could optimize your game and get maximum performance from your PC.
Lower DX12 to DX11 because the new version is causing some problems with the framerates
Disable SLI
In the Nvidia Control Panel, Set Triple Buffering to On; Set Maximum Prerendered Frames To 1, and Set Threaded Optimization to On
Turn off anti-aliasing and lower post-processing
Sniper Elite 4 System Requirements:
➖ Minimum:
OS: 64-bit Windows 7, 64-bit Windows 8.1 or 64-bit Windows 10
Processor: Intel CPU Core i3-2100 or AMD equivalent
Memory: 4 GB RAM
Graphics: AMD Radeon HD 7870 (2GB) or NVIDIA GeForce GTX 660 (2GB)
✔️ Recommended:
OS: 64-bit Windows 7, 64-bit Windows 8.1, or 64-bit Windows 10
Processor: Intel CPU Core i7-3770 or AMD equivalent
Memory: 8 GB RAM
Graphics: Nvidia GPU GeForce GTX 970 / AMD GPU Radeon RX 480
We hope that our tool and our tips helped you to fix your Sniper Elite 4 not launching issues. If you are encountering any issue that we didn't talk about don't hesitate to leave a comment below or send us an email and we will help you fix your game. Have fun with your warriors!